Hockey World Cup: New Zealand Beat India, Host India Lost Hope of Winning This World Cup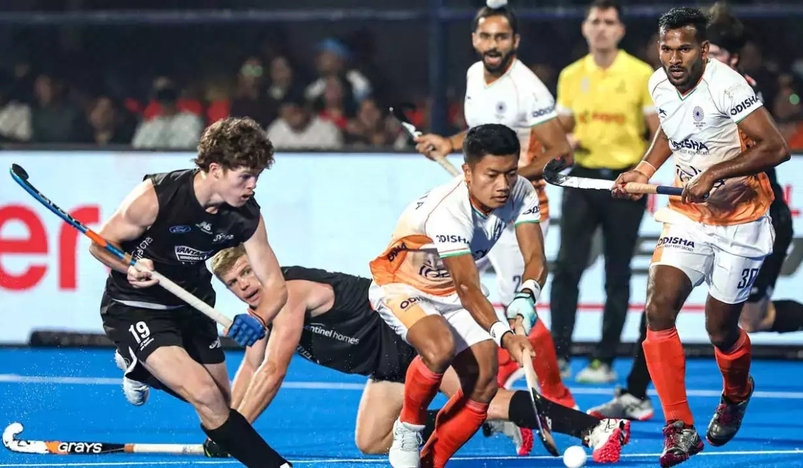 the hosts lost to New Zealand in the shootout 4-5 of the must-win crossover match at the Kalinga Stadium
India failed to qualify for the Hockey World Cup 2023 quarter-finals as the hosts lost to New Zealand in the shootout 4-5 of the must-win crossover match at the Kalinga Stadium, Bhubaneswar on Sunday.
The teams played out a 3-3 draw at full-time, taking the match into the shootout. India and New Zealand were tied at 3-3 in the shootout as the match entered sudden death, where New Zealand booked their spot in the quarter-finals with a 5-4 win over India.
India and New Zealand remained tied at 0-0 in the first quarter as neither of the two could manage to pose much threat. India's Harmanpreet Singh came close to breaking the deadlock in the dying minutes but misjudged it, making it easier for Simon Child to stop him.
In the opening quarter, the New Zealand captain faced a two-minute suspension as he got a green card for tackling India's Abhishek. Lalit Kumar Upadhyay finally handed India an advantage in the second quarter as he cleared an easy goal in the left corner.
Lalit ran in after Akashdeep got possession of the ball and passed it to Shamsher, who eventually passed the ball to Lalit and he made no mistake in the 18th minute. India earned a penalty corner but this time Lalit missed it. Seven minutes later, Sukhjeet Singh doubled the lead to 2-0 in favour of India.
Sukhjeet got a touch in a penalty corner as he deflected the ball off the rebound Harmanpreet Singh tried to score. Soon, New Zealand pulled one back through Sam Lane in the 29th minute. Lane and Child combined before Lane scored near the backline as India and New Zealand went into half-time at 2-1.
Source:- India Today