HH Sheikha Moza attends HEC Paris in Qatar graduation and new building inauguration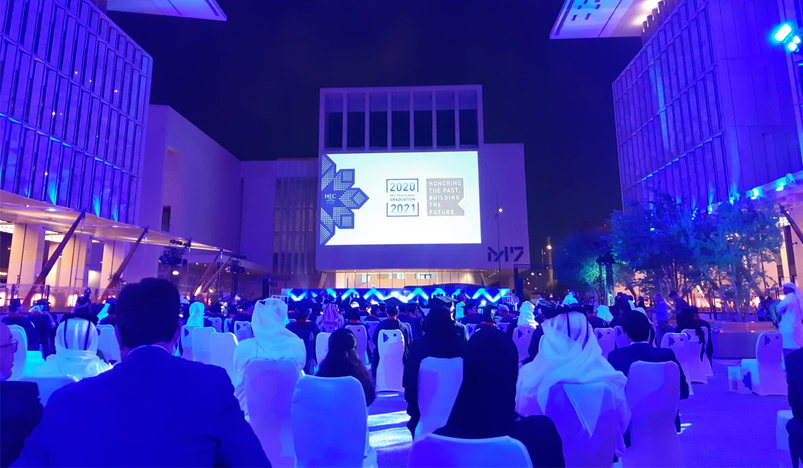 HEC Paris in Qatar
Her Highness Sheikha Moza bint Nasser, Chairperson of Qatar Foundation, attended the inauguration of HEC Paris in Qatar's new premises in Msheireb Downtown Doha and the graduation ceremony of its 2020 and 2021 classes, during the university's 10-year milestone celebration event this evening at Baharat Msheireb.
Her Highness officially opened the new building of HEC Paris in Qatar, a Qatar Foundation partner university, and toured the facility, accompanied by Her Excellency Sheikha Hind bin Hamad Al Thani, Vice-Chairperson and CEO of Qatar Foundation and a HEC Paris in Qatar alumna. The tour included demonstrations of the innovative, pedagogical technology of holography, which was used during a live panel discussion where HEC Paris Professor Sihem Jouini attended from France.
Welcoming Her Highness Sheikha Moza bint Nasser to the new building, Dr. Pablo Martin de Holan, Dean of HEC Paris in Qatar said: "Our new home in Msheireb embodies the commitment of Qatar Foundation to HEC Paris and to its mission of impact and excellence in Qatar and the Gulf region. HEC Paris and its partners are helping build a knowledge-based, diversified, sustainable economy that is central to Qatar National Vision 2030, by training women and men to reach their potential as managers, leaders, and entrepreneurs and by creating and growing ethical and responsible companies that create a better future for all."
Also present during the inauguration, General Director and Dean of HEC Paris, Dr. Eloïc Peyrache added: "As a leading global business school, our presence in Qatar provides a platform to serve the needs of the business community in Qatar and the region. We thank Her Highness Sheikha Moza bint Nasser and Qatar Foundation for their support and trust which has spanned more than 10 years now and look forward to many years where we will help build the talent and leaders required to address our increasingly complex global economy." 
Her Highness also attended the graduation of the university's 2020 and 2021 classes, taking place during a milestone ceremony highlighting HEC Paris in Qatar's 10-year journey in shaping excellence in the Qatar's business community, as well the university's plan to take advantage of its new location to help transform the economy sustainably. 
The graduating 2020 and 2021 classes included Executive MBA (EMBA) and Specialized Masters in Strategic Business Unit Management (SBUM) participants. Dr. Pablo Martin de Holan said: "HEC Paris has been recently voted the best EMBA worldwide 2021 by the Financial Times. This recent achievement further reflects our contribution in helping Qatar gain the Arab World's leading ranking in the 2021 Global Education Quality Index of the World Economic Forum. 
"This executive education institution has leveraged our Qatar presence to emphasis our global outreach and ability to impact economies and societies in emerging markets. Our graduates have gone on to be leaders of change, both here and on the international stage through their work in various public and private sector entities and by innovating new businesses and projects."