HH Sheikha Moza and HE Sheikha Hind attends Opening of TEDinArabic Summit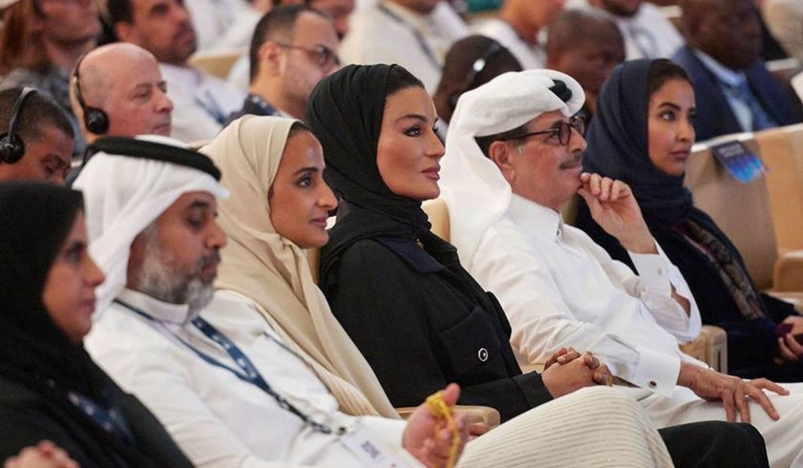 HH Sheikha Moza bint Nasser and HE Sheikha Hind bint Hamad Al-Thani
HH Chairperson of Qatar Foundation Sheikha Moza bint Nasser attended the opening of the TEDinArabic Summit, organized at the Qatar National Convention Centre, through a partnership between Qatar Foundation and TED.
HE Vice Chairperson and CEO of Qatar Foundation (QF) Sheikha Hind bint Hamad Al-Thani also attended the opening.
HH Sheikha Moza toured the interactive spaces and Arabic stations at the Summit, held for the first time and is the only of its kind in the Middle East and the Arab World, to promote ideas in the Arabic language and communicate them to the world.
Under the theme The Butterfly Effect, the opening was attended by an audience interested in Arabic lanaguage affairs, who listened to a series of talks in Arabic from TED speakers from the Arab world, explored the event's interactive Discovery Sessions, and exchanged ideas and stories.
Giving a keynote speech on the first day of the Summit, QF Student Moza Al Hajri said: "We meet today as people with different specializations, cultures, identities, and dialects, with different preferences in music, literature, art, and poetry, and different political and intellectual views.
"But today, we all choose to be united by the Arabic language. We choose to listen to each other, and to search for inspiring horizons that bring us together, and for paths that we can follow to move toward a better future." she added.
The Summit's opening ceremony began with a song specially written for the event, performed by Saudi Arabian artist Alaa Al Wardi and Qatari singer Aisha Al Zayani, and another song written by Mohamad Ali Bahri, Arabic Language Program Coordinator at the Translation and Interpreting Institute, part of the College of Humanities and Social Sciences at QF's Hamad Bin Khalifa University. Its first day also included a performance, inspired by Qatari heritage, from 12 students of QF schools, titled "Epic Poetry in the Modern Era".
The activities of the first day concluded with a poetry recitation by the Palestinian poet Tamim Al Barghouti, entitled "The Epic of Gilgamesh".
Strategic Initiatives Executive Officer at QF Machaille Hassan Al Naimi said on the occasion: "We are delighted to be welcoming Arabic thinkers with amazing ideas, and people who love the Arabic language, from around the world to this groundbreaking TEDinArabic Summit." Adding: "We hope that everyone who experiences its talks, its sessions, its activities, and its opportunities for accessing and exchanging ideas will find themselves being energized and inspired." Al Naimi carried on by saying: "The two days of this event capture the essence, the spirit, and the aspirations of TEDinArabic - to provide Arabic speakers everywhere with a platform to amplify their ideas globally, and to showcase to the world how Arabic is a language of innovation, of original thought, and of new knowledge."
For her part, the Head of Curation at TED Helen Walters said: "Our three-year partnership with Qatar Foundation has established a platform to showcase the brilliance and innovation of Arabic speakers throughout the region. We could not be more proud of the diverse lineup of speakers, reflecting as it does TED's longtime curation philosophy celebrating the power and beauty of interdisciplinary thinking and unexpected connections."
TED speakers who shared their stories on the first day included Mahdi Mansour, a physicist and poet from Lebanon; Rafia Al Talei, a journalist and women's advocate from Oman; Ahmad Habib, a writer and accessibility specialist from Iraq; Amr Ramadan, a climate justice advocate from Egypt; and Belal Khaled, a Palestinian artist and activist.
Over the course of the Summit, its international audience are exploring activities, workshops, experiences, and talks - all in Arabic - on themes including creativity, language, science, and discovery, as well as artistic performances.
Reflecting QF and TED's emphasis on inclusivity, talks at the TEDinArabic Summit come with Arabic sign language, as well as English translation.
It is a milestone in a three-year partnership between QF and TED which has provided a platform for new and inspiring ideas in Arabic to be shared with the world, and which aims to nurture a new culture of idea generation in the Middle East and North Africa.
Under this partnership TEDinArabic regional events have also been held in Qatar, Jordan, and Morocco, while a digital vault of TEDinArabic content that includes blogs, videos, and TED Talks has been created.
Source: QNA