Guinness World Records Held by Qatar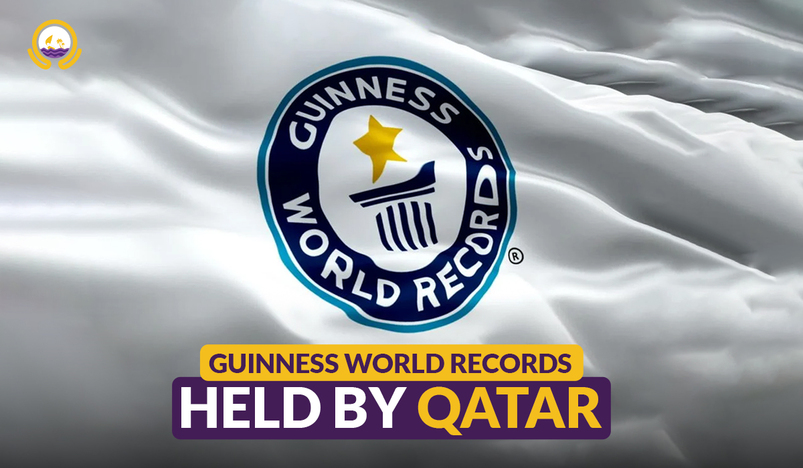 Guinness World Record
Qatar has successfully achieved a huge number of Guinness World Records, with 10 broken in 2022 alone. Here are some of their significant and interesting world records.
1. Smallest country (by landmass) to host the FIFA World Cup
The smallest country (by landmass) to host a FIFA World Cup is Qatar which spans a total area of 11,571 km² and hosted the 2022 finals.
Qatar was also the first country in the Middle East to host the FIFA World Cup.
2. Longest Inflatable Obstacle Course
Qatar was recently awarded the world record for hosting the longest inflatable obstacle course, called Inflata Run, on 11th March, 2023. The course covers a massive 7,385m2 of inflatable area and has sections reaching up to 8m.
3. Longest National Flag
Qatar's flag is the only national flag having a width more than twice its height, based on its official height-to-width ratio of 11:28. The maroon flag with a broad white nine-pointed serrated stripe on the hoist side was adopted on 9 July 1971, just before Qatar gained independence from Britain on 3 September 1971.
The most common aspect ratios in official flags are 2:3 and 1:2.
4. Fastest crossing of Qatar by wheelchair
The fastest crossing of Qatar by wheelchair is 1 day 17 hours and 55 minutes and was achieved by Ahmed Al-Shahrani (Qatar), in Abu Samra, Qatar, on 3 April 2021.
Ahmed Al-Shahrani achieved this record title to honor and encourage the inclusion and participation of people with disability in sports.
5. Longest airconditioned outdoor path
The longest air-conditioned outdoor path is 1,143 m (3750 feet) and was achieved by The Supervisory Committee of Beautification of Roads and Public Places in Qatar and Buildings Projects Department (both Qatar), in Doha, Qatar, on 17 October 2022.
The path was constructed to improve the quality of life of the community and promote well-being and family activities.
6. Largest Padel Championship
The largest Padel Championship is 778 players and was achieved by PADEL IN (Qatar) during the tournament Qatar Rail Open in PADEL IN City Center and PADEL IN Aspire, Qatar, Doha, on 17 September 2022.
Padel IN has a huge community of Padel players in Doha and the aim of this record was to showcase how many people are passionate about Padel. The event occurred over 7 days and there were 3 different categories: men, women and juniors.
7. Most nationalities in a yoga lesson
The most nationalities in a yoga lesson is 114 and was achieved by Indian Sports Centre under the aegis of the Embassy of India (Qatar), in Doha, Qatar, on 25 March 2022.
The yoga lesson was taken by Nisha Agrawal for 40 minutes with all participants simultaneously following the different yoga postures as instructed. Each participant was suitably attired for yoga and had a mat for the session. Only one participant was counted for each representative nation.
8. Largest calisthenics park
The largest calisthenics park measures 1446.72 m² (15572 ft² 67 in²) and was achieved by the National Service Academy (Qatar), in Doha, Qatar, on 4 February 2021.
National Service Academy attempted this record title to celebrate Qatar's sports day, which's on the 9th of February. The calisthenics park both holds national calisthenics tournaments and is open for the general public to use.
9. Tallest indoor rollercoaster
The tallest indoor roller coaster is 56.736 meters and was achieved by Doha Oasis Quest (Qatar), in Doha, Qatar, on 18 October 2021.
Premier Rides (USA) is the manufacturer of Quest, which is located inside the Doha Oasis project in Musheireb. The 27,500 sq m entertainment centre has more than 30 rides and attractions, including the tallest indoor roller coaster – the EpiQ Coaster – and the tallest indoor drop – the Magma Blast