FIFA World Cup Qatar 2022 is an Opportunity for Students to Introduce Others to Qatar's Culture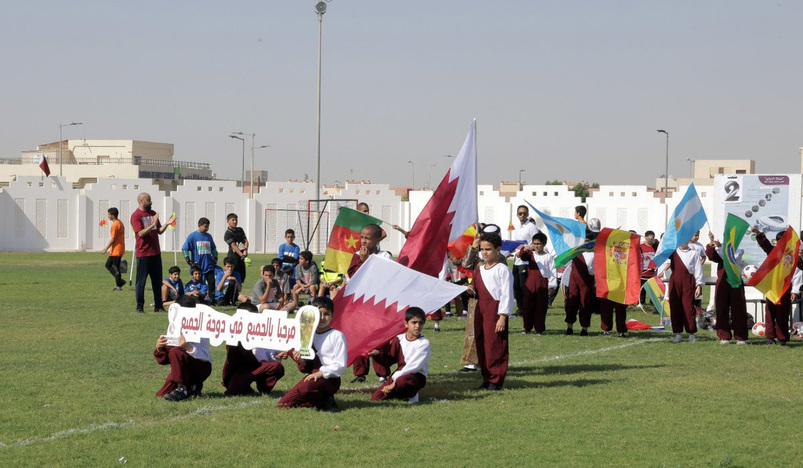 Student World Cup 2022
The Ministry of Education and Higher Education concluded today the activities of the "Student World Cup 2022" by holding an event (Be the 12th player) at Al Yarmouk Preparatory School for Boys.
Todays activities included an art exhibition inaugurated by HE Undersecretary of the Ministry of Education and Higher Education Dr. Ibrahim bin Saleh Al Nuaimi, which includes many drawings, paintings and models for the FIFA World Cup Qatar 2022, all of which are the work of school students, in addition to a sports festival with the participation of 32 school teams and honors partners.
HE Dr. Al-Naimi expressed his happiness with the artistic and sports creations contained in the exhibition, which confirms the students awareness of the importance of Qatar World Cup, as an opportunity to introduce others to the culture, customs and traditions of the State of Qatar, and the price of coordination between the Ministry and the Supreme Committee for Delivery and Legacy, in terms of students participation in organizing some events, the matter who will cement this global and historic sporting event in their minds, expressing his thanks to school principals and teachers for their efforts to spread a culture of support and encouragement for Qatar national team in the World Cup.
For his part, the Director of Al Yarmouk Preparatory School for Boys, Ibrahim Al-Aidan, expressed his happiness for the schools hosting of the event (Be the 12th player) under the slogan "The World Cup Day", with the participation of teams from schools with the number of World Cup teams, and the school hosting the conclusion of the "Student World Cup 2022".
Captain Saeed Jumaa Al-Hitmi, General Supervisor of the "You Are Important" initiative at the Ministry of Interior, valued the events, and explained that the Ministry, through this initiative, is working to educate students about the importance of the FIFA World Cup Qatar 2022, noting that the students presence in the tournament is an appropriate opportunity to teach them the best ways encouragement away from intolerance; In order to convey a civilized message about the Qatari community for visitors to the World Cup, as well as their role in proper evacuation methods, and exiting sports facilities in a safe manner.
As for the Qatari football star and former captain of the national team, Adel Malallah, who participated in the sport event, he stressed that Qatar's stadiums are ready for the start of the championship, and that attention to students and their awareness and education of the World Cup activities is necessary; Being one of the most important elements in encouraging the Qatari national team, and because this great event will remain in their memory for many years.
The activities and events of the "Student World Cup 2022" achieved great success and remarkable interaction by the students, their parents and the concerned authorities, which in total promote the FIFA World Cup Qatar 2022, and enhance the national identity of the students, making them an important part of the tournament.
(QNA)