FIFA World Cup™ fever as fans from the Americas visit Ahmad Bin Ali Stadium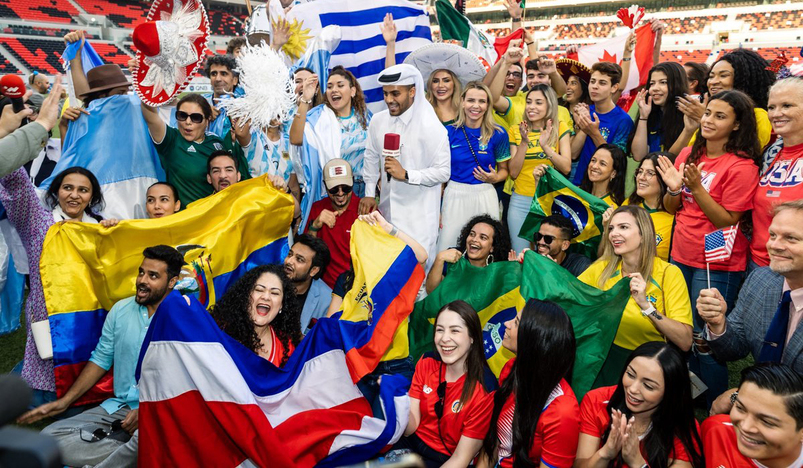 Football Fans
More than 60 Qatar-based fans of teams from the Americas visited Ahmad Bin Ali Stadium, as anticipation builds ahead of the first FIFA World Cup™ in the Middle East and Arab world.
Fans from Canada, Costa Rica, Mexico and the USA attended the event, along with supporters of Argentina, Brazil, Ecuador and Uruguay. They were joined by embassy representatives during the colourful and passionate gathering that was organised by the Supreme Committee for Delivery & Legacy's (SC) Fan Leader Network.
The fans enjoyed an exclusive tour of Ahmad Bin Ali, which will host seven matches during Qatar 2022, starting with the USA versus Wales on 21 November. Canada will play their first World Cup match since 1986 at the venue when they face European powerhouses Belgium on 23 November.
Canada fan Don Rikley said: "I'm super excited. For me, it's been a build-up since Canada successfully qualified. Once you get tickets and come to the stadium to get a closer look, you can feel the anticipation and excitement. It's really exciting to have the World Cup in a place like Qatar, where you can attend lots of games."
Argentina fan Camila Morales said the nation's rivalry with Brazil was put to one side during the visit.
She said: "We expected today's event to be something very festive. We know that Argentina and Brazil are always competitive with each other, but the atmosphere today was very nice. With under 100 days to go to the World Cup, it is very exciting."
The tour concluded in the stadium's press conference room, where presentations were made by the SC's Fan Engagement and Community Engagement teams, in addition to speeches from Qatar Legacy Ambassadors Ahmad Khalil and Mohammed Saadon Al Kuwari. The fans also took part in a fun quiz.
"These Fan Leader Network events are a great way for our local fans to get engaged in the build-up to the FIFA World Cup and experience first-hand the venues where the tournament will take place," said Haya Al Kuwari, the SC's Fan Engagement Lead. "Our fan leaders are playing an important role in getting their local communities excited about Qatar 2022 and promoting the country and region to fans in their home countries."
The Fan Leader Network is a community of more than 400 fan leaders and influencers from 60 different countries, who were recruited by the SC to contribute to pre-tournament planning through fan insight, research, content creation and message amplification. To learn more about the Fan Leader Network, email fanleader@sc.qa.