FIFA Fan Festival Details Revealed by Director Mead Al Emadi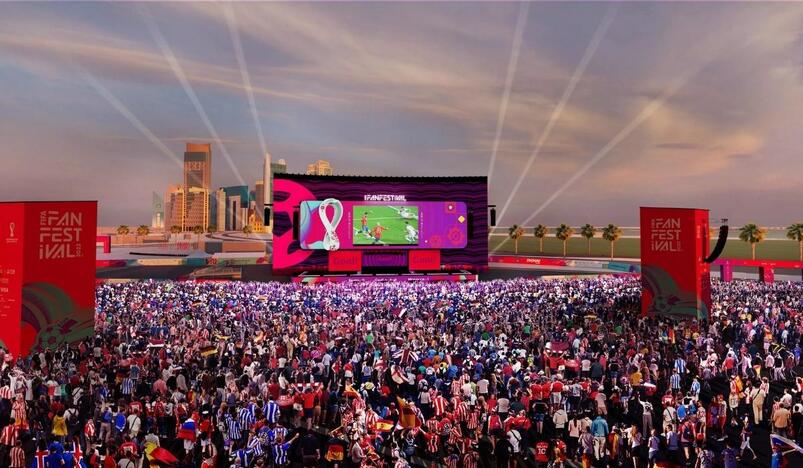 Image Source: FIFA
Are you one of the lucky people who will be attending the FIFA World Cup™ in Qatar? Then a visit to the FIFA Fan Festival™ should definitely be on your bucket list.
Here's everything you need to know about visiting the FIFA Fan Festival in a nutshell!
Opening hours:
Group Matches (20 Nov – 28 Nov)
10:00 – 02:00
Group Matches (29 Nov – 2 Dec)
15:00 – 02:00
Round of 16, Quarter-Finals, Semi-Finals, 3rd Place and Final (3?Dec – 18 Dec)
15:00 – 02:00
Rest days (7-8, 11-12, 15-16 Dec)
17:00 – 02:00
Transport:
Metro
Al Bidda Park is directly served by the Red and Green Lines of the Doha Metro.
Arriving at the site: Corniche station (Red Line) is the closest metro station to the site, while Al Bidda station (Red and Green Lines) is another option for fans.
Leaving the site: fans will be directed north to West Bay-Qatar Energy metro station (Red Line), or south to Al Bidda metro station (Red and Green Lines).
Corniche station cannot be used for leaving the FIFA Fan Festival site.
Bus services
The Corniche shuttle service will connect the West Bay and Souq Waqif areas. The B and C ring road shuttle services will transfer fans from their accommodation around these areas to the FIFA Fan Festival.
Bus operations will start at 08:00 and end at 02:00.
Tournament bus services
You can catch a direct bus to the stadium from the FIFA Fan Festival stadium express bus hub.
Bus operations will start four hours before kick-off and end 90 minutes after the final whistle.
Taxis and ride-sharing
The taxi and ride-sharing drop-off and pick-up points are located at Khalifa International Tennis and Squash Complex.
Admission:
Entry: the FIFA Fan Festival is free of charge and open to everyone.
Re-entry: you can exit and re-enter at any time during the official opening hours.
COVID-19 measures: the FIFA Fan Festival, like all official FIFA World Cup Qatar 2022™ events, will comply with all pandemic-related measures put in place by the local authorities at the time of the event. Stay tuned for more information by visiting this page regularly.
Minimum age: there is no minimum age to attend the FIFA Fan Festival. However, children (anyone aged under 18) must be accompanied by a parent or legal guardian.
Accessibility: guests with disabilities are very welcome at the FIFA Fan Festival. Numerous arrangements will be made on-site to ensure your visit is comfortable.
Source: FIFA & Al Sharq