Dr. Konrad Grabiszewski, HEC Paris faculty speaks about behavioral economy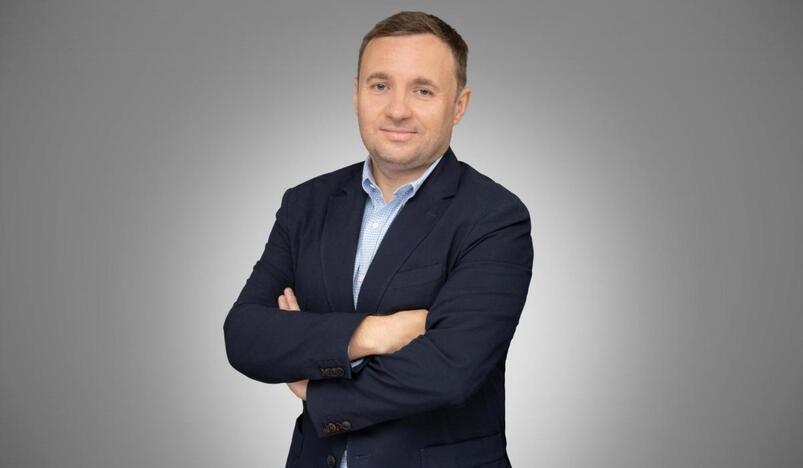 Dr. Konrad Grabiszewski Brings Decision-Making Expertise to Leading Business School
The much-published academic Dr. Konrad Grabiszewski has joined HEC Paris in Qatar, the GCC branch of #1 ranked HEC Paris, as Associate Professor of Economics.
Dr. Grabiszewski, who holds an MPhil in Economics from the University of Amsterdam, an MSc in Mathematics, and a PhD in Economics from New York University, brings to HEC Paris in Qatar a wealth of teaching and research experience gained over a 14-year academic career spanning leading institutes in Mexico, the USA, and Saudi Arabia.
During his career, Dr. Grabiszewski has shared his international expertise in teaching economics at the undergraduate, Master, MBA, and Executive levels through posts held at institutions including ITAM and the University of Miami. He also has extensive experience in the region, having held positions in Saudi Arabia at the King Abdullah University of Science and Technology and the Prince Mohammad Bin Salman College of Business and Entrepreneurship, where he was awarded the Best Teacher of the Year 2021 Award.
Dr. Grabiszewski is a prolific theoretical and empirical researcher. His work seeks to understand how people make decisions in various contexts.  He is an expert in game and decision theory, and he is the co-creator of mobile gaming experiments where players objectives are to understand how people reason in interactive situations. His specific experience in government regulation will add invaluable dimensions to our program participants.", stated Dr. Pablo Martin de Holan, HEC Paris in Qatar Dean.
Having garnered additional teaching awards including 'Teaching Excellence' from the University of Miami and 'Best Evaluated Professor' from ITAM, Dr. Grabiszewski has been a sought-after presenter at conferences around the globe including high profile gatherings in the Middle East, Far East, Europe, Russia, India, the USA and South America.  
"I am hugely excited to join the HEC Paris in Qatar Faculty and look forward to engaging with fellow academics, stakeholders and participants," said Dr. Grabiszewski. "I genuinely appreciate the opportunity to add value to program participants by assisting them on the pathway to leadership and entrepreneurial success and by helping them contribute to achieving both Qatar's and the region's ambitious goals."
HEC Paris in Qatar now counts five Doha-based faculty. Dean Martin de Holan explained that "Contributing to the academic and knowledge community in Qatar is part of our mission to deliver impact and excellence. Our faculty are active researchers and thought leaders who bring a global perspective that is adapted and relevant to Qatar and the region." HEC Paris in Qatar plans to continue growing its faculty as part of its support to the QNV2030, and building a diversified, knowledge-based economy.
Interview with Dr. Konrad Grabiszewski
1.    Dr. Konrad Grabiszewski, you have recently joined HEC Paris as an Associate Professor in Economics, specialized in behavioral economics, can you explain in lay person's terms what behavioral economics is?
It would not be an exaggeration to say that our lives are a sequence of decisions we make. Every day, from the moment we wake up to the moment we go to sleep, we make decisions: simple and complex, personal and professional, unique and routine. We make decisions playing different roles: customers, managers, governments, and so on.
Born from a marriage of economics and psychology and based on empirical studies, behavioral economics investigates how we actually make decisions in real life. You have probably already heard about heuristics and biases – they are the fundamental part of behavioral economics. You probably have stumbled upon the idea of nudging people or shaping their behavior; this also is behavioral economics.
In terms of its real-world applications, you can encounter behavioral economics being used in marketing, finance, management of organizations, government policy, and your household. 
2. Is it widely used in the Middle East?
All around the world, including the Middle East, companies rely on and use behavioral economics in various areas of their operations. Whether this is about shaping the behavior of employees or customers, behavioral economics might prove to be helpful. For example, the next time you buy a large popcorn at a cinema, while a medium size would be just enough, then you likely are a victim of the decoy effect. Or, if your company decided to re-design the incentive system with more emphasis on what employees might lose if they do not meet the targets, then it is plausible that the HR director learned about loss aversion and the framing effect.
Importantly and interestingly, in Qatar, the insights from behavioral economics have been used to help design better public policies. Founded in 2016 by the Supreme Committee for Delivery and Legacy, as the first behavioral unit in the MENA region, B4D "promotes evidence-based policies to address challenges with behavioral roots." They conduct experiments and interventions focusing on healthy lifestyles, entrepreneurship, academic performance, workers' welfare, and so on.
 
3. How could its pursuit benefit the region?
Behavioral economics can help the region by pursuing two paths: private sector and government policy. Companies can be managed better – and, consequently, become more profitable – if they use the lessons from behavioral economics. Government policies can be better designed and implemented – and, consequently, become more effective and efficient – if they rely on organizations like B4D.
4. You are an expert in game theory and decision theory, and you have created an app with the objective to understand how people reason in interactive situations. Can you tell us more about the use of apps and mobile phones?
In January 2007, Steve Jobs presented to the public the first iPhone, which entered the market in June that year. 15 years ago, nobody could have imagined how the world and humanity would transform due to mobile technology.
Today, there are more smartphones than people. In wealthy countries, almost everyone has a smartphone or two. But even in very poor countries, people are more likely to have a mobile device than access to clean water, basic hygiene, or sanitation. 
In addition, we spend more time with our smartphones. For many, a smartphone has become an essential part of their daily lives, if not identity. People communicate, shop, invest, and make various other decisions using smartphones. 
Imagine a day without your smartphone. Are you stress? Now, a week without a smartphone. Horror, right? 
In the last 15 years, we have witnessed what Alex Horenstein, my co-author who is a professor of economics at the University of Miami, and I call a mobile (r)evolution.
We have rapidly evolved from homo sapiens to homo mobilis. 
With smartphones in the hands of billions of people, mobile technology is prevalent but, so far, its usefulness has not been extensively explored nor exploited in research. Alex and I realized there are fascinating opportunities that mobile (r)evolution offers to social scientists (or anyone interested in studying human behavior: companies and governments).
To catch up with technological progress, we came up with the idea of mobile experiment – that is, an experiment that takes place on the subjects' mobile devices. To be more precise, we hired a team of designers and engineers – people with experience in designing mobile apps – and created Blues and Reds, a mobile game available on iOS and Android devices.
Our app is free and contains no in-app purchases or ads. The only revenue that Blues and Reds generates is data. Or, to be more precise, it is the people who download and use our app that generate the data. 
An experiment is a traditional methodology employed in empirical studies for decades. The novel aspect of our approach is that we have no physical lab or contact with the subjects. Everything takes place on smartphones.
There are several advantages of mobile experiments that are worth mentioning. First, we can run better experiments because our pool of subjects can be more extensive and diversified than traditional experiments. Our first app reached over 140 countries and thousands of people with diversified backgrounds; such outreach is prohibitively too expensive using standard methods. 
We can run experiments that are very difficult to implement in traditional settings. 
Mobile experiments can evolve with technology. Accessories like AR, VR, or anything we are unable to imagine today will open many doors for important and exciting research projects. Mobile experiments allow us to use that technology to pursue scientific progress. 
5. Can you tell us more about your app? 
In order to study the game theory and improve research quality, we came up with a research experiment as a game on a mobile app.
The Blues and Reds game presents a potentially complex situation that players need to solve. The theory of the game suggests creating a diagram called a tree, indicating all the choices and the potential outcomes. This type of game theory analysis provides the opportunity to use a concept called 'backward induction', which is looking to future options to guide choices in the present. 
Blues and Reds consists of 58 puzzles against the computer. In each puzzle, the player moves a ball, which we call a RoboToken, one step through a puzzle, and then the computer responds. The player wins if the game ends with the RoboToken on a blue circle as opposed to a red one. In more complex levels, player and computer have multiple rounds of choices to make. The game presents two different puzzles, which our players have nicknamed 'snowflakes' and 'rails'.
Through this app, we can study how people actually behave when using trees and backward induction. Research tells us that people struggle when trees become too large.
6. What does it take to design a mobile experiment? Do you develop the mobile apps on your own?
The process of creating and conducting a mobile experiment can be, roughly, split into four stages. First, we come up with a research idea that can be studied with a help of mobile app. Second, the app has to be designed and developed; this is where we do not work alone anymore. Third, the app has to be promoted in GooglePlay and AppStore. The final stage is data analysis; the essence of the whole project.
Let me elaborate on the stage of development. Nowadays, app development requires professional approach. After all, our apps Blues and Reds, Strategize It!, and Escapismo compete for users' attention with Candy Crash Saga, Farming Simulator, and Monument Valley. 
We cannot design and develop a lousy game expecting that people will download and use our app because it is "for science." We must offer a product that people are excited about. After all, our users spend their time and effort using our apps so we owe them high-quality apps.
Since neither Alex nor I are professional app developers, we work with people who do have the relevant background and experience in the industry. Artists creating app assets, software engineers, unity experts, UI/UX designers, testers, and others. Our role is more of producers: we are responsible for the research idea, securing financing, and monitoring the app development to make sure it meets the strictest academic standards. We also help a bit with coding, but only of the app elements related to scientific part rather than its core functionality.
When it comes to app promotion, so far, we have relied on our own invention and effort. With our first app, we contacted various media to promote the app. Yet, we found that digital marketing worked better. Naturally, it would be ideal if we could outsource app promotion and focus entirely on what we are experts at; namely, research.
7. Why do you think gaming can help people fine tuning decision making – or can it? Is it just researchers who benefit?
This is a very good question. I must admit that, so far, our ambitions have been limited only to using mobile technology to understand human behavior. Naturally, the next step would be to shape in order to help people avoid the mistakes they typically make. We believe that mobile technology can be used to fix biases, yet it is for the future to determine how successful the mobile approach can be in this endeavor.
8. According to your research, will gaming apps be the future of academic research?
I believe that mobile apps – whether as games or in other formats – can be very helpful in collecting interesting data for academic research and studies conducted by private and government sectors. Sadly, I do not have the power to see the future and am unable to see how prevalent mobile experiments will be in 5 or 10 years from now.
9. Will research via gaming apps be limited to younger generation groups?
This is another excellent question. First, let me stress that a mobile experiment need not be in the form of a game. For instance, our financial simulator has nothing to do with gaming. 
Second, let me address the issue of age and mobile games. In the early days of the gaming era (Nintendomania in the 1980s), a typical user was a child or teenager.
However, this is not true anymore as games do not seem to know age boundaries.
Apparently, 46% of users of Candy Crush Saga, one of the most popular mobile games, are from GenX. And as a member of GenX, I would love it to be called "younger generation," I think it is safe to say that those born between the mid-1960s and early-1980s are not young anymore. (By the way, in GooglePlay, Candy Crash Saga is rated at 4.6, the same as our first app, Blues and Reds.)
As for Millenials, the generation following GenX, about 70% of them use smartphones for games; a fact that is not very surprising as they are adults who experienced the first video game systems as kids. For the following generations, they essentially were born with a smartphone in their hands, so the numbers are even higher.*
* Source: https://www.blog.udonis.co/mobile-marketing/mobile-games/generations-gaming
10. Are you working on something new, like new apps in the pipeline?
Alex and I are currently working on a new app, Escapismo, which aims to study escaping behavior.  
To shed more light on this fascinating project, imagine a natural disaster like an earthquake, fire, or tsunami. When a disaster comes, people run away for safety; after all, to survive is a basic human instinct. 
However, other than anecdotes, we have very little scientific knowledge about how actually people behave when found in an escaping scenario. Are they optimally reaching safety? How irrational is their behavior? What model best describes the escaping patterns? 
These questions are not just of academic curiosity but also imperative from the public policy perspective. Imagine the following scenario. It is a day like every other day. In the morning, you go to your work in an office building. You had your coffee and checked your email. Suddenly, the building starts shaking, and, like everyone else, you evacuate. Hopefully, the building was designed and constructed to avoid an immediate collapse. 
Yet, will you escape on time? Desks, chairs, plants, and a plethora of other office objects that serve their function every day become obstacles that can prevent you from reaching the exit on time. If we know how people escape, we can recommend how to design the offices – where to place desks, chairs, and plants – to escape as fast as possible. 
The same reasoning applies to other public spaces. To make them as safe as possible, especially when disasters strike, we need to design them to incorporate the actual escaping behavior into account. 
For obvious reasons, studying escaping behavior in a lab or field is difficult, if not impossible. After all, we are not going to expose subjects to real-life dangers to observe their escaping patterns. Yet, in a mobile app, the worst that can happen is that a user does not win; no harm to health or life.
We hope that Escapismo will be available in GooglePlay and AppStore before this year ends. 
Mobile experiments, different from traditional formats, can also be revised and modified on the go. Suppose the initial data detect phenomena not previously taken into account but requiring a re-design of the experiment. In that case, this is going to be relatively easy to incorporate in a mobile format but impossible in, for example, a lab setting when the subjects have already left the experiment premises.
For example, in collaboration with Arizona State University in the USA, we are developing an app that will function as a simulator of the stock exchange market. Here, we step away from a game format. Instead, our app looks like an investing app in which people trade stocks and other financial instruments the way they do with apps like Robinhood. The significant difference is that people trade using artificial funds in our app. 
We hope to get insights into short- and long-term investment behaviors with the financial simulator. Data that our app will generate has, so far, been accessible only to stockbrokers. We aim to change this situation. The app will also allow us to test how investors change their behavior toward policies that have not yet been implemented, guiding decision makers beforehand. This type of analysis is not available yet and can reduce the uncertainty faced by policymakers when implementing or removing regulations.
Here, while I have not had a chance to embark on this research area, it is crucial to mention that Alex and I have been very interested in conducting projects related to medical research. For example, when it comes to cognitive and neurologic disorders (like Alzheimer's), one can be bold enough and imagine apps that allow for early detection. 
Today, only those lucky enough to be insured and live in developed countries can access various medical experts. They can go to a doctor for a test. Millions of people do not have such a privilege; yet, they have a mobile device that might never prevent a doctor but can help with early diagnosis.
11.  Have you considered using an app for research in Arabic? If not, is Arabic research a consideration for the future?
Of course! There are more than 300 million people considering Arabic as their first language. These are 300 million people we can reach with our mobile apps. Importantly, in countries like Qatar or Saudi Arabia, where societies are very young, mobile technology is more prevalent and used more frequently than in other parts of the world. For example, when designing Escapismo, we included Arabic as one of the languages that users can choose.