Doha Festival City's theme parks reopen tomorrow, here's what to expect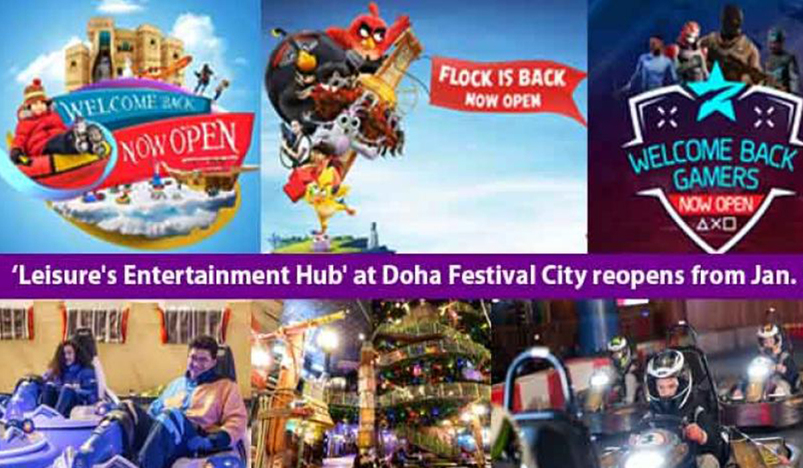 Doha Festival City's theme parks reopen tomorrow, here's what to expect
Doha Festival City, one of Qatar's top choices for shopping, dining and entertainment, is pleased to announce the reopening of its theme parks as of January 11th, following the government's announcement on the phased approach to the reopening of amusement parks and other recreational activities in Qatar.
After months of closure, theme parks Angry Birds World, Virtuocity and Snow Dunes will welcome back visitors for an exceptional experience, adhering to 50% capacity as per the government guidelines. Doha Festival City theme parks are owned and managed by 100% Qatari operator Leisure, driven by operational excellence and committed to deliver excellent entertainment services.
The reopening of theme parks will take place in three phases: starting from January 4th, outdoor paygrounds and kid's outdoor games will reopen. The next stage will start on January 11th and will include electronic games and trampolines. Starting from January 24th, theme parks will be fully operating, including bouncers and inflatable games.
Leisure's theme parks will open from 1pm to 10 pm from Sunday to Wednesday, from 2pm to 12am on Thursday and Friday, and from 11am to 9pm on Saturdays.
All theme parks will adhere to the most stringent safety measures to ensure visitors can entertain with peace of mind and in the safest of environments. All staff across the theme parks have received thorough training and will adhere to the following protocols:
• Mandatory Ehteraz app checks at the entrance to theme parks for all visitors except children, with only green code holders allowed to enter;
• Temperature checks will also be carried out at the entrance to the parks, and any individual with temperature exceeding 38 degrees Celsius will be denied entry to the site;
• Wearing medical masks will be required as well, and visitors will have to maintain a safe distance of two meters minimum.
• Theme parks employess will oversee the respect of social distancing, supported by signs installed across the parks reminding visitors about social distansing and PPR wearing requirements.
• All rides, attractions and infrastructure of theme parks will be continuously sanitized and hand sanitizing stations will be installed throughout the parks' areas.
Doha Festival City's play and edutainment centers, Caboodle and Spark Sense & Play, will also reopen with several restrictions in place, following the official safety guidelines. Play centers will be open during Doha Festival City's trading hours.
Caboodle play center will reopen for workshops and organized activities only, while its play area will remain closed. To maximize childrens safety, Caboodle will also allow only 15 children and adults per hour to be present in its premises. After each hour, all will be required to leave the area that will then be sanitized by the center. 2 children will be allowed to use one activity table for one hour only. The staff, as well as children above the age of ten will be required to wear masks at all times.
Spark Sense & Play is also opening its doors partially on 11th January 2021 with extra safety measures in place. In addition to following all the government guidelines for recreational activities, the center will request children and companions to take their shoes off and stay in socks before entering the area. A 10-minutes gap will be left between each session for cleaning and sterilization, and the center's division into four separate spaces will allow to further enforce social distancing protocol. Only 35 people will be allowed in the center at the same time, and only one chaperone per family will be allowed for children under five years old. Child-sized sinks installed in the play center and small hand sanitizers provided will help children to easily wash and disinfect their hands, while enough supplies will be provided for kids not to share them. Spark's employess will ensure safe distance between children is maintained  and the equipment will be sterilized after each session.
Doha Festival City opening hours are Saturday to Wednesday from 10am to 10 pm, and Thursday to Friday from 10am to 11pm. Children of all ages are now allowed to enter the mall.  Doha Festival City also continues to apply stringent health and safety measures throughout its premises in line with the government's preventative measures. A thorough mall disinfection treatment  is carried out on a weekly basis, in addition to robust cleaning and sanitization operations during mall trading hours. 127 hand sanitizing stations are installed in the areas that have commonly touched surfaces. 
At the entrance to the mall and all shops, visitors must show their green Ehteraz QR code, and should wear a face mask during their whole time in the mall. Physical distancing stickers in common queuing areas, such as ATM machines, banks, telecommunication kiosks and branches and various retail shops were installed to help shoppers keep the required physical distance as set forth in the guidelines by the authorities. Stores will provide sanitizers on entry and at cash points to ensure the highest level of hygiene.