Difference Between Cloud Hosting and VPS Hosting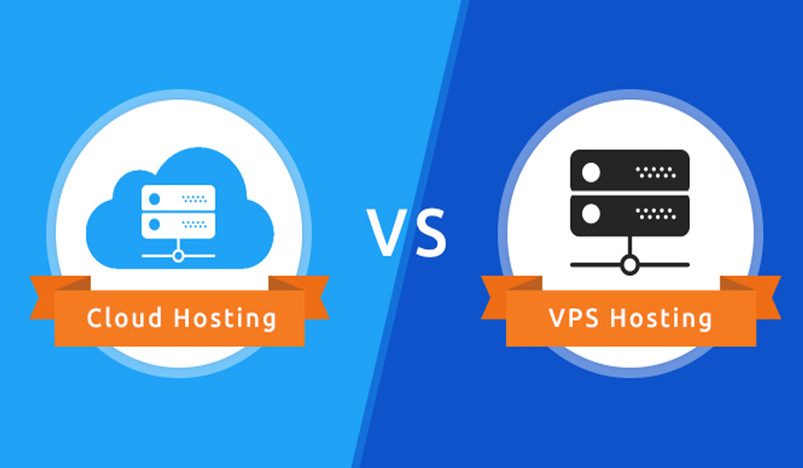 Difference Between Cloud Hosting and VPS Hosting
What is the difference between cloud hosting and vps hosting? Which one is the best among them and for what purpose?
It's complicated to choose the best hosting plan for your website as all hosting plans have their own benefits and drawbacks. 
We will help you out to make informed decisions about hosting by going through the below section: 
What is VPS hosting?
- VPS hosting refers to the 'Private Cloud', which has multiple and individual dedicated slots on the same virtual machine through dedicated resources. It operates based on the resource-shared or time-shared technology phenomena. 
- VPS hosting is vulnerable that the website or application will not be available until the issue is fixed when a particular resource or slot can crash down. The remaining resources or applications will be running without any disruptions. VPS hosting brings the margin closer between the shared and dedicated hosting solutions. 
VPS Hosting Benefits:
- VPS private hosting provides free website management because you can access it anytime and install the software you need, and os you require either windows or linux vps hosting  which is best suited for your requirements.
- VPS is independent of users' traffic or audience, unlike shared hosting. However, it's an efficient hosting solution and allows you to maintain your resources. 
- VPS hosting is secure. All your data files are safe, private, and not accessible to other clients without regarding the rights on the server.
What is Cloud Hosting?
Cloud hosting is the best hosting solution that has achieved massive acceptance in a short period. It allows accessing the websites from anywhere at any time. The hosting resources of each website replicate on every cloud server in the cluster. Therefore, the query is routed to the idle cloud of the cluster if one cloud server has maximum traffic. 
The web hosting services like SFTP, SMTP, FTP, SSH, etc., run on the cloud using different servers. Therefore, it achieves reliability by allocating equal resources to the cloud servers in the cluster. As a result, the complete hosting server will not cause disruption or failure when one application undergoes malfunctions. 
Cloud hosting Benefits:
1. The access to the resource level will reduce slightly if one of the servers will not work or offline. 
2. Your website hosts virtual partitions by taking advantage of multiple physical networks  reliably with the cloud hosting. But, it won't add the issues to your website in terms of accessibility. 
3. Cloud hosting offers security through various physical servers that protect third parties. 
4. Cloud hosting is flexible, scalable, and extensible. Like a single server, it doesn't have any constraints. Based on your requests, the resources provided on a real-time basis. 
5. It has provided economic benefits as you need to pay only for what you use. 
Which is the best one among VPS hosting and Cloud hosting?
The fundamental details are not enough to choose the best hosting plan, and we need to compare them based on some parameters such as:
- Performance
Performance is the essential factor to consider while choosing a hosting plan. It should allow the website to function generally at all the time with consistent speed and loading. 
VPS plans provide excellent performance as they ensure a certain amount of resources. However, the performance will impact when multiple websites have high demands abnormally in rare cases. At the same time, cloud hosting ensures impressive uptime as all websites' needs divide between various servers in a network. Moreover, it has an in-built backup system if a website hits higher demands than the usual traffic. 
- Security
The significant concern is the security of your website to overcome the hacking consequences. A VPS hosting plan will operate the functions individually from other sites sharing the same physical server. Therefore, your website will be affected slightly due to the poor security of another site. 
A cloud hosting service will be very secure and separate from other users on the same physical network. 
- Price
Both these plans cost less compared to the dedicated hosting. But, VPS or cloud hosting plan costs will depend on the service provider. 
- Scalability
Scalability is also another major factor when higher users' traffic is there for your website. VPS plan is not scalable because it guarantees specific servers if traffic doesn't go beyond the particular needs. 
Cloud hosting provides high scalability, excellent uptime and performance owing to the servers' availability. In addition, it gives the flexibility of switching to another server when a failure occurs to the physical server. 
- Customization
VPS can provide the best customization options by giving access to the website and controlling the OS. Cloud hosting also offered decent customization. The configuration of physical servers may impose some limitations. It may be limited due to the sheer amount of servers. 
Based on the above discussions, VPS hosting is the best one if you want to launch a website simply without caring about scalability. However, it's worth opting for a cloud hosting solution when you demand flexible hosting, storage, and superior performance.