Croatian ship 'Golden Horizon' to host World cup fans in Doha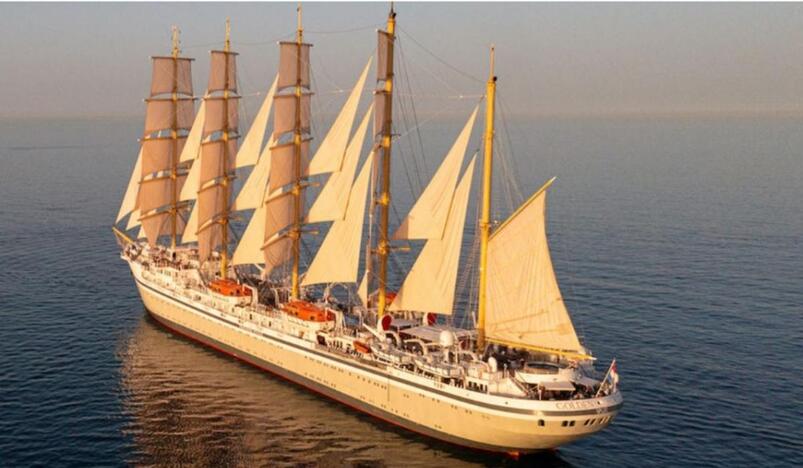 Croatian ship 'Golden Horizon' to host World cup fans in Doha
The Croatian ship 'Golden Horizon,' the world's largest square-rigged sailing ship, will arrive in Qatar to host Croatian supporters at the FIFA World Cup Qatar 2022.
The Croatian Business Council (CBC) stated this in a press release on Sunday.
The council stated that the initiative is being carried out in order to promote Croatian culture and tourism, as well as to highlight Croatians' passion of sport and the national team.
Croatia finished second in the 2018 World Cup in Russia.
According to Omar Saciragic, project director at CBC, the inspiration for the 'Golden Horizon' campaign originated in 2019 when the Qatari Fath Al Khair dhow went to Croatia to promote the World Cup.
"We want to use this opportunity to thank the Supreme Committee for Delivery & Legacy, Discovery Qatar, Qatar Tourism and Doha Port officials, who made it possible to showcase our ship in a prime location in the heart of Doha Port. This project is a testament to a great relationship between our two countries and we hope that this will only serve to strengthen our bilateral ties," said Mario Lozancic, president of the Croatian Business Council in Qatar.
The five-masted barque is based on the famed square-rigged tall ship 'France II,' which was completed in 1913. The ship's website claims, "We've been inspired by history's magnificent Tea Clippers and Cape Horners, and added our own contemporary twist."
The clipper is 162 meters long and 18.5 meters broad. According to the CBC Qatar website (https://www.cbcqatar.com/news/golden-horizon-croatian-fans-on-the-largest-square-rigged-sailing-ship-in-the-world-on-world-cup-qatar-2022).
"First-class service, top-notch dining and elegant cabins, all with a sea view as part of the luxurious experience on board. 'Golden Horizon' will be docked in a premium location in the heart of Doha Port," the website adds.
Different packages will be offered for clients, and complete specifics, including cabin types and deck plans, as well as registration information, may be accessed through the ship's website at https://goldenhorizon.qa.
The ship has a gallery deck with a library, store (which offers everything from basics to high-end sunglasses, binoculars, and luxury apparel), guest services, and a dining area, among other things.
The marina platform, which opens just above the sea at the stern, is located on the Marina deck and serves as the ship's doorway to the ocean. From here, visitors can use the ship's scuba diving equipment to explore the undersea destination, or borrow snorkels to observe marine creatures from the surface.
The marina also has a spa and a gym, as well as complementary watersports equipment.