Commemorating Independence Day, Indonesian Embassy Engages Kids with Special Needs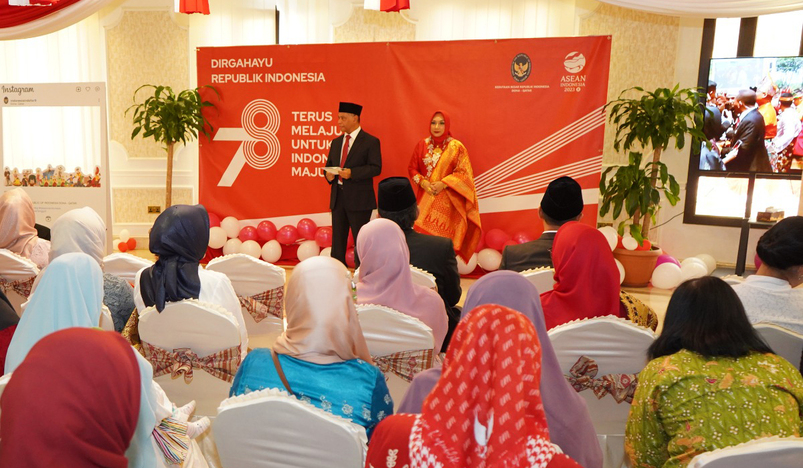 Indonesian Independence Day
The Flag Hoisting Ceremony for the 78th Indonesian Independence Day in Qatar was held yesterday (17/08). The ceremony was attended by all staff members of the Embassy, families and community representatives with a total of 100 participants.
The ceremony began with the raising of Sang Saka Merah Putih, or the red and white flag by the Flag Raising Team (Paskibra). Interestingly, one of the Paskibra members this year is a student with special needs. The journey of the Paskibra itself is somewhat unique because they were recruited from Indonesian students who were born and raised in Qatar and could barely speak Indonesian at all. 
"But with extraordinary dedication, these children continue to practice so they can fly the Indonesian flag well," said Ambassador Ridwan Hassan. Kels Mohammed Toriq who studied at the HOPE Center expressed his joy at being able to join as a member of the Paskibra. "I am proud to be a part of this amazing Team", said 16 year old Toriq.
Not only joining Paskibra, some of the children with special needs from Indonesia in Qatar also joined the Embassy's Choir, known as the Bahana Indonesia Gemilang (BIG). The BIG Choir group has often been invited by the Government of Qatar to perform at various events in Qatar. They last appeared in the 2022 World Cup fan zone.
"The involvement of children with special needs in Paskibra and the Choir is also to send a message that independence should enable us to be inclusive to everyone with different background " said Ambassador Ridwan Hassan.
The series of activities to commemorate the Indonesian Independence Day itself have been going on since July 25 by holding a bowling competition for Indonesian Embassy staff and the community. While the climax of the celebrations will be held in Al Khor, on September 8 by featuring sports tournaments, bazaars and art performances.