"Coffee for Two - Cultures in Dialogue" Exhibition Opens in Katara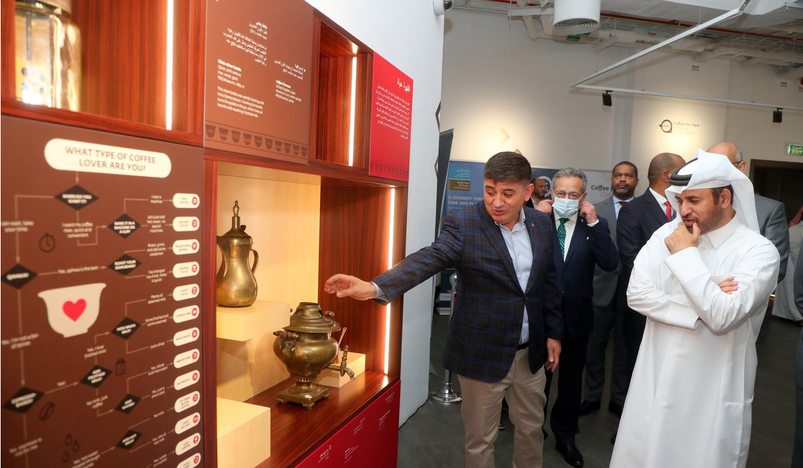 Exhibition
Amid an atmosphere full of the aroma of fine Arabic coffee, activities of the exhibition "Coffee for Two - Cultures in Dialogue" opened at the Cultural Village Foundation - Katara on Sunday evening.
The exhibition, which is held building 47 until Sept. 21, is part of the cultural initiative launched by the Sheikh Faisal Bin Qassim Al-Thani Museum in 2018 dubbed "The Majlis Cultures in Dialogue". It was launched in France and has toured various European capitals, including Paris, Vienna, and Valletta, among others.
The opening of the exhibition was attended by Katara General Manager Prof. Khalid bin Ibrahim Al Sulaiti, Doha-based UNESCO Gulf States and Yemen Office Director Salah Khaled, Sheikh Faisal Bin Qassim Museum officials, a number of Their Excellencies Ambassadors accredited to the State, and a group of interested people.
The exhibition, which is held within the framework of the cultural partnership between Katara and the UNESCO Regional Office in Doha, celebrates the culture and traditions of coffee as a symbol of generosity and a universal language that connects people around the world, and promotes cultural exchange and social cohesion. It features a selection of around 50 artefacts related to the preparation and making of ancient coffee, as well as a collection of photos and videos, which explore cultural practices related to Arabic coffee roasted at home.
The exhibition "Coffee for Two - Cultures in Dialogue" searches into the history of the well-known drink with maps that trace the route of coffee starting from Ethiopia, then the Arabian Peninsula and Egypt, passing through the prosperous plantations of Latin America before becoming a dominant drink in Europe in the seventeenth century.
Moreover, the exhibition highlights the evolution of coffee over time and its adaptation to modern times, where archival photographs from the collection of the Sheikh Faisal Bin Qassim Al-Thani Museum, in comparison with contemporary snapshots of coffee consumption on the go, show how knowledge and traditions are constantly merging to create culture and social interaction.
HE Sheikh Faisal Bin Qassim bin Faisal Al-Thani, Founder and Chairman of the Museum's Board of Trustees, said that we aim from this exhibition, which is being held this year in coincidence with the FIFA World Cup Qatar 2022, to bring the exhibition "The Majlis Cultures in Dialogue" to Qatar, starting with this special exhibition in Katara because it symbolizes the culture of hospitality in general and Arab hospitality in particular.
His Excellency added that visitors from all over the world are invited to sit in the Majlis to listen to stories, engage in dialogues and exchange ideas about what they see, by sharing impressions of the exhibition and getting to know cultures to strengthen international, Arab and Islamic relations, through art and antiques in order to spread the message of peace and prosperity and expand our understanding of other people and places.
QNA