Best Sushi Restaurants in Qatar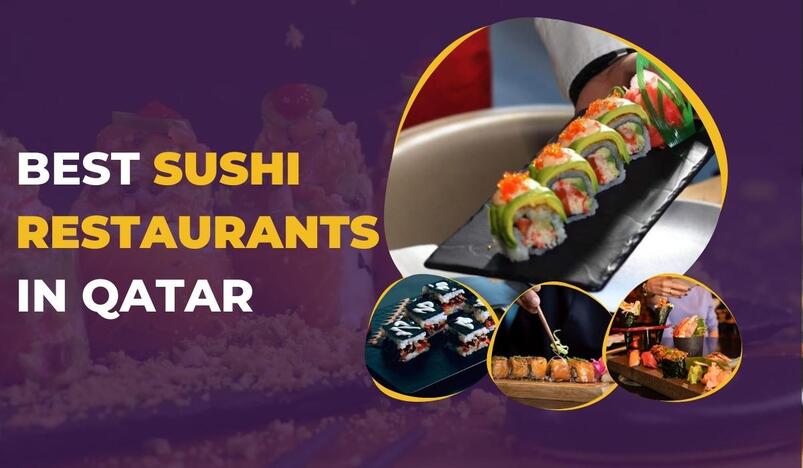 Best Sushi Restaurants in Qatar
Even though sushi is a food that originated in Japan, good sushi can be found worldwide. Made with fresh fish, amazing quality rice, and other taste-enhancing ingredients, is one of the most loved dishes around the world. But, not everyone can put together a mesmerizing plate of sushi, even if they have the best ingredients; it takes years of practice to become a sushi chef, and Qatar has some of the best sushi restaurant.
Here are a few must- try Sushi Restaurants in Qatar.
Yugo
Yugo in Japanese translates to 'Fusion', a careful blend of dishes that draw inspiration from all over East Asia, including Thailand, Japan, Korea, Malaysia, and Indonesia. You can experience the wonderful flavors of the Orient through a meal at Yugo.
Contact: 4407 7118
Location: Google Maps
NEO Restaurant
A creative blend of delicacies that exceeds the boundaries of usual dining experience. Orange Temaki, Tiger Temaki, Alaskan Maki, Avocado Maki, Caterpillar Maki are a few of their Must-try.
Contact: 4432 2508
Location: Google Maps
Spice Market
Explore this unique South-East Asian experience with food curated by Spice Market's chefs and a menu packed full of delicious dishes. Enjoy a sushi night with your family and friends, as you sample traditional Asian flavors with an inventive twist!
Contact: 4453 5135
Location: Google Maps
Maki
Maki is a leader in modern Japanese cuisine, providing Sushi and combining Japanese history with Mediterranean and global flavors and textures. If you enjoy Japanese food, Maki should be on your list of places to visit.
Contact: 4443 1795
Location: Google Maps
Teatro
A signature upscale restaurant offering fusion cuisine from around the world. While indulging into gastronomic Teatro play, the guests can watch the live cooking of their food at the restaurant's show kitchen or Sushi Bar.
Contact: 4445 8888
Location: Google Maps
Nozomi
It's a contemporary Japanese lifestyle restaurant and celebrity hotspot travelling from the heart of London to the island of Marsa Malaz Kempinski. Its culinary style is best described as contemporary Japanese infused with European subtleties. It offers a comprehensive selection of sushi, its famous Black Cod and tender Wagyu beef, to its world class lobster tempura and vegetarian dishes.
Contact: 4035 5089
Location: Google Maps
Sora
A Modern Japanese Rooftop Dining Lounge & Terrace with Doha's skyline views. It serves small sharing dishes, sushi, sashimi and the unique culinary art of Robata (meat grilled over charcoal). Sora provides panoramic views of The Doha Palace, Green Mosque, Souq Waqif, Corniche and West Bay skylines.
Contact: 4009 4344
Location: Google Maps
Maison De Sushi
A Japanese & Thai Buffet Restaurant with a fun environment to make your experience worth-remembering. Nothing beats good food and a happy mood. It's not about the food, it is all about the mood. They also serve the best of the Arabic Cuisine, Indian Cuisine, Breakfast, Burgers and Sandwiches, Fried Dishes and Salads.
Contact: 7050 1386
Location: WestBay 
Morimoto
Morimoto is adorned with energetic and graceful artworks by Japanese painter, Hiroshi Senju. Experience luxurious dining in a 16-seat sushi bar or the main dining area surrounded by rose-gold studded columns. Behind the sophisticated, hidden mirror doors, find two private interlinking dining rooms for exclusive dinners and business meetings.
Contact: 4045 5999
Location: Mondrian Doha