Bangladesh officials says Depot fire exacerbated by mislabelled chemicals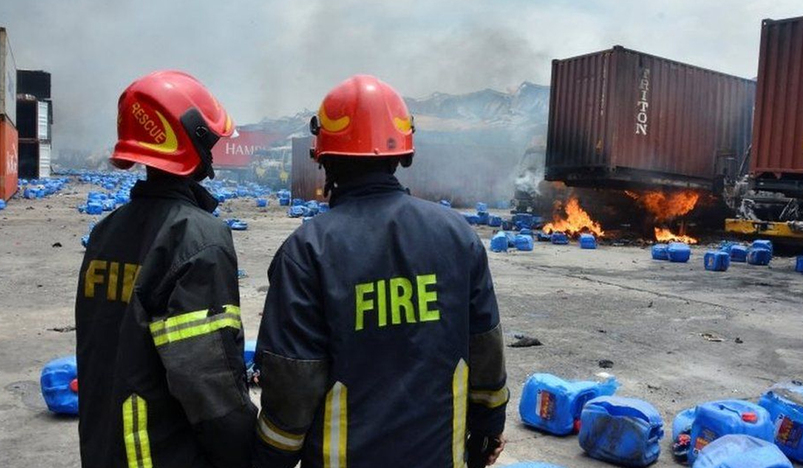 Bangladesh officials says Depot fire exacerbated by mislabelled chemicals
Bangladeshi officials have accused the operator of a container depot of exacerbating a deadly blaze by not storing chemicals safely.
Nine firefighters were among more than 40 people killed after fire broke out near the port city of Chittagong.
Officials said containers of hydrogen peroxide were labelled incorrectly - and firefighters doused flames with water instead of foam.
The depot's owner has yet to comment on the allegations.
On Monday, officials revised down the initial death toll from 49 to 41, saying some bodies had been counted twice.
Hundreds of people were injured or are still missing in the disaster at BM Container Depot in Sitakunda, 40km (25 miles) from Chittagong, and the number of dead is expected to rise.
Purnachandra Mutsuddi, an assistant director with the local firefighting service, told the AFP news agency that as soon as the firefighters entered the depot on Saturday they unwittingly doused the hydrogen peroxide with water, setting off an explosive reaction that sent "a container flying more than 500 feet".
"There are some rules to keep hydrogen peroxide. Had we known this, we would never throw water. We would never take our vehicle inside the depot," he said.
The fire, which has now been blazing for three days, is under control but has not been extinguished completely.
Local police chief Abul Kalam Azad said that an investigation into the causes of the blaze had begun.
It remains unclear what sparked the blaze, which injured about 300 people, more than 12 of whom are in a critical condition. Two firefighters are among the missing.
People seeking news of those unaccounted for have converged on the local hospital in Chittagong, some holding photos of their loved ones.
Jahanara Begum was waiting to give a sample for DNA testing to identify the remains of her son, Shahadat Hossain, who was a lorry driver.
"His father just died last year, now I have lost my son," she told BBC Bengali. "He parked his truck and went to the canteen for dinner. The canteen caught fire and my son got trapped."
The family of Imran Hossain Mazumdar identified his body on Monday afternoon. He had been one of the first firefighters on the scene. Mr Mazumdar leaves behind a wife who is six months pregnant, a son and a disabled daughter, his niece said.
Police spokesperson Shanewaz Khaled said it could take weeks to identify the deceased.
"If someone is missing from the fire, the families can give their samples to us," he told BBC Bengali. Officials had collected 23 samples for DNA testing so far, he said.
The fire broke out at around 21:00 local time (15:00 GMT) on Saturday and hundreds of firefighters, police and volunteers quickly arrived on the scene.
As they tried to extinguish the blaze a huge explosion rocked the site, engulfing many of the rescuers in flames and throwing debris and people into the air.
"The explosion just threw me some 10 metres from where I was standing. My hands and legs are burnt," lorry driver Tofael Ahmed told AFP news agency.
The blast was so large it was heard several kilometres away and shattered the windows of nearby buildings. One local shopkeeper told reporters that a piece of debris had flown half a kilometre and landed in his pond. He described seeing "fireballs falling like rain" after the explosion.
Source: BBC