Bangladesh and Myanmar brace for the worst as Cyclone Mocha makes landfall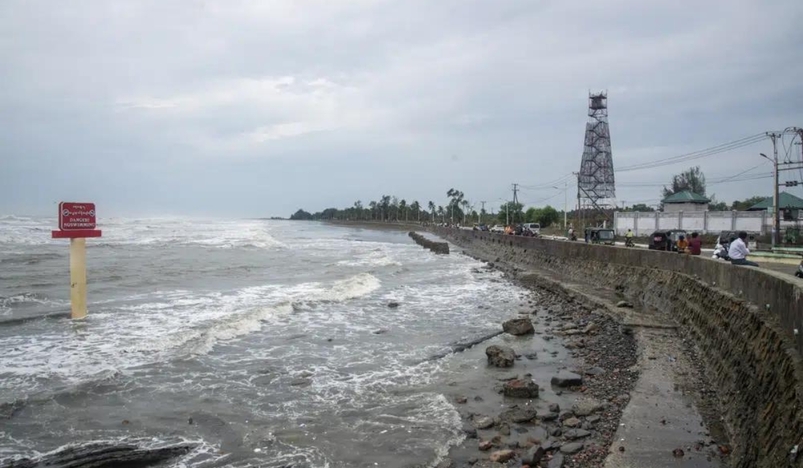 Bangladesh and Myanmar brace for the worst as Cyclone Mocha makes landfall (AP)
Powerful Cyclone Mocha made landfall on Myanmar's west coast Sunday and is barreling toward millions of vulnerable people with winds equivalent to a Category 5 Atlantic hurricane as aid agencies warn of the potential for a major disaster.
Since forming in the Bay of Bengal early Thursday, the tropical cyclone has intensified, with sustained winds of 259 kilometers per hour (161 mph) and gusts of up to 315 kph (195 mph), according to the Joint Typhoon Warning Center on Sunday.
The Bangladesh Meteorological Department said Sunday that Mocha is likely to move north-northeasterly across Rakhine State in Myanmar and "completely cross" southeastern Bangladesh's Cox's Bazar, host to the world's largest refugee camp.
Aid agencies in Bangladesh and Myanmar say they have launched a massive emergency plan as the storm brings strong winds and rain to the region along with the threat of flooding and landslides.
Disaster response teams and more than 3,000 local volunteers who have been trained in disaster preparedness and first aid have been put on standby in the camps, and a national cyclone early warning system is in place, according to Sanjeev Kafley, Head of Delegation of the IFRC Bangladesh Delegation.
In addition, mobile health teams and dozens of ambulances are ready to respond to refugees and Bangladeshis in need, with specially trained teams on stand by to help the elderly, children and the disabled, Arjun Jain, UN Principal Coordinator for the Rohingya Refugee Response in Bangladesh, told CNN.
"We expect this cyclone to have a more severe impact than any other natural disaster they have faced in the past five years," said Jain. "At this stage, we just don't know where the cyclone will make landfall and with what intensity. So we are hoping for the best but are preparing for the worst."
Evacuations of people in low-lying areas or those with serious medical conditions had begun, he said.
In Myanmar, residents in coastal areas of Rakhine state and Ayeyarwady region have started to evacuate and seek shelter at schools and monasteries.
Hundreds of Red Cross volunteers are on standby and the agency is relocating vulnerable people and raising awareness of the storm in villages and townships, the IFRC's Kafley said.
The last storm to make landfall with a similar strength was Tropical Cyclone Giri back in October 2010. It made landfall as a high-end Category 4 equivalent storm with maximum winds of 250 kph (155 mph).
Giri caused over 150 fatalities and roughly 70% of the city of Kyaukphyu was destroyed. According to the United Nations, roughly 15,000 homes were destroyed in Rakhine state during the storm.
(CNN)