B2C Solutions Named Gulf Company of the Year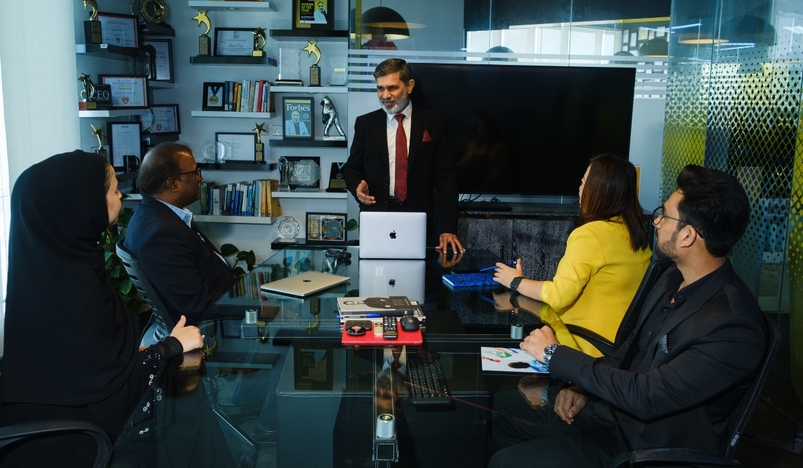 The incredible B2C Team
"A company's success is intrinsically linked to the quality of its workforce." This straightforward yet profound statement underscores the paramount importance of recruiting the right talent. In today's fast-paced and ever-evolving business environment, finding and hiring the right people has become a critical endeavor for companies aiming to maintain a competitive edge. The success of a business depends on its ability to attract, retain, and empower individuals who not only possess the necessary qualifications but also have the skills and cultural alignment needed to drive the organization forward.
However, discovering talent that not only meets specific job requirements but also fits seamlessly with your company's culture and exhibits a genuine passion for the industry can be a daunting and time-consuming task. It requires keen judgment, thorough screening, and a deep understanding of industry trends. This is where B2C Solutions, a leading outsourcing and staffing company in Qatar, plays a vital role.
B2C's impressive journey spans a decade in the city of Doha, with an ambition to support organizations in their pursuit of excellence by connecting them with the perfect individuals to fuel their success. With this vision at its core, the company has been addressing the diverse manpower needs of various business entities, making a significant impact on individuals' lives while forging strong relationships between organizations and their human assets. Initially focusing on the Health Business Sector, B2C's unwavering determination propelled it into diverse industries, establishing itself as a trusted partner in sectors such as Aviation, Insurance, Telecommunication, Banking, Hospitality, Government Institutions, and even the Transport service sector. Offering a wide range of services, including RPO, Permanent Staffing, Contract Staffing, Event Staffing, Head Hunting, Payroll Outsourcing, and BPO services, B2C has become the go-to solution for diverse client requirements all under one roof.
Going Beyond The Qualifications Listed On Paper 
B2C firmly believes in the value of Human Capital. The company is committed to delivering exceptional outcomes for its valued clients by deeply understanding their needs. B2C Solutions employs various powerful techniques to provide unmatched sourcing strategies, including professional career analyses, skill assessments, and aligning candidates' desires, values, and professional interests with suitable opportunities. The company goes the extra mile to comprehend what motivates and demotivates individuals in the workplace, ensuring a seamless transition that fuels success.
Key Elements Driving B2c's Growth And Success 
B2C boasts an unmatched expertise, innovation, and client-centric approach. In a competitive world where failure is not an option, B2C serves as a beacon of assurance for its clients by handling specific tasks while allowing them to focus on their core business aspects. Versatility is another hallmark of B2C, offering resources like a diverse and skilled workforce representing over 20 nationalities, proficiency in 36 languages, and a dynamic management team with extensive experience and innovative thinking.
Additionally, B2C's excellence is rooted in its strong market connection. With an extensive network and access to industry news and trends, B2C stays ahead of the curve, utilizing social media platforms to connect with potential job seekers and remain at the forefront of the industries it serves. Through constant communication and a dedicated client-facing team, B2C provides clients with valuable market insights and updates, fostering a partnership that drives shared goals. The company also tailors solutions to seamlessly integrate with each project's unique requirements, assuring timely and cost-effective recruitment solutions with fast turnarounds.
Promising Excellence Despite the Odds 
B2C Solutions has emerged as Qatar's premier sourcing and staffing company, leveraging over 9 years of industry experience. Its journey has been marked by transformation and resilience, overcoming obstacles such as navigating the GCC Blockade and weathering the pandemic. During the historic FIFA World Cup, B2C played a pivotal role by deploying over 2500 skilled workers within an incredibly short timeframe, showcasing its commitment to excellence and dedication.
Even in the face of the global pandemic, B2C continued to provide seamless support to its clients by embracing hybrid work methods and leveraging technology. Throughout challenging times, the company remained committed to its clients and the well-being of its workforce. B2C's extensive portfolio of government clients, constituting 70% of its clientele, highlights its stability and reliability.
Nurturing Ideas; Promoting Diversity 
At B2C, the company's identity goes beyond being a mere business entity; it stands as a symbol of hope, resilience, and determination. The organization has fostered an open-door culture that encourages communication and collaboration at all levels, breaking down barriers and allowing everyone to contribute and share their ideas. Regardless of nationality, the B2C team unites under a common goal, driven by an unwavering commitment to customer success. What truly sets B2C apart is its adherence to timeless values and principles that ensure excellence in every aspect of its operations. The company firmly believes that a satisfied customer attracts more customers, and it takes pride in creating an environment where every voice is heard, ideas flourish, and the collective brilliance of its diverse team drives innovation.
A Promising Future Awaits 
B2C aims to expand its horizons beyond the GCC regions, reaching into the dynamic landscapes of Asia and Europe. To bolster its global presence, the company actively seeks strategic alliances with multinational organizations, aiming to enhance its capabilities and solidify its position as a trusted global partner of choice. However, B2C's aspirations extend beyond mere expansion and commercial success. The company is driven by an insatiable desire for unexplored ventures and untapped potential. B2C is relentless in its pursuit of new opportunities, challenging conventions, and redefining what is possible. The CEO of B2C, Aarti Mahajan, concludes with the passion for pushing boundaries and turning hidden possibilities into remarkable achievements.