Al Maha Island offers wide range of entertainment activities this summer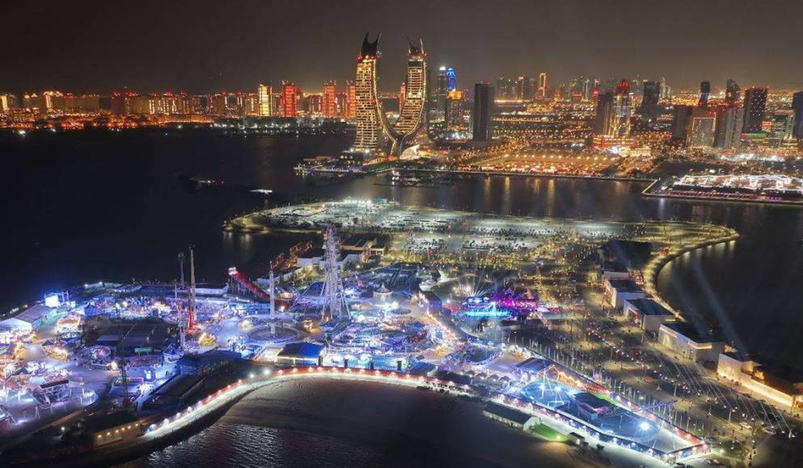 Al Maha Island
Al Maha Island, Qatar's ultimate leisure and dining hotspot continues to offer visitors a wide range of entertainment activities, shows and exceptional food experience this summer. Located across the Lusail Marina promenade and linked to the mainland via a causeway, Al Maha Island includes a high-end dining district, a beach club and a winter-themed amusement park.
Al Maha Island which was Inaugurated last November in preparation for Qatar 2022 World Cup, is supporting the rapid growth and transformation of the tourism and hospitality sector in Qatar with five of its high-end restaurants presented with the prestigious FACT Dining Awards Qatar 2023 (in its different categories).
With these award-winning restaurants, Al Maha Island has cemented its reputation as a haven for food and entertainment lovers, attracting over 300,000 local, regional, and international visitors every month. Alongside its captivating attractions, this destination promises an unforgettable experience that tantalizes the senses and creates lasting memories for all who visit.
Captivating dining and entertainment experience:
Pura Vida Qatar - Winner of FACT's "Breakfast" category is the go-to spot for early morning indulgence and all-day dining.
LPM - Winner of FACT's "New In town Fine Dining" category offers a sophisticated and tantalizing French with Mediterranean influence fine dining experience.
Carbone - Winner of FACT's "New In town Fine Dining" category is a must-visit authentic Italian fine-dining restaurant.
Rossopomodoro - Winner of FACT's the "Italian Casual Dining" category: is the go-to destination to enjoy the vibrant ambiance and casual Italian dining in Qatar.
Nammos Qatar - Winner of FACT's "Al Fresco Dining" category: is ultimate destination for upscale beach and al fresco dining experience with live DJ set and special menu by the pool.
Billionaire: offers exceptional food and service  along with extraordinary performances such as  'Power of Love Theme show', 'Billionaire and the City Theme show' and 'Billionaire's Fuego Latino Theme show'.
TATEL Doha: provides a taste of Spanish haute cuisine accompanied by live music and impeccable service, and a special brunch with music performance by 'YEI MARTINEZ Band',  'Harold Band' and Live DJ Set.
Beefbar which won 1st place in the new category of the prestigious World's 101 Best Steak Restaurants called Steak Restaurants with Multiple Locations, offers live entertainment with 'ANNA KEYS Band'.
Zuma Doha: offers authentic and modern Japanese food with live DJ set.
Em Sherif: offers traditional, refined and unique take on the multifaceted Lebanese cuisine delivering first-class dining experiences to guests in addition to special performance by 'Watar Live Band'.
To complete the culinary journey, Al Maha Island offers casual and authentic dining and coffee/tea experience at Karaki, an exquisite traditional tea lounge offering a wide selection of pastries, and MokaCaffe where Roasting coffee beans is treated as a true art.