Across Borders Exhibition.. Celebrating Qatar and America's Textile Heritage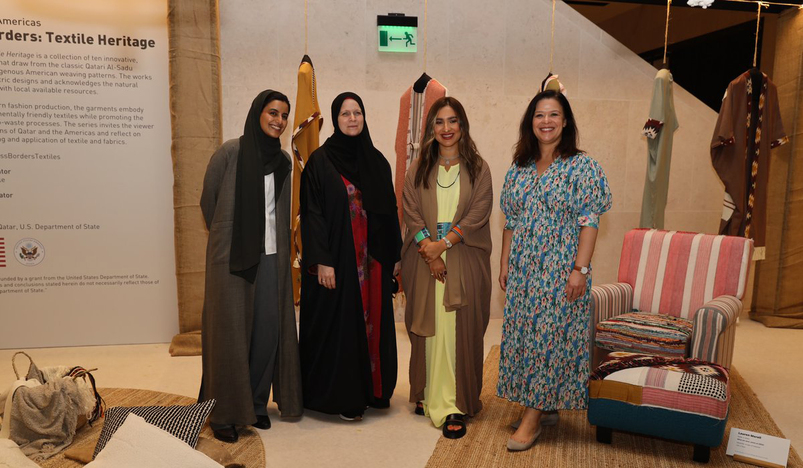 Across Broders: Textile Heritage
The "Across Broders: Textile Heritage" exhibition by American designer Lauren Morell, in partnership with designer Sarah Hannibal, opened in QC Hub at M7 on Saturday evening.
In an inclusive statement to Qatar News Agency (QNA), Project Development Coordinator at M7 Dana Al Misnad said that the exhibition focuses on sustainability through designs and textiles in order to create a fusion between the Qatari and American cultures; noting that the center supports Qatari designers and residents with creative ideas.
She added that the exhibition aims to raise awareness of the environmental impacts of fast fashion and highlight the authenticity of traditional Qatari and American textiles, as well as celebrating the 50 anniversary of the establishment of diplomatic relations between the State of Qatar and the United States of America.
For her part, HE US Charge d'Affaires of the US Embassy in Doha Evyenia Sidereas said that sustainable fashion has become a necessity not just a trend for artists in the creative field, and has an important role in facing the challenges of climate change and finding solutions for a more sustainable future.
She noted that the exhibition emphasizes the importance of adopting environmentally friendly practices in all areas - including fashion; pointing out that the United States is committed to supporting programs that combat carbon emissions practices and wastewater production, and promote shared values of self-expression and preservation of culture.
Lauren Morell told QNA that most of her designs for abayas, kaftans and galabiyas are from recycled fabric in order to preserve traditional and sustainable practices, which highlight the Qatari Al-Sadu weaving and the indigenous American weaving patterns.
Lauren underlined that she will continue the same approach in her designs in order to promote traditional environmentally friendly textiles in the displayed clothes, aiming to enhance the concept of sustainability and reduce waste during production, through her own fashion brand "LorenaaMichelle".
She also revealed to QNA that she will organize a number of fashion-related events during this month in Doha.
For her part, designer Sarah Hannibal said that she met the Lauren Morell when she was working on fashion designs during her university studies. After seeing her development in this field, she suggested that they do a joint work, especially since she works on the Qatari Al-Sadu.
She explained that this exhibition is a fertile field for openness to the customs, traditions and cultures of peoples through fashion.
She emphasized that their goal is to be more open to Latin American textiles and to integrate them with traditional Qatari textiles, in order to strengthen the ties and bonds between peoples.
(QNA)