8 Benefits of a staycation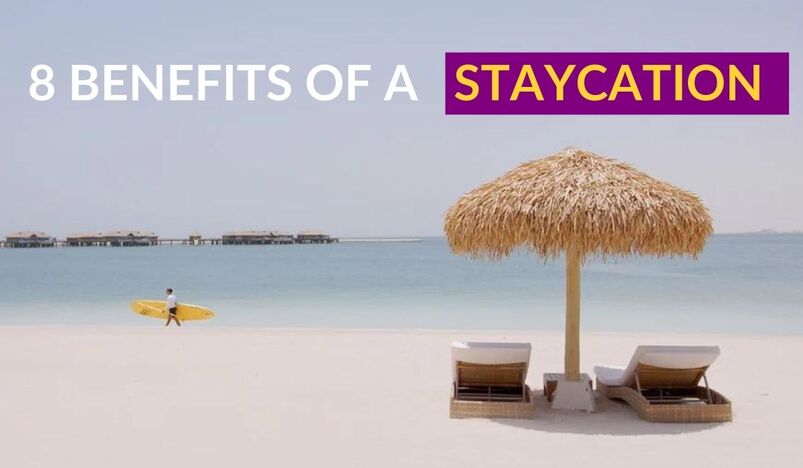 Qatar is the perfect staycation destination.
Vacation is all about taking a break from the usual, experiencing a new environment, and returning feeling refreshed and renewed. When we think of going on vacation, we commonly imagine traveling somewhere far away. A staycation is a vacation spent in your country and or where you reside.   Routines need to be broken as they can be very exhausting and stressful. So, from time to time, we need to shake it up a little bit and step away from our daily routines. 
Staycations are quite beneficial as doing something different and out of the ordinary changes our perspective and gives us a fresh attitude – even if we are merely going somewhere nearby. That short break will make it possible for us to return to our daily lives with renewed enthusiasm. When was the last time you explored your own city? as we need to get away from our usual surroundings to refresh without going to popular vacation places and expensive getaways. There is something quite invigorating about visiting and exploring your own city. When something is directly in front of us, we tend to take it for granted. Because we are too focused on foreign travel, we often overlook local attractions.
Consider the last time a friend or family from another country came to see you. They probably wanted to see and do things that you wouldn't usually think about. In addition, it is typical for locals to be amazed by their surroundings when viewed from an outsider's perspective. This clearly demonstrates that fresh experiences are all around us – we simply need to know where to look. With that in mind, let's discuss the benefits of a staycation.
8 Benefits of a staycation! 
In Qatar, staycations have become increasingly popular as travel around the world is a bit restrictive and even more expensive due to the pandemic. Also, more people seek ways to relax and recharge at home. There are many benefits to a staycation, including the following:
Saves Money. 

Travel and accommodation can be very expensive. That is where most of the people's vacation money is spent. However, when you are on a staycation, you could spend your money on pampering yourself, food, beverages, or entertainment instead.

Saves Time! 

Even when going somewhere close, the real journey time is always longer than you'd prefer. This is cutting into your quality time. A great benefit of a staycation is that you can end up with more actual quality time as you cut down on traveling time. If you consider the commute to the airport hours before your travel, the wait, the traffic on your way there, you probably don't want to spend additional time traveling for a short vacation – Just Staycation?

Perfect for a short getaway! 

 

Sometimes you just fancy getting away from home for a few days. Vacation days can be in short supply for people who work, so it's critical to make the most of your time. It is also simpler and more practical to plan a weekend getaway at the last minute. You can be spontaneous and book and enjoy a quiet break, even if only for one night at any time.

No Jetlag 

We all enjoy international travel, especially visiting new countries and exploring different cultures. However, arriving somewhere at 8:00 am after a 5 or more than 10-hour flight where you will have to stay awake all day just to acclimate is not easy. It's the best method to avoid jetlag, but very exhausting and would be ideal if it were unnecessary. The time difference can also affect your vacation time and the ease of communicating with family back home.

Sustainable travel 

We are all becoming more aware of responsible tourism and how our travels leave an imprint on the world. If you're already doing what you can to reduce your carbon footprint, another incentive is to take a staycation as it is better for the environment. For example, planes require a lot of carbon emissions, so not taking them is better for the environment. Equally, staying in a hotel is not harmful to the environment, despite you feeling spoiled

Less planning time & Less Packing! 

 

When going on vacation, many people are heavily reliant on planning. You only have a limited time in a new country and want to see as much as possible. But all of this takes time and proper planning. Also, one of the things that people dread most about traveling is packing. You must think about it before, after, and during. Picking out the suitable clothing for the right day or event, what goes along with it! From jewelry to shoes. How much you can actually carry! Even after doing all these, you may realize you forgot something while on holiday. The beauty of a staycation is that you can leave home without completing a multitude of tasks. No figuring out all the nitty-gritty of your clothing, suitcases, luggage wait, or how you will get to your accommodation from the airport. You will have fun planning with a staycation as it doesn't come with too many moving parts. For many people, this will mean less stress.

Explore the wonders at your doorstep.

Raise your hand if you have beautiful and incredible sites within an hour of your home and you have never visited. Often there are unique marvels, art installations, hiking trails, beaches, museums, and mangroves, all within easy reach. Even though the thought of a holiday for many people primarily invokes ideas of faraway shores. Staycations allow you to try new places that you've always wanted to go to. With a traveler's mindset, you can discover anywhere and get a similar thrill. 

Emergencies: You're close to home. 

Going away on holiday to faraway places is challenging, especially if you have elderly family or other obligations. What if something unexpected happened and you needed to get home quickly? With a staycation, you will reach in time, unlike international travel where you will have to rely on the availability of flights and the uncertainty of arriving in time.
Fortunately, Qatar is the perfect staycation destination.