Win a trip to Paris! PSG launches 5k We Run Doha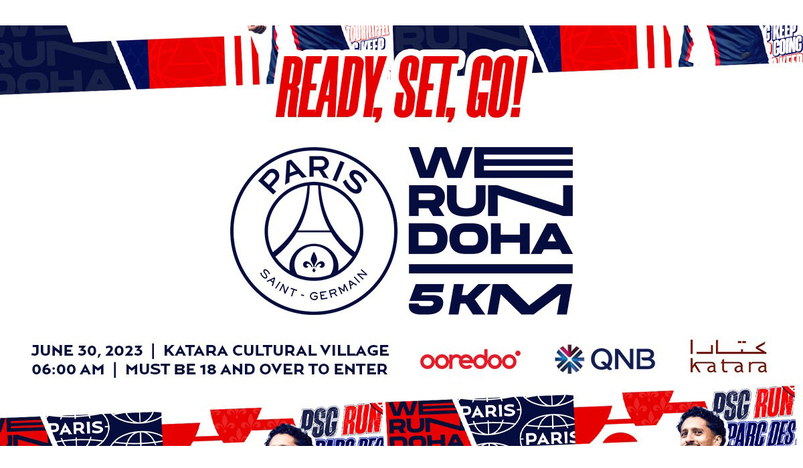 We Run Doha
Paris Saint-Germain launches WE RUN DOHA, the first Bleu, Blanc, Rouge 5Km running experience in Qatar. We Run Doha is a distinguished event offering the winners (1 male and 1 female) a fascinating journey to Paris during the 2023-2024 season, by providing an exclusive opportunity to attend a Paris Saint-Germain Game in a VIP lounge at the Parc des Princes.
WE RUN DOHA is an extension of WE RUN PARIS. The club's vision is to initiate the runners' experience in key cities around the world (Los Angeles, New York, Miami, London, Singapore, and Tokyo) with Doha being the first to do so.
Ooredoo and QNB, longstanding partners of Paris Saint-Germain have come together for the common goal of promoting an active lifestyle by engaging hundreds of runners (18 years old and above) around Qatar to participate.
The route, splendidly nestled within the inspiring Cultural Village of Katara has been mapped meticulously, with a 7 am. departure from the air-conditioned boulevard at 21 High Street located in front of Galleries Lafayette. This carefully plotted journey ushers you through the breathtaking scenery of Katara Hills, promising an unforgettable experience.
Silver and Bronze medalists will be given vouchers of QR 3,000 QR and QR 1,500 towards merchandise at the PSG Store Villagio Mall.
Registration for WE RUN DOHA is now open at www.werundoha-psg.com for only QR 25!
Once online registration is completed, participants are required to present themselves at 21 High Street. Check-in Stations on race day will be between 6 am and 6:30 am, to check in and pick up a race bib.
In line with all organizing parties' commitment to supporting local and international communities, all funds generated from registration fees for the WE RUN DOHA 5k Run will be donated to La Foundation PSG – a charitable organization that aims to support children in impoverished neighborhoods.
For questions, please contact PSG Qatar at +974 3306 2115.