Where to Go for Your Next Coffee Break in West Bay?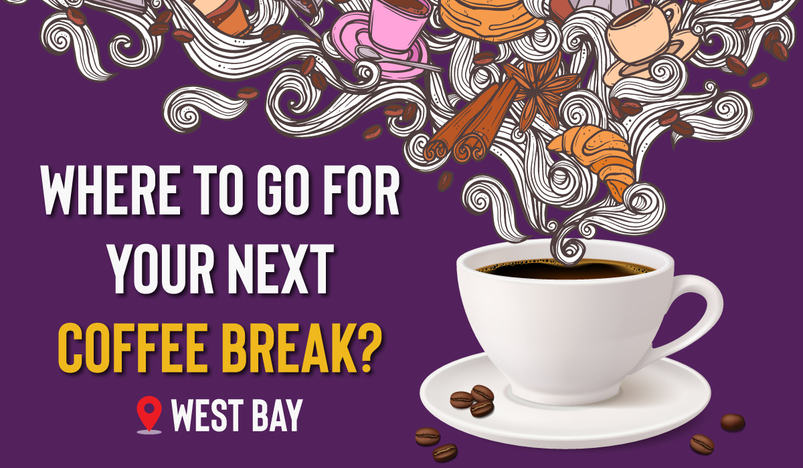 Coffee Break
Tired of the usual spot you head to for coffee and excited to try something new?
We've put together a few places in West Bay that not just look relaxing, but offer great cups of coffee and amazing food. With a range of flavours and blends, we're sure you're going to find your next favourite spot in this list. 
Cortado Coffee Bar
A vibrant take on coffee and architecture, you can pair your cup with the flavour of their food. Cortado has various locations, with home delivery available as well. But for those wandering in West Bay, make sure to pay a visit to this snug coffee bar. 
Location: Palm Tower B
Contact: 5551 4212
2. Graze
They offer a varied menu for breakfast, lunch through to dinner serving morning pastries, breakfast pots, fresh fruit, artisanal sandwiches & wraps, fresh salads, mezze boxes, and protein boxes.
Location: Palm Tower B
Contact: 4427 1408
3. Piccolo Café
Whether it's the colours or the ambience, this cafe's highlight is the cherry blossom tree, apart from their coffee of course. A picture-perfect cafe with lovely pink neutrals, they boast premium coffee beans that will guarantee you a very refreshing and delicious cup of coffee. 
Location: Burj Al-Dana Tower
Contact: 3311 7227
4. Upside Down Café
Looking to enjoy a lovely cup of coffee in a quirky, unique cafe? Head to the Upside Down and drink up the optical illusion in their topsy-turvy cups. With a blend of simple decor and menu items, grab your lunch in West Bay's version of Stranger Things.
Location: Near Palm Towers, Amkasah St.
Contact: 6619 3499
5. Campagnia Caffe
Whether you want to grab a bite, a cup of coffee, enjoy a cozy getaway or even get productive, this warm little nook is for you. With a range of deliciousness to offer, Campagnia Caffe stands out as a lovely spot for the West Bay crowd.
Location: Marriott Executive Apartments
Contact: 4497 1234
6. Vortex Coffee Shop
There is always time to grab yourself a bite and a brew on your way to work. Or if you're simply a classic coffee lover, this place is for you. They offer gluten-free options and are a healthy eating retreat located in the heart of West Bay.
Location: Tornado Tower
Contact: 7077 0458
7. 91º Café
If it's getting away from the cold or just the need to enjoy a creamy or strong cup of caffeine, 91º is that cozy, aesthetic spot. Whether it's a meal or a snack, they've got a selection of items to choose from to chase your hunger.
Location: Movenpick Hotel
Contact: 5091 9191
8. Blackout Specialty Coffee
A blend of the best quality beans and an interior that you can relax in, Blackout Specialty offers it all. It's not just for the caffeine lovers, but can be the right solution for your sweet tooth. Come grab a bite and enjoy the modern ambience of this cafe. 
Location: Movenpick Hotel
Contact: 3070 0964
9. Cherry Beans Specialty Coffee
With traceable quality and ethically sourced coffees, Cherry Beans stands out with their knowledgeable and hospitable agents who love all things coffee and would enjoy educating the consumer. If you enjoyed their in-house drinks, you can grab a bag (or two!) of their beans and have a look at their high-quality equipment to craft your own cup in the comfort of your home.
Location: The Gate Mall
Contact: 4487 9940