Where to Go for Your Next Coffee Break in Msheireb?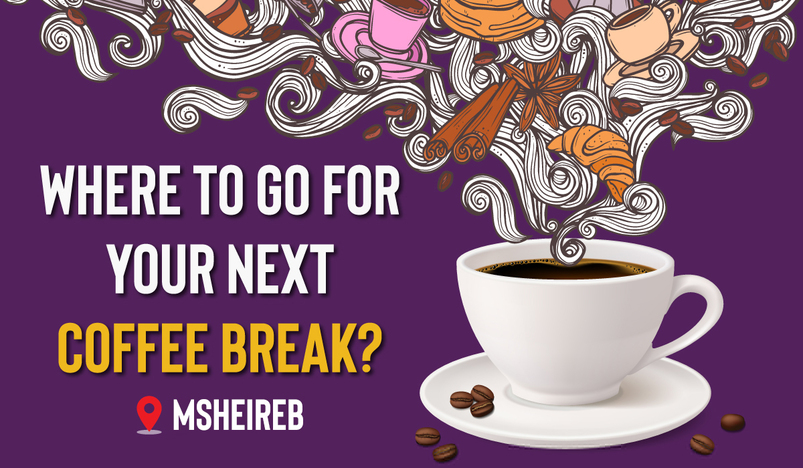 Coffee Break
Taking a stroll in Msheireb downtown? Looking for a place to take a break or even grab a bite or a cup of coffee? 
Here are a few places for you to check out in the chic little town. 
1. Cafe´ Kitsune´

The cafe aims to create and operate a space that brings out the simplistic beauty of the small and intimate coffee bars with the style of everything that Cafe´ Kitsune´ undertakes. In a location that is modern, cosmopolitan and welcoming, the coffees served are full-bodied and flavoursome. 
Location: Design District Building
Contact: 3944 4921
Website
2. The Ministry of Coffee

We've heard of the different ministries in the country. If their work is to organise and provide services and products according to the approved standards, then this cafe does the same for coffee. Their beans have a distinguishable taste that you must try to find out. 
Location: Sharawo St.
Contact: 4001 1700
Page
3. Savant Coffee Shop

At Savant, they treat their food and coffee as art. Imagine an artist's creation made edible - that is what this coffee shop embodies. Enjoy a delicious cup at one of Msheireb's prettiest cafes. 
Location: Al Kahraba St.
Contact: 4464 4598
Website
4. % Arabica

With an open and expansive store filled with natural light through the floor-to-ceiling windows, you can relax on their wooden benches inside or outside in the courtyard seating. When you do visit this cafe, make sure you try one of their best sellers, the Spanish Latte.
Location: Wadi Msheireb St.
Contact: 4005 3209
Website
5. Go Home Cafe

Launched during COVID-19, this cafe is inspired by creating a space where people of all backgrounds can visit and feel at home. With different cuisines available, it would be a unique place to enjoy a little coffee break. It could be a home away from home. 
Location: Al Ghaffat St.
Contact: 4464 4598
Page
6. Nomad Coffee

An independent specialty coffee shop, you can enjoy a selection of specially curated beans and drinks that burst with flavour, and is rich in heritage. 
Location: Jassim Bin Mohammed St.
Contact: 5562 7193
Page
7. Minus One 

Started in 2020, the cafe's one goal was to provide an easy solution to your caffeine needs. Centered in the heart of Doha, in Msheireb metro station, it's easily accessible to anyone passing by. As masters of the craft, they provide amazing coffee & dishes that are fresh, hearty and simply unforgettable.
Location: Msheireb Station
Contact: 5509 5959
Website
8. EL&N Cafe

A cafe of chic, pink perfection, Eat, Live & Nourish is the most instagrammable cafe that embodies creativity, style, and optimism. With alternative lattes and delicacies that are both wholesome and aesthetic, this is the cafe for a lovely time with your friends, or even just to catch a break from work. 
Location: Wadi Msheireb St.
Contact: 5592 4433
Website
9. Kyoto Cafe

A famous Japanese brand that stretched its branches to Doha, this cafe provides contemporary breakfast, desserts, and specialty coffee. If you find yourself in Msheireb Downtown make sure you pay this cafe a visit. 
Location: Al Kahraba St.
Page