Volvo Delivers Ultra Luxurious Bus to MBM Transport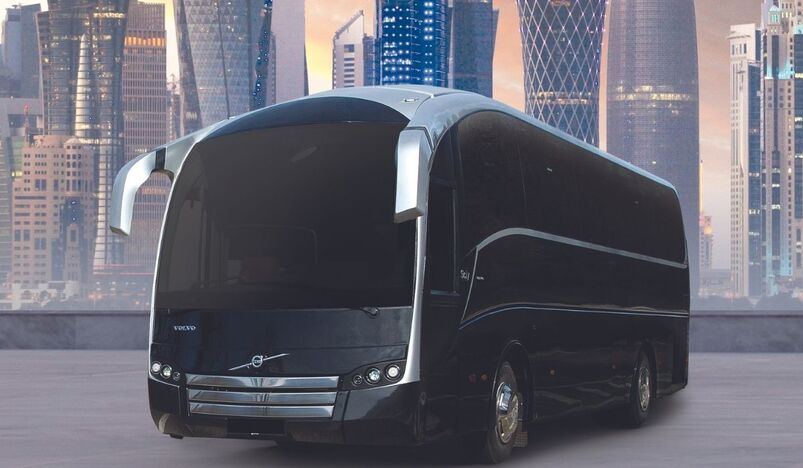 Volvo Delivers Ultra Luxurious Bus to MBM Transport
Doha Marketing Services Company (DOMASCO), the exclusive distributor of Volvo Buses in Qatar and part of Al-Futtaim Automotive, has signed a deal with MBM Transport, a renowned name in the transportation services for the supply of Volvo Sansundagi ultra luxury coach buses. These buses will cater to the transportation needs of the VVIP segment. Domasco has delivered the very first Volvo Sansundagi super luxury bus to MBM Transport, a leading company in the premium transport services.
MBM Transport was founded in 1997 and since then has been revolutionizing the transport culture in Qatar, providing a class above "luxury & safety". It caters to the diverse transportation needs of corporates, which include high-profile government and semi-government organizations. Its fleet comprise of state of-the-art luxury vehicles that are tailor made for varying requirements.
The first Volvo Bus was built in 1928. Ever since, Volvo has been a trusted developer, manufacturer and partner to the bus and coach business in more than 85 countries. Innovation is a cornerstone, powered by Volvo's long experience. It's the synergies between the two that can turn new ideas and new technologies into tangible benefits for customers – and their passengers.
"Al-Futtaim's entrepreneurship and relentless customer focus enables us to continue to grow and expand, responding to the changing needs of our customers. The quality of the products and services we supply is crucial to our customers business performance. Quality is a core Volvo value and deeply rooted in its rich history. At Domasco, working closely with Volvo, we're dedicated to ensuring that what we deliver; products, services and solutions, allow us to exceed our customers' expectations and to deliver on the Al-Futtaim promise of enriching every day." Said Mr. Faisal Sharif, Managing Director, Domasco Volvo Buses. 
The deal with MBM Transport is a result of Volvo's dedication to quality, durability, and proactiveness to incorporate safety features in all of its vehicles.
"We proudly welcome the new addition to our existing Volvo luxury bus fleet, a Volvo - Sansundagi Super luxury bus. This bus is a first of its kind in the region. The design and luxury features of this bus makes it a very premium bus that is ready for FIFA 2022 to be utilized for VVIP's." Said Mr. Saeed Mohamed Nazeer, CEO, MBM Transport. In addition to their premium streamlined exterior, Volvo Sansundagi bus boasts of many features that significantly enhances the passenger and driver comfort & safety. The premium touch and detailing of the Bus, its ambiance makes it feel like an ultra-luxury lounge.
The Volvo Sansundagi bus is a package of super luxury features with ultra comfortable seats, premium cabin interior, decorative day/ night lights. A coffee machine, refrigerator adds to the five-star ambiance inside the bus. A highlight of the vehicle is its exterior design that has been designed by a professional Spanish designer.
The bus comes with an I-shift automated gearbox, Volvo disc brake system combined with EBS, ABS and ASR functions with ESP for yaw control and rollover prevention. New ergonomic seats offer much more comfort for the passengers and strong structural design with safety certifications. Driven by a passion to help create the cities of the future, free from congestion, emissions and noise, Volvo Buses' mission is to offer people safe, clean and efficient transportation to and from work, around the city or across the continent.
Volvo buses are distributed in Qatar by Doha Marketing Services Company (DOMASCO), a leading multi-brand company in Qatar and a member of the Al-Futtaim Group. It has a diversified portfolio of passenger cars, motor bikes, commercial vehicles, marine and power products, watches and electronics representing some of the world's most visible and award-winning brands. Al-Futtaim Automotive is one of five divisions within the Al-Futtaim Group which provides quality products and services that enrich people's lives and aspirations each and every day.