Volcano erupts in Iceland after weeks of earthquakes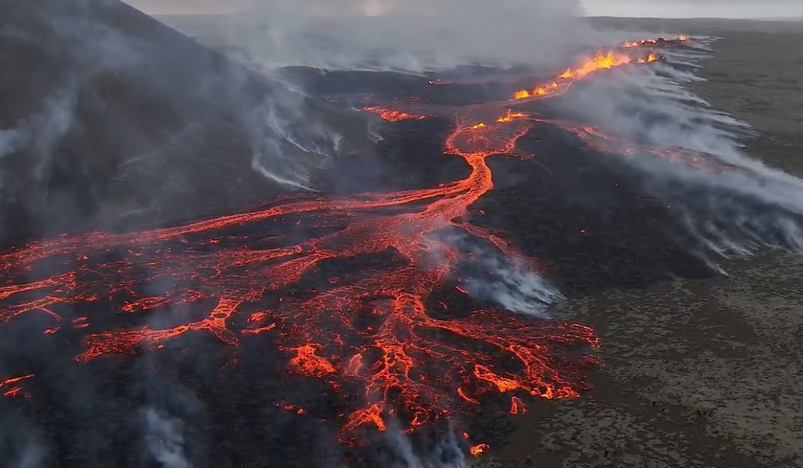 Iceland Volcano
A volcanic eruption south of Iceland's capital Reykjavik is sending plumes of smoke across a region known for its sweeping lava fields, volcanoes and geothermal activity.
The Icelandic Meteorological Office (IMO) said the "minor" eruption began Monday in Iceland's Reykjanes Peninsula but no ash has been emitted and so far no disruption has been reported at the country's Keflavik Airport.
The IMO said there was a 200-meter (656 feet) long fissure on the slopes of the Litli Hrútur mountain, "from which lava is emerging as a series of fountains."
Scientists had warned of possible eruptions after hundreds of minor earthquakes were detected in recent weeks.
Photos show streams of lava flowing along the dark fields, with small fires in the distance and thick smoke billowing in the air.
Since the eruption took place in an uninhabited area, there were no "immediate risks" to communities or infrastructure, the IMO said – but it warned people not to venture near the area, saying there will be an accumulation of "dangerously high levels of volcanic gases."
The wind will carry some of these gases north, potentially affecting several areas including the Icelandic capital, the IMO said.
The Reykjanes Peninsula regional destination management office also issued a warning about gas levels on Monday.
In a statement, the office said the peninsula's police chief ordered the closure of all trails to the volcano due to "massive gas pollution that is life-threatening," after speaking with scientists.
Authorities are working to restore access to the volcano once the pollution dies down, it added.
Several days ago, the management office warned hikers in the region to be careful, noting that the recent seismic activity looked similar to the lead-up to another volcanic eruption last year.
CNN