UK Foreign Secretary Describes Relationship with Qatar as Strong, Strategic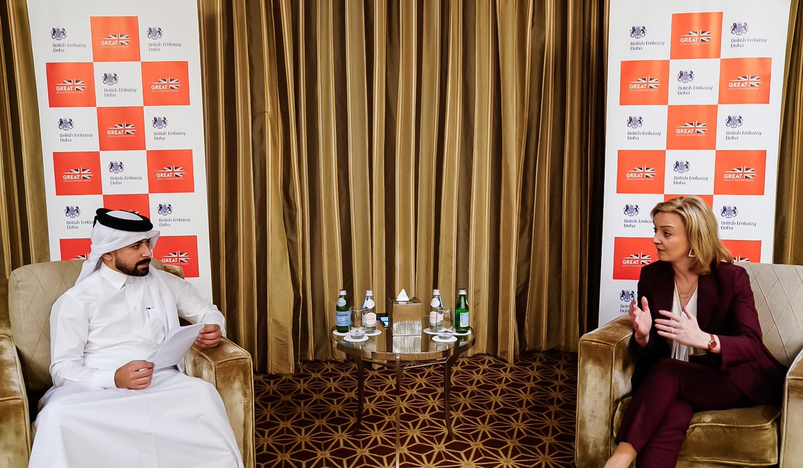 UK Foreign Secretary Describes Relationship with Qatar as Strong, Strategic
HE Secretary of State for Foreign, Commonwealth and Development Affairs of the United Kingdom Liz Truss underlined the strength of the relations between the State of Qatar and the United Kingdom, adding the two sides are looking forward to promoting and developing them to achieve their common interests and the interests of the two friendly peoples.
Speaking to Qatar News Agency (QNA), HE the UK Foreign Secretary said, "It's fifty year since we established our first relations with Qatar and we have a very strong relationship. But what I want to do is move that to a new level."
She added, "I had a very good discussions today with HH the Amir Sheikh Tamim bin Hamad Al-Thani and with HE Deputy Prime Minister and Minister of Foreign Affairs Sheikh Mohammed bin Abdulrahman Al-Thani as well about how we can do that through a strategic dialogue. There are a number of areas we are very keen to intensify our cooperation, enabling education, trade; we are of course negotiating with the GCC and also with Qatar. Areas like defense and security are of course very important. So I think there are a number of areas were we can deepen our relationship to the benefit of both countries."
"This strategic dialogue is putting a framework in place so we can progress our relationship in all these different areas I mentioned like security, education, trade, investment; we are very interested in working with Qatar on investing in third countries, particularly in areas like green energy. What the strategic dialogue is putting in place is a mechanism where we can achieve real results between our countries," HE Truss explained.
Her Excellency praised the modernization process that the State of Qatar is witnessing at all levels and in various fields.
Source: QNA