Traditional outfits for Eid-Al Adha in Qatar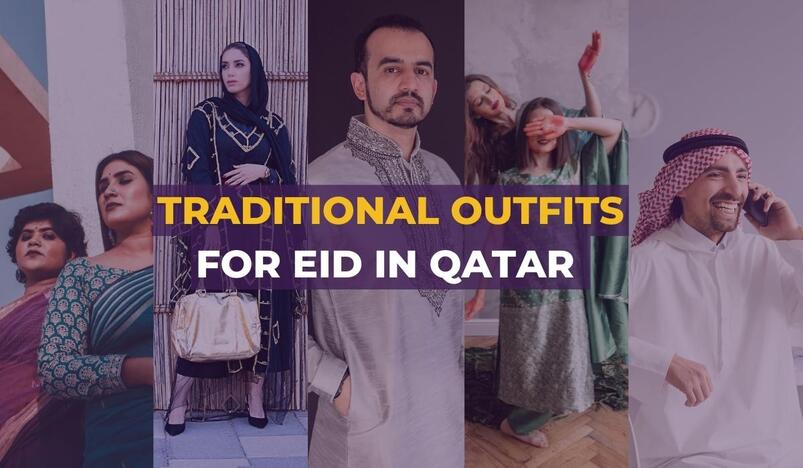 Traditional outfits
Eid al Adha is the holiest festival in the Islamic calendar and Muslims celebrate it with great spirit and joy. It is sunna to wear new clothes on Eid, which is why there is so much rush in all shopping malls during and before the holidays as people are buying new clothes for their family members or friends. Most people like to wear traditional dresses during the festival that represents their culture, but it is hard to find places that sell traditional clothes because most malls have Western outfits. 
Qatar is home to a large South Asian community that constitutes about 60% of the total population which includes nationalities from Bangladesh, India, Pakistan, Nepal, and Sri Lanka. These communities love to celebrate Eid by wearing traditional clothes that represent their culture. If you are like the locals or expats who want to wear your traditional outfits to celebrate Eid, you must check out the list below:
Image description: Salwar Kameez is one of the top choices for Desi women to wear during Eid or all time. It is a long shirt (kameez) worn with a pant (salwar) and a shawl (dupatta). 
1. Souq Waqif
The place to buy unstitched / stitched traditional Arabic clothes is Souq Wakif. It has a large number of shops and each shop has varieties of options available. You can always haggle and try to get a bargain on the price which is an advantage. This place has clothes for both men and women, as well as children of all ages. The traditional outfit for men is the thobe and for women is abaya, which you can find here, along with all the accessories that go with such attire such as scarves, bags, shoes and so much more. 
Google Maps  


2. Souq Al Faleh
Souq Faleh is a central place for all abaya shoppers as they have various shops with a huge collection of abayas with different designs, colors, materials, and price ranges. You can also make customized abayas with your choice of material and design. 
Google Maps
 
Image description: Abayas are traditional dresses for women in Qatar. It comes in different colors and designs but mostly the preferred color is black. 
3. Souq Al Asiery
Souq Al Asiery is another famous place for shopping for traditional outfits. It is located right next to the FANAR mosque and has the same proximity as Souq Wakif and Souq Faleh. It has many small shops that offer perfumes, makeup, handbags, fabric materials, etc. Some shops also have ready-made outfits such as beautifully designed Jalabiyas or Kaftans (traditional Arab outfits for women) for you to wear on Eid which is just around the corner. You can also choose to get clothes stitched from the tailors with your choice of color, material, laces, belts, etc, you can find it all under one roof. 
Google Maps
 

4. Today's Fashion
Today's Fashion is a go-to place for the South Asian community to buy traditional outfits such as Saree, Salwar Kameez, and so on. In addition to that, they also have long gowns, kaftans, and many more party wear. You can find both stitched and unstitched options, as well as fabric to style your own outfit. They also have expert tailors to get your clothes stitched with any design you want. You can also find traditional jewelry, shoes, bags, etc that perfectly goes well with your outfit. This place is at a central location (map attached below) and very easy to find with available parking. 
Google Maps 

5. The RK closet
The RK closet has a variety of options for traditional South Asian clothes for both men and women of all ages. Their collection consists of designer outfits, party wear, casual, unstitched, stitched, one-piece kurtas, and so much more. This place has become well known over the last few years in the South Asian community, and now everyone prefers to go there for shopping due to their availability of the latest collection of outfits. 
 6. Khaadi
Khaadi is a newly opened Pakistani brand opened in Doha Festival City. It is one of the most popular brands in Qatar for people to buy their Eid outfits, including me. They have a unique traditional outfit collection with the best quality clothing line. The materials are long-lasting and do not damage easily. They have varieties of one-piece kurtas, shirts, pants, shawls, and traditional sandals and jewelry as well. They also have unstitched clothes for people to custom size their outfits. Their collection ranges from simple designed casual wear to very fancy dresses with a lot of work on it.  This is the best place to get your Eid outfit at a reasonable price.
Google Maps 

These places are quite popular for their most elegant-styled traditional clothes. People often wear their cultural clothes on various occasions throughout the year, but Eid is the most popular choice of event to celebrate in Qatar.