TotalEnergies: First Foreign Company Wins Stake in $29 Billion Qatari Gas Project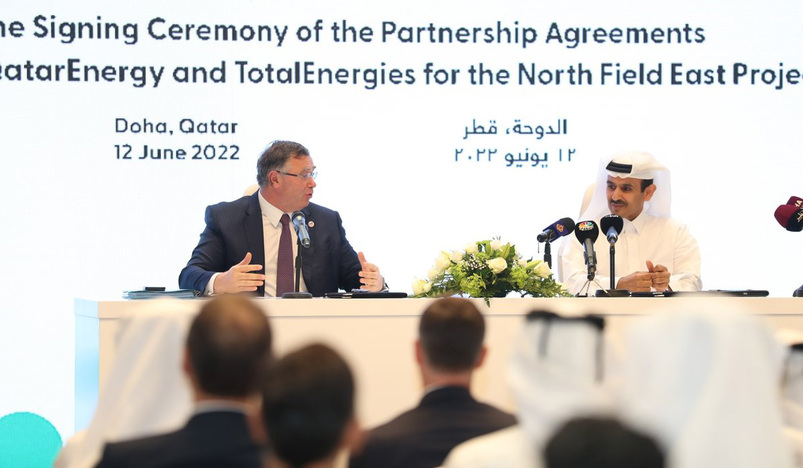 QatarEnergy
QatarEnergy announced that it has selected TotalEnergies as its first international partner in the North Field East (NFE) expansion project, the single largest project in the history of the LNG industry.
The announcement comes at the conclusion of a competitive process that started in 2019 to select Qatar Energy's international partners in the NFE project, which will expand Qatar's LNG export capacity from the current 77 million tons per annum (MTPA) to 110 MTPA. The USD28.75 billion NFE project, expected to start production before the end of 2025, employs the highest health, safety, and environmental standards, including carbon capture and sequestration, to reduce the project's overall carbon footprint to the lowest levels possible.
A special ceremony was held at QatarEnergy's headquarters in Doha to mark the occasion, during which HE the Minister of State for Energy Affairs, the President and CEO of QatarEnergy Saad bin Sherida Al Kaabi and Chairman of the Board and Chief Executive Officer of Total Energies Patrick Pouyanne signed the partnership agreements in the presence of senior executives from QatarEnergy and TotalEnergies.
Pursuant to the agreements signed today, QatarEnergy and Total Energies will become partners in a new joint venture company (JV), in which Qatar Energy will hold a 75 percent interest while Total Energies will hold the remaining 25 percent interest. The JV in turn will own 25 percent of the entire NFE project, including the 4 mega LNG trains with a combined nameplate LNG capacity of 32 MTPA.
In his remarks during the ceremony, HE Minister Al Kaabi said, "This is a historic landmark for Qatar's energy industry and for the world's largest LNG development. The North Field East project is an iconic achievement that will not only ensure the optimal utilization of Qatar's natural resources but will also provide the world with the cleaner and more reliable energy it needs. Today, QatarEnergy is standing at the threshold of a new era with a stronger commitment to energy transition and to the safe, reliable, and trustworthy access to cleaner energy. We will continue to power lives in every corner of the world for a better tomorrow for all. This is our commitment." "We look forward to working closely with Total Energies, who are a long-term strategic partner that we have always trusted to support the efficient and safe delivery of our projects. I would like to thank all the team members in Qatar Energy and TotalEnergies for the excellent collaboration and for all their hard work that has led to this important moment. I also would like to express thanks and appreciation to the project's team and to the Qatargas organization for continuing to deliver the NFE project, and with an outstanding safety record," HE Minister Al Kaabi added.
HE Minister Al Kaabi concluded his remarks by saying: "We are forever grateful to the wise leadership of HH the Amir Sheikh Tamim bin Hamad Al-Thani and for His unlimited support of Qatar's energy sector." 
In his remarks during the ceremony, Pouyanne said, "This is another historic day for TotalEnergies Qatar, where we have been present for more than 80 years. Qatar has huge natural gas resources that it intends to develop further to increase the production of the least expensive, most environmentally respectful and the best located LNG. Total Energies was present at the beginning of its LNG industry in Qatar some 30 years ago through its interest in Qatargas and then Qatargas 2 in 2005." "We are very proud that Qatar has chosen again Total Energies, this time as the first partner for its new major phase of LNG expansion. It is a clear testimony of the profound trust that the teams have developed together, and it will extend our strategic partnership with Qatar and QatarEnergy for more than 25 years. It is good news for the fight against Climate Change as gas and LNG are key to support the energy transition, and notably the shift from coal to gas in many countries. With its low costs and low greenhouse gas emissions - thanks to electrification of processes and carbon capture and storage the North Field expansion will be an exemplary and major contribution to our low-carbon LNG growth strategy. This new partnership will indeed enable us to reinforce our global LNG portfolio and, together with Qatar, it will support our ability to contribute to Europe energy security." Pouyanne concluded.
As part of the partner selection process, Qatar Energy had received offers for double the equity available, underscoring the high-quality investment case of the NFE project thanks to its economic competitiveness, financial resilience, and also its unique environmental features.
More partners are slated to join the NFE Project, as final terms have been agreed and the relevant announcements will made soon. 
In a press conference, HE the Minister of State for Energy Affairs, the President and CEO of QatarEnergy Saad bin Sherida Al Kaabi said that the French energy company TotalEnergies' share is 6.25 percent of the NFE project, which will help increase Qatar's LNG production by more than 60 percent by 2027, indicating that the agreement runs until 2054.
HE Al Kaabi explained that other foreign companies will also have stakes in the project, but none of them will have a bigger stake than TotalEnergies.
HE the Minister of State for Energy Affairs pointed out that the volume of investments to expand the north field production capacities amounted to USD28 billion, adding that the selection process has been completed, the agreements have been signed, and the names will be announced soon.
He stated that the volume of expansion in the eastern field project amounted to 32 million tons of LNG, while in the joint project with TotalEnergies, it amounted to a quarter of the total quantity or about 8 million tons.
HE Al Kaabi said that QatarEnergy has invested in several LNG receiving stations in Belgium, France, and Britain, and is ready to invest in Germany, especially after the recent change in circumstances.
He indicated that the LNG gas market depends on supply and demand data, where demand is currently increasing in Europe, noting that QatarEnergy's strategy aims to export half of Qatar's production to Europe and the other half to Asian countries, according to supply and demand data.
He pointed out that QatarEnergy is looking for the diversity of the receiving markets for LNG from the State of Qatar to avoid any influences that may affect some markets, noting that just as importing countries are looking for energy security, Qatar is also looking for safe export of gas and distributing it to more than one market.
Chief Executive Officer of TotalEnergies Patrick Pouyanne explained that the agreement is the company's largest deal with Qatar that will help compensate for the company's withdrawal from Russia in the wake of the Ukrainian invasion.
It is expected to start pumping LNG from the NFE in 2026.
(QNA)