K-DRAMAS FOR BEGINNERS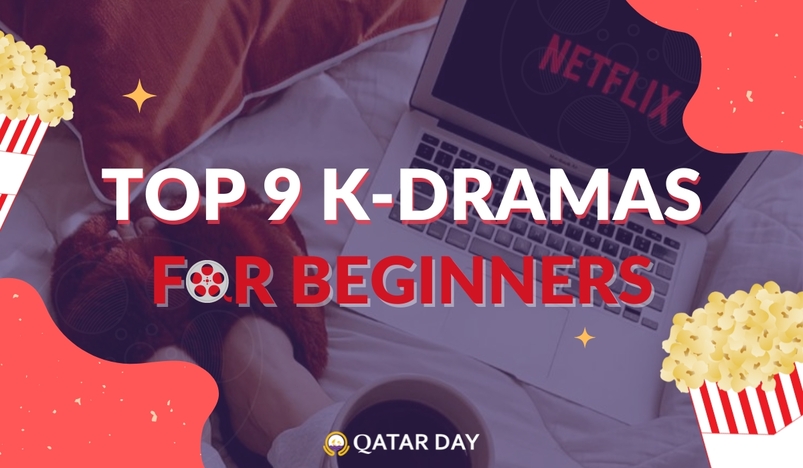 K-DRAMAS FOR BEGINNERS 
K-dramas have taken the world by storm in recent years, captivating audiences with their unique storylines, stunning visuals, and talented actors. 
What sets these shows apart from the rest is their ability to evoke a wide range of emotions. The beautiful display of Korean culture and tradition in these shows has brought in more intrigue. The popularity and interest in Korean culture has resulted in Netflix successfully investing $2.5 Billion in the country to produce content.
With so many Kdramas to choose from, it can be overwhelming for beginners to know where to start; but worry not, we've put together a list of the top 9 shows on Netflix to get you started on your K-Drama journey.
THE GLORY

Starring Song Hye kyo and Lee Do Hyun, The Glory is a psychological thriller following the story of Moon Dong-Eun (Song Hye Kyo) - a victim of school bullying. Gaining popularity as one of the most exciting revenge-drama plotlines, the show gives you a glimpse into the insidious world of school bullying and the massive repercussions faced by all those involved. 
The audience is treated to the brilliant planning followed by a satisfying chase as the protagonist delivers her revenge to each of her targets individually. 
IMBD rating: 8.1/10
IT'S OKAY TO NOT BE OKAY

It's Okay To Not Be Okay is a drama that focuses on emotional healing, centred around Ko Moonyoung (Seo Yeji) a children's book author who has antisocial personality disorder, Moon Gang-tae (Kim Soo Hyun) a psychiatric ward caretaker, and his older brother Moon Sang-tae (Oh Jung Se) who has Autism Spectrum Disorder. The series follows these characters on their journey of healing and finding happiness in life while dealing with their own traumas. 
The show received critical acclaim for its unique storyline, strong performances and the cinematography. A reason why this is a must watch is because of the sensitive and nuanced portrayal of mental illness. 
IMBD rating: 8.6/10
ALL OF US ARE DEAD

A high school becomes ground zero for a zombie virus outbreak. Trapped students must fight their way out — or turn into one of the rabid infected. Released in the beginning of 2022, All Of Us Are Dead is a fresh take on zombie apocalypses. The series excels in storytelling, with interconnected narratives and a steady build-up of tension. The well-developed and relatable characters add depth to the plot, exploring themes of friendship, love, and sacrifice. 
With a whole lot of twists and turns, gore, drama, and suspense, the series keeps you wanting more. When it comes to anything related to zombies, Korea is at the top of the list and this show sure lives up to the expectations. All of Us Are Dead has officially been renewed for Season 2 by Netflix and is in the works!
IMBD rating: 7.5/10
MY ID IS GANGNAM BEAUTY

Based on a webtoon of the same name, My ID is Gangnam Beauty is a beautiful coming of age romantic comedy. The series explores the life of a college student Kim Mi-rae (Im Soo-hyang) who undergoes surgery to change her appearance after being bullied for her looks, only to then be  looked down upon by those who have stayed natural. The story then follows the lead as she navigates through her college year, builds friendship, and faces new challenges post-op. 
Gangnam Beauty explores themes like beauty standards, self acceptance and the importance of inner beauty in detail. The series is thought provoking and sparked conversation about body image and self esteem in many parts of South Korea.
IMBD ratings: 7.3/10
DO YOU LIKE BRAHMS 

A slow burn romance drama starring Kim Min-jae as Park Joon Young and Park Eun-bin as Chae Song Ah. The story revolves around these two characters who are from different walks of life, their relationship as they come together. It also beautifully plays out their struggle with music and what music means to them. The series has been praised for its realistic portrayal of relationships, the struggles faced by classical musicians, and for its brilliant soundtrack.
IMBD ratings: 7.6/10
WHAT'S WRONG WITH SECRETARY KIM?

What's wrong with secretary Kim is a much loved drama that aired in 2018, starring Park Seo-joon and Park Minyoung in leading roles. The show follows a narcissistic second generation heir who gets romantically involved with his secretary after nine years of having a professional relationship. Witty humour, charming characters and a romantic storyline makes this series perfect to start your K-drama journey with.
IMBD ratings: 8.1/10
VINCENZO

A perfect balance of humour, action, and romance; Vincenzo is worth the binge watch. The show is a crime drama/ dark comedy series starring Song Joong-ki as the titular role and Jeon Yeobeen as Hong Cha-Young. During a visit to his motherland, the Korean-Italian mafia lawyer gives a conglomerate a taste of its own medicine with a side of justice. 
Vincenzo explores themes of justice, revenge, and the power of community. Even the side characters have engaging backstories, and play a vital role to the plot. The show received high ratings, making it one of the most popular Korean dramas of 2021. The chemistry between all characters makes this show a must watch! 
IMBD ratings: 8.4/10
THE LEGEND OF THE BLUE SEA

A mermaid from the Joseon period ends up in present day Seoul where she crosses paths from the swindler who may have ties to someone from her past. What happens next is a tale of fate, love and courage. Legend Of The Blue Sea is a romantic fantasy that explores themes of sacrifice, endurance and destiny starring Lee Minho and Jun Ji-hyun in the lead. 
The show takes place in two timelines, one in the Joseon era and the other in modern-day Seoul. The cinematography and special effects make it a visual treat and the subtle comedic plotlines add to the overall feel of the show.
IMBD ratings: 8.1/10
FLOWER OF EVIL 

When Detective Cha Ji-Won (Moon Chae-Won) marries Baek Hee-Sung (Lee Joon-Gi), they have a daughter. While he seems like a committed family man, they are unaware that he is living in disguise and his facade begins to crumble when his wife begins investigating murders from 15 years ago. This ones for all crime mystery fans. 
Released at the peak of COVID, Flower of Evil is a suspenseful thriller that explores themes of identity, family and the consequences of one's action. It received critical acclaim for its gripping storyline, strong performances and skilled direction. The show will keep you on the edge of your seats with its brilliant twists and turns.
IMBD ratings: 8.6/10
The above-mentioned series are available for streaming on Netflix. Whether you're new to the Kdrama scene or looking for your next binge-watch, these top 9 Kdramas are sure to entertain and leave you wanting more. These are just a few from the vast selection of K-Dramas, we'll be back with more binge-worthy K-Dramas for you!