Top 20 'Eid Al Adha 2021' Deals in Qatar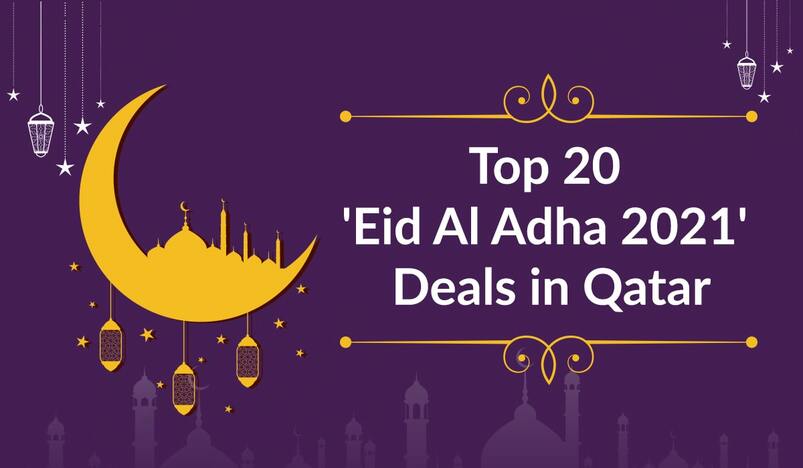 Eid Al Adha 2021 in Qatar
Dining, relaxing, shopping, and more
Eid al-Adha — the Festival of Sacrifice and the most important feast of the Muslim calendar, is almost here! Haven't made any plans for the celebration yet? We're here to help you out.
This article serves as your guide to some of the latest offers and happenings in Qatar this Eid Al Adha 2021. But, before you scroll down for more top Eid deals today, here are quick facts about the festival:
What is Eid al-Adha?
On this day, Muslims around the world celebrate in commemoration of Prophet Abraham's willingness to sacrifice everything for God. 
This religious holiday falls on the 10th day of Dhu al-Hijjah, the 12th and final month in the Islamic calendar. It also marks the conclusion of Hajj, an annual pilgrimage to Mecca in Saudi Arabia.
Known as Eid ul Adha, Id-ul-Azha, Id-ul-Zuha, Hari Raya Haji or Bakr-id; this significant religious holiday is also called Al Eid Al Kabeer, which means the 'Grand Eid.'
When will it be celebrated this year?
According to the calculations of astronomers at Qatar Calendar House (QCH), 20 July may be the first day of Eid Al Adha 2021. 
However, the official decision remains to be declared by the Moon Sighting Committee of the Ministry of Endowments (Awqaf) soon.
The Amiri Diwan announced the Eid holiday as follows: 
• July 18 to 25 - For ministries, other government entities and public institutions. Employees are to resume work on July 26.
• To be confirmed - As for Qatar Central Bank (QCB), banks and financial institutions working under the supervision of QCB and Qatar Financial Markets Authority (QFMA), HE the Governor of Qatar Central Bank shall specify the start and the end of the holiday.
Top Eid Al Adha 2021 Deals in Qatar
Any plans for Eid Al Adha? With a long weekend ahead, it's time for you to fill the holidays with some of the best deals in Doha to celebrate the auspicious occasion. 
Here are some of the shopping, dining, and staycation offers for you to enjoy while celebrating Eid.
1. Book your favorite movies and find exciting events on Q-Tickets.
Enjoy watching blockbuster movies now showing in Qatar cinemas. Tickets are on sale now. Book any movies of your choice at your nearest cinema via www.q-tickets.com today. 
With Q-Tickets, you can also find events and leisure activities to celebrate Eid Al Adha. Visit www.q-tickets.com and explore more fun options from water park adventures to desert tours.
2. Indulge in an irresistible Seafood Fest with Fish.qa.
Enjoy an exquisite seafood dinner this Eid Al Adha with fresh fish varieties from Fish.qa – now available at best prices! 
Have fun with its Fresh Catch of the Day and celebrate the auspicious occasion with your family, safe at home. 
Offer is valid from July 16 to 24 only. So, hurry! Order now at www.fish.qa and get your favorite seafood delivered to your doorstep.
3. Experience unlimited fun at 360 Play Mini Golf.
Play your favorite indoor mini golf while your kids enjoy fun-filled activities in a giant pirate ship.
1. Mini Golf Single (QTCC) - 30 Minutes
2. Mini Golf Single One Hr (QTCC)- 1 Hour
3. Mini Golf Daily (QTCC)- 1 Pax
4 .Mini Golf Family (QTCC) - 2 Adult , 2 Kid
Book now via this link: https://bit.ly/3w5Wd7g
4. Shop for less with best deals from QT-Souq.
Surprises await you this Eid Al Adha with QT Souq's daily special offers. Visit www.qt-souq.com and shop from a wide range of high-quality products at low prices, from grocery items to household supplies. 
With fast home delivery service, get everything you need from top supermarkets and hypermarkets across Qatar.
To place an order, visit www.qt-souq.com or send a WhatsApp message at +97433958126
5. Get a hair makeover at Le Coiffeur.
Get the haircut of your choice at Le Coiffeur.  Kids are now allowed back in the malls and it's the time for the perfect haircut for you and your little ones. 
Le Coiffeur is a one-stop destination for all your hair solutions. Hair Cutting, Hair Styling, Hair Perming, Hair Straightening, Expert Hair Products, this salon provides them all.
All your favorite fashion hair colors are available at Le Coiffeur ranging from Salt and Pepper to Beige Matte Ash Blonde and many more. 
Book your appointment today to avail the best grooming experience for men. Contact +974 5526 0296 or visit http://lecoiffeur.salon/ for inquiries and further details.
6. Savor a dinner buffet and more surprises at The Ritz-Carlton, Doha.
Celebrate Eid-Adha and create your best memories at The Ritz-Carlton, Doha.
Dinner Buffet, Beach & Pool Access, Kids Activities and Spa Treatments await you and your family.
For more information or to make a reservation, call +974 4484 8000.
7. Spend a perfect family Eid staycation at Alwadi Hotel Doha- MGallery.
Take your loved ones to a memorable staycation during Eid Al-Adha at Alwadi Hotel Doha- MGallery.
For only QAR 650, enjoy:
- An overnight stay in the Superior King Room
- Daily breakfast for two adults
- QAR 150 Food & Beverages credit voucher (T&C apply)
- QAR 100 SPA credit voucher (T&C apply)
For only QAR 1,500, avail of:
- An overnight stay in the Souq Suite
- Daily breakfast for two adults
Offers are valid from July 15-24, 2021.  For inquiries and reservations, call +974 4009 9999 or WhatsApp +974 3075 8211.
8. Book an Eid Your Way- Room package at W Doha.
Celebrate the holidays with an Eid Your Way- Room package at W Doha for only - QAR 900 per night (Single/Double).
Offer includes:
- Upgrade to Fabulous room category upon booking
- Complimentary breakfast at Market Restaurant
- Upgrade to W Suite for extra QAR 1000 Q per night
The offer is valid from July 15-24, 2021.
For reservations and inquiries, call 4453 5343 or contact them via WhatsApp at 3025 5243.
9. Treat your family to a lavish dinner at Rodizio.
Bring your family and friends together this Eid Al-Adha over an exquisite dinner at Rodizio, a fine-dining restaurant in Crown Plaza Doha-The Business Park. Indulge in an unlimited serving of 12 different meat cuts, including special cuts perfect for the occasion: camel and shrimps. Avail of this offer from July 20-22, 2021.
10. Join SHINE Gold & Diamond Raffle Promo.
Celebrate Eid Al Adha with pots of gold from SHINE Gold & Diamonds - Qatar. Receive 1 Raffle Coupon for every minimum purchase of jewelry worth 200 Qatari Riyals and get a chance to win 4 pots of gold with 50 grams of 22 karat gold in each pot. A total of 200 grams of gold to be won!
This festive offer is valid until July 26, 2021. Raffle draw is on July 27 at Gold Souq. Visit Shine Gold & Diamonds Branche0 for more details.
11. Discover fun Eid activities at Sharq Village and Spa.
Sharq Village and Spa, a Ritz-Carlton Hotel, has a lot of Eid Al-Adha treats for you. A plethora of Stay, Relaxation, and Dining offers are available this July.
The hotel's Al Liwan Restaurant allows you to:
- Start your Eid holidays with a satisfying breakfast for only QAR 120 per person inclusive of soft beverages.
- Delight in an Arabesque Lunch with a plethora of familiar flavors of an authentic Levantine feast at QAR 99 per person inclusive of soft beverages.
- Revel in an elevated Arabesque Lunch experience featuring centuries-old Levantine recipes at QAR 120 per person inclusive of soft beverages
- Savor an array of local and international favorites as you indulge in Al Liwan's dinner experience at QAR 180 per person inclusive of soft beverages.
- Make your evening more memorable with authentic Levantine cuisine, international favorites, and decadent desserts to make your Eid dining experience memorable. Offers are priced at:
- QAR 350 per person inclusive of soft beverages
- QAR 525 per person inclusive of select house beverages
12. Delight in a spa treatment and sweet treats from Mandarin Oriental, Doha.
This Eid al-Adha, surprise your beloved ones with a relaxing treatment at The Spa at Mandarin Oriental, Doha with its signature gift card sets. 
Sweeten your celebrations with a limited edition signature cake. Bronte Pistachio mousse, dark cherry confit and a pistachio crunch combine to offer you a unique delight. Available only from 19 to 24 July. Pre-order now by calling +974 4008 8888.
13. Avail of a staycation package at InterContinental Doha – the City.
Looking for a room with a breathtaking view this Eid Al Adha? Book a staycation package for only QR525 at InterContinental Doha – the City. Enjoy a breakfast for two at Al Jalsa Garden Lounge and 20% off on food and beverages. Kids below 6 years old will eat for free while those aged 6 to 12 will get a 50% discount.
For bookings, contact the hotel's West Bay branch at 4015 8888.
14. Enjoy a family getaway at Marriott Marquis City Center Doha Hotel
Relish in a sumptuous dinner with your family this Eid Al Adha, as your kids will stay and eat for free at the Marriott Marquis. With restaurants like Cucina, Crossroads Kitchen and New York Steakhouse at this hotel, both you and your little ones will dine like royalty.
Prices vary and the offer is valid until Sep 30. 
To book, contact the hotel's West Bay branch at 4419 5000.
15. Swing by the Sheraton Grand and revel in tasty dishes
This Eid Al Adha, visit the Sheraton Grand Doha Resort & Convention Hotel and tuck into all kinds of international dishes at Al Hubara's brunch, which is running for the first 3 days of Eid.
Enjoy the treat for only QR295 from 12.30pm to 3.30pm.
For reservations, contact 4485 3000.
16. Spoil your family to a dinner buffet at Choices
Choices will be hosting its buffet on Tuesday, July 20. Expect plenty of international and local dishes, including lamb ouzi, and more.
Avail of this offer for only QR295, from 12.30pm to 4pm. Visit the restaurant at Hyatt Oryx Regency Doha, Umm Ghuwailina and contact 4402 3333 for reservations.
17. Get your Italian food cravings satisfied at Cucina.
Craving for Italian food? Cucina Restaurant at Marriott Marquis City Center Doha Hotel has surprises for you this Eid Al Adha. Savor a spread of antipasti, pasta and pizza. For only QR99 per person, this offer is perfect for you and your family.
This deal is available on Tuesday, July 20 noon-11pm. For reservations, contact 4419 5510.
18. Dine on made-to-order dishes at New York Steakhouse.
Check out the endless selection of made-to-order dishes at New York Steakhouse in Marriott Marquis City Center Doha Hotel, West Bay. 
Enjoy a tasty dinner with ingredients ranging from chicken and waffles, seafood platters to roast beef.
Offers are available at QR495 (soft drinks) and QR595 (bubbly), from Tuesday, July 20 at noontime to 4pm. Contact 4419 5510 to make your reservations.
19. Enjoy a Brazilian churrascaria experience at Ipanema.
Find more meat on the menu in this year's Eid Al Adha brunch of the Ipanema restaurant in Marriott Marquis City Center Doha Hotel, West Bay.
Tuck into skewered meats, traditional appetizers, a selection of seafood and fresh fruit dishes, plus soft drinks or house beverages.
Enjoy this offer at QR295 (soft drinks) or QR395 (house beverages). It is available on Tuesday, July 20, from noontime to 4pm. For inquiries and reservations, call 4419 5000.
20. Make your Eid extra special at SHOTS Sports bar
Cap off the celebration at the SHOTS, an all-AmericanSports bar in  Hilton Hotel Doha, West Bay. With platters of sliders, wings and other dishes on its Eid Al Adha menu, you're sure to enjoy your dining experience here. Head to this place between the 1st and 4th day of Eid to try them out.
Dine in for only QR195, from 1pm-4pm.  Call 4423 3222 for bookings.
Already have something in mind for the upcoming Eid celebration? Keep in mind that there are still precautionary measures in place as COVID-19 pandemic is not yet over. 
Note: Terms and conditions apply on the abovementioned offers. It is important to call the restaurants or shops you wish to go or order from to confirm the availability of their services in advance.
Which of the above is your favorite? Any other ideas to celebrate the festival this year in Qatar? Tell us in the comments below.