Things to do this weekend: May 26-28, 2022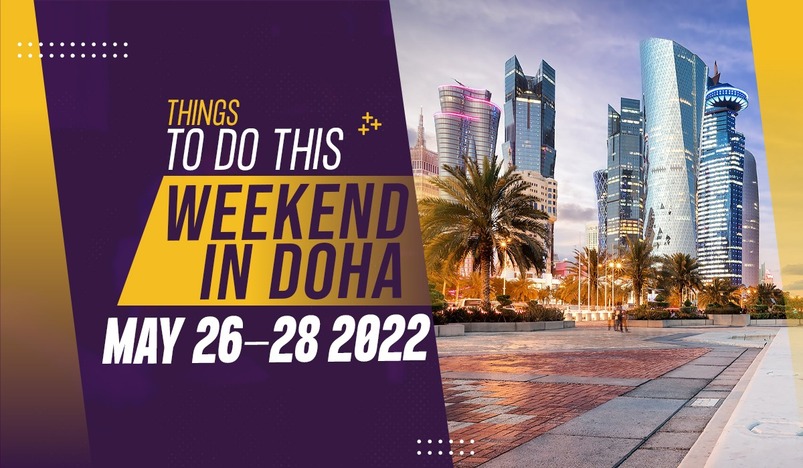 Where to go and what to do this weekend in Qatar
Check out our top picks for Things to Do in Qatar from May 26-28, 2022 below.
Note: Events are subject to change as per the organizers. Follow the COVID-19 measures in place to ensure yours and others' safety.
May 26, 2022 - Thursday
1.Once Upon A Bag: Hermès' Heritage Exhibition 
The National Museum of Qatar (NMoQ) is hosting the fourth chapter of the Hermès Heritage cycle of touring exhibitions, Once Upon a Bag, which tells the story of Hermès, and its different families of bags for both men and women, starting from its origins to the present moment. 
Dates: May 28 - to June 11, 2022
Timings: 
Saturday - Thursday: 9:00 AM - 7:00 PM
Friday: 1:30 PM - 7:00 PM 
Location: National Museum of Qatar
2. Katara Summer Trade Fair
At the Katara Summer Trade Fair, you can enjoy shopping for a variety of household items, whether for decor, accessories, clothing, and more.
Find traditional clothes, makeup, perfume, and home necessities such as honey, spices, dates, fruits, and everything else.
Dates: May 19 - June 10, 2022
Timings: 2:00 pm - 4:00 pm.
Location: Katara South Parking Area
3.Doha Festival City Homeware Festival
Doha Festival City is hosting its annual homeware festival featuring an exclusive collection from various retailers.
The festival will feature famous exhibiting brands which give you the chance to learn about the latest trends in home design.
Dates: May 12 - June 8, 2022
Timings: Mall Trading Hours
Locations:
Centre Court, Ground Floor 
Axis Node near the South Food Court
Diamond Node near Luxury Area
May 27, 2022 - Friday
1.Koi Brunch
Enjoy the best Pan-Asian brunch spot in town with the best authentic cuisine at Shanghai Club. 
Take in the scenery while savoring the deliciousness prepared by renowned chefs.
Prices:
QAR 320 for Soft beverages package 
QAR 420 for Enhanced beverages package 
Timings:
Every Friday from 12:00 pm to 3:00 pm 
Location:
Shanghai Club, 43rd floor, JW Marriott Marquis City Center Doha Hotel.
2.Seasons Restaurant - Movenpick Hotel Doha!
Enjoy the best seafood restaurant in town at Seasons, Movenpick Hotel Doha.
Choose from a wide range of delectable appetizers, scrumptious main meals, delicious desserts, and more.
Timings: 6:30 pm to 10:30 pm, Thursdays & Fridays
Location: Seasons Restaurant - Movenpick Hotel Doha
Contact: 6692 6688 
3. Top Gun: Maverick 
After more than thirty years of service as one of the Navy's top aviators, Pete "Maverick" Mitchell (Tom Cruise) is where he belongs, pushing the envelope as a courageous test pilot and dodging the advancement in rank that would ground him. When he finds himself training a detachment of Top Gun graduates for a specialized mission the likes of which no living pilot has ever seen, Maverick encounters Lt. Bradley Bradshaw (Miles Teller), call sign: "Rooster," the son of Maverick's late friend and Radar Intercept Officer Lt. Nick Bradshaw, aka "Goose." Facing an uncertain future and confronting the ghosts of his past, Maverick is drawn into a confrontation with his own deepest fears, culminating in a mission that demands the ultimate sacrifice from those who will be chosen to fly it.
Watch this action, drama and thriller film now showing at Qatar Cinemas near you!
Book your tickets now at www.q-tickets.com.
To know more about the movie's release in Qatar, check out our movie section to learn more about this film.
4. Mario Karam at Levantine
Get ready to enjoy a night of music with Mario Karam & the Band performing Live at Levantine restaurant in a vibrant and contemporary atmosphere.
Book your table, dance and sing-along in the company of your friends.
Date: May 27, 2022
Timing: 8:00 PM 
Location: Levantine Doha, Hilton Doha The Pearl Hotel & Residences - The Pearl
Contact: 44924620
5.DJ Harry Ley Live at Olea Terrace
Every Friday, The Olea Terrace at Steigenberger Hotel Doha brings you the best evening entertainment with DJ Harry Ley at Olea Terrace. 
Olea Terrace is a great place to meet and chill outdoors. The layout setup is inspired by the rich flavors and heritage of the Levantine and Mediterranean cuisines.
Enjoy live BBQ, dance to the best songs, and have fun with your pals.
 Prices:  According to Menu
Timings: 7:00 PM - 11:00 PM.
Location: 
Olea Terrace - Steigenberger Hotel - 2nd Floor
Contact: 40201666
May 28, 2022 - Saturday
1. Automotive Exhibition at National Museum of Qatar
Discover a world-class collection of classic automobiles, at Qatar Automotive Exhibition.
You have the chance to explore and learn about how impactful automobiles are, and how they contribute to culture. 
You will get the chance to know about 20 unique cars which you can loan from members of the Qatar Auto Museum advisory board, as well as automobile lovers within the community. 
The automotive exhibition serves as a platform launch of Qatar Auto Museum, designed by Pritzker prize-winning architect Rem Koolhaas.
Dates:
29 March 2022 - 20 January 2023 
Timings: 
  9:00 am - 7:00 pm (Saturday- Thurssday)
 1:30 pm till 7 pm (Friday)
Location: Mawater gallery at National Musuem of Qatar (NMoQ)
2.Book Swap Event by the Metro Culture
Join the Metro Culture at Caramel Lounge at City Centre Rotana Doha. If you are passionate about reading books, this will be an excellent opportunity to discover different authors and new genres.
Bring your favorite books to swap with other passionate book readers and make new friends. 
Dates: Saturday, May 28
Timings: 4:00-6:00 PM
Location: Caramel Lounge, City Centre Rotana Doha
3.The "Manga Style!" Competition
The Manga Style Competition embraces the love of youth for Japanese art, animation, and culture.
In the spirit of friendship and cultural exchange, this competition invites citizens of Qatar to capture the essence of Qatari culture in a style familiar to the Japanese and loved worldwide: manga!
To enter, you can submit your manga to: yearsofculture.competitions@kennedy.london. The Competition Theme is: Friendship 
If you are a visual storyteller, then this competition is just right for you. 
Dates: May 1, 2022 -  July 31, 2022
Location: Online