Things to do this weekend: March 10-12, 2022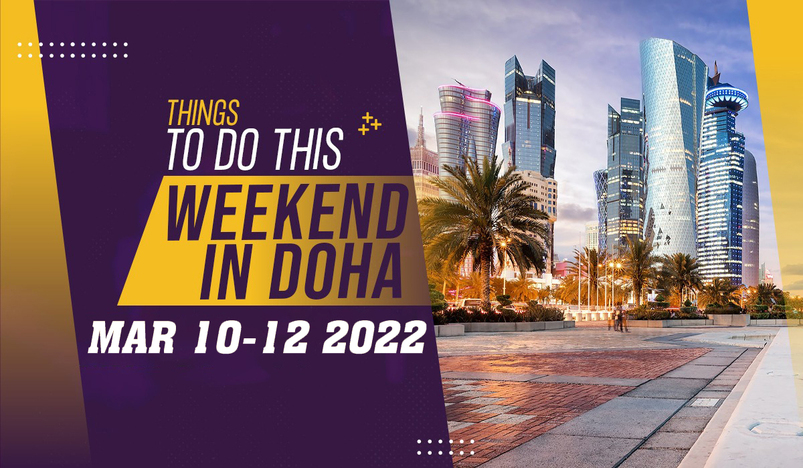 Where to go and what to do this weekend in Qatar
Check out our top picks for Things to Do in Qatar from March 10-12, 2022 below.
Note: Events are subject to change as per the organizers. Follow the COVID-19 measures in place to ensure yours and others' safety.
March 10, 2022 - Thursday
1. Musical Journey
Do you like to travel? Join Qatar Philharmonic Orchestra and the remarkable conductor Marcus Bosch for a Musical Journey in East and Northern Europe.
Buy now and get exclusive 15% discount for this concert, Musical Journey on March 11 and our upcoming concerts Pearls of Music on March 26.
The discount will be applicable on the price of both the concert tickets and will be provided during the purchase of the tickets for Pearls of Music.
Date: Mach 11, 2022
Location:  Abdul Aziz Nasser Theatre – Souq Waqif
Timing: 5:00PM and 7:30PM
Ticket Booking: Book your tickets via www.q-tickets.com
Our Journey begins with Bedrich Smetana's Moldau, continuing to Hungary with Franz Liszt's Hungarian Rhapsody No.2 in D Minor. A Brief stop in Russia with Tchaikovsky Overture from Romeo and Juliet. followed by one of his most famous Waltz Eugen Onegin. Our final destination takes us to Finland with Jean Sibelius and his Karelia Suite, Op.11. Sit back and travel with Qatar Philharmonic orchestra, you will be thrilled.
There will be No Intermission.
Please note that attendees will be only admitted if they are fully vaccinated.
Tickets must be purchased online. There are no refunds or exchanges. Under 6's will not be admitted into the venue. All attendees must wear a face mask at all times, maintain a social distance of 1.5 meters, present a green Ehteraz status, and have a temperature reading of less than or equal to 37.8 degrees Celsius to be admitted into the venue. Audience members will be guided to their seats by a QPO representative. Allocated seats by organisers must not be changed for health and safety reasons. Anyone not complying with the Ministry of Public Health's Covid-19 guidelines will be ejected from the venue. Doors close promptly at concert commencement. Out of respect for the musicians and fellow audience members please silence your mobile phones and refrain from flash photography. Seating begins 30 minutes before performances. Latecomers cannot be seated during the concert. If an audience member leaves the venue during the concert, they will be reseated at the closest available seat to the exit upon re-entry. The Philharmonic retains the right to expel anyone disturbing other concertgoers. Food and beverages cannot be consumed in the venue (water only). The Philharmonic accepts no personal liability of any sort. Programmes and artists are subject to change. To avail mentioned discounts, individuals will have to show their student, staff or disability cards/tags.
Gate Rules
Green Etheraz status must be shown before admission and a face mask must be worn for the duration of the concert.
Audience members must present their tickets for inspection before being allowed entry into the venue.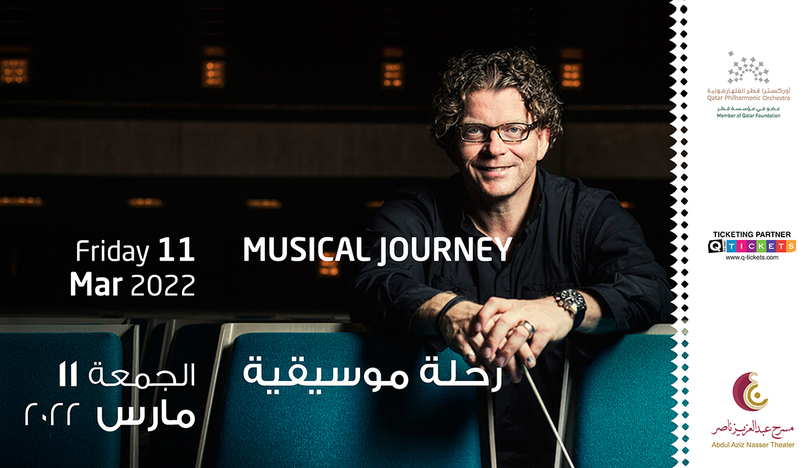 2. Mahaseel Festival 2022
The Cultural Village Foundation, Katara in cooperation with the Agricultural Affairs Department of the Ministry of Municipality are organizing the 6th edition of Mahaseel festival at Katara's southern area with the participation of 38 agricultural and food stalls.
Mahaseel Festival has the distinct participation of a group of major national companies specialized in food production, as well as Qatari farms and nurseries, dedicating its position and role year after year as an annual economic platform that supports the local product of food industries and local agricultural products, in addition to supporting farm production in the country.
Location: Area opposite St. Regis Hotel
Date: 7 March 2022 - 15 May 2022
The festival will be held until March 12, while Mahaseel Market will continue on Thursdays, Fridays and Saturdays of every week until May 15 from 9 am to 9 pm.
Timing: 09:00 am - 09:00 pm
Tickets: No tickets needed
Price: Free
3. National Cruise
Dates: Ongoing until August 31, 2022
March 11 (1PM - 7PM) Hit The Beach
Ticket Bookings: Book now at www.q-tickets.com
Hit the Beach
Escape the hustle and bustle of the city life and soak up the sights aboard a dhow. What a better way to spend your weekend. Leave your worries behind and create a moment to remember on-board National Cruise.
• 6-hours Island beach break program.
• Special Island beach setup.
• Coffee, Tea, Juice and Bottled Drinking Water.
• Beach Activities such a Football, Volleyball, Frisbee, etc.
• Water activities such as Swimming, UNLIMITED Banana Boat and Air stream (doughnut)
Rates:
• Option 1 QR 375 per person Along with an Open International buffet Minimum of 20 Pax.
• Option 2 QR 250 per person Along with package meal for each minimum of 20 Pax.
• The above is valid for private booking in any date and time the client can chose.
• Current promotion for option 2 is QR 195 per person till mid of February every Friday from 1 PM to 7 PM without any minimum number of people.
Dinner Cruise
Step aboard the Cruise for an unforgettable evening. Departing from the Box Park, you'll enjoy a leisurely three-hour cruise along the Pearl and unobstructed views of west-bay Building, skyline, Islamic museum and more.
• 3-hours program.
• Open international buffet.
• Special Boat set up.
• Coffee, Tea, Juice and Bottled Drinking Water.
• Price: QR 300 per person Minimum of 20 Pax.
• This above is valid for private booking in any date and time the client can chose it.
• Current promotion QR 300 per person Thursday from 6 PM to 9 PM without any minimum number of people.
• Live entertainment available upon request and availability
• Tanoura at QR 2,000 for 30 minutes
• Live violin at QR 3,200 for 1 hour
• Live Saxophone at QR 1,500 for 1.5 hours
• Kids entertainment face painting and balloon twisting at QR 2,500 for 2 hours
• Pianist at QR 4,500 for 1 hours
• City Tour By Sea
• A touch of heritage meets modern architecture during this 2-hour mid-day cruise from M.I.A., pass by Katara the cultural Village and The Pearl-Qatar and vice versa through the waters of Arabian Gulf. Hop on and hop off and travel by cruise to discover the major tourist destinations in Qatar.
• Schedules available between 3:00 PM to 10:00 PM every two hours one trip in the weekend and a daily trip from 5 to 7 Pm in the week days minimum of 3 Pax.
• QR 150 for Round trip per person
• QR 90 for one-way trip per person
*Including free flowing hot and cold beverages
*Food is available upon pre-booking at additional charges
Kids Policy for all services:
• Below 4 years old is free –of-charge
• 5 to 10 years old will have 50 % discount on the regular ticket prices
• Above 10 years old will be charged with regular ticket prices
• National Cruise Dhow capacity and rental per hour with minimum of 4 hours:
• 40 Capacity Dhow QR 1,500 per hour
• 60 Capacity Dhow QR 1,800 per hour
• 80 Capacity (Open Dhow) QR 2,000 per hour
• 80 Capacity (Closed Full AC Dhow) QR 2,000 per hour
• Current Package 2300 QAR for 12 persons and two hours cruising with free flow refreshment (water, tea, coffee and juices) Additional extension per hour 450 QAR.
• The National Cruise staff will notify you of the pickup location after your ticket has been confirmed.
March 11, 2022 - Friday
1. Uncharted Movie
The story is a prequel to the games, starring Holland as a younger Drake, showing us details of how he came to meet and befriend Sully.
Watch this action, crime, and adventure film now showing at Qatar Cinemas near you!
Book your tickets now at www.q-tickets.com.
2. Beanstalk
2. Beanstalk
Kids can't get enough of Qatar's newest Beanstalk adventure play area!
360 Play brings you this exciting entertainment hub designed to entertain and engage the whole family in some action-packed adventures!
Visit the Beanstalk today at the Mall of Qatar, located in front of the Food Court. Book now at www.q-tickets.com or contact 7064 4011 for more details.
Date: February 10, 2022 - February 23, 2023
Tiiming:  
Saturday to Wednesday: 10.00 AM to 10.00 PM
Thursday: 10 AM to 11:30 PM
Friday: 1 PM to 11.30 PM
Location: Mall of Qatar
Ticket Rates: General Pass (20 Mins) QAR 30, Premium Pass (40 Mins) QAR 50, Super Pass (1 Hour) QAR 60, and Family Pass - 1 Adult + 3 Kids (1 Hour) QAR 200
Ticket Purchase: Book now at www.q-tickets.com
3. Cricket for Everyone
Bravo Cricket Academy is in inviting you to the "Cricket for Everyone" sports event.
The said event is affliated & recognized by  theDeaf International Cricket Council & Qatar Cricket Association.
Event Details:
Date: January 1, 2022 to December 31, 2022
Timing: 4:00 PM Onwards
Location: Ezdan Oasis B Block, Al Wukair, Doha - Qatar
Ticket Bookings: Book now at www.q-tickets.com
One time Registration – QR 200 (Uniforms will be provided)
Kids Sessions – Every week Thursday / Friday / Saturday
Timing – Kids Session:
Batch 1 – 4.00pm – 6.00pm – QR 400/-
Batch 2 – 6.00pm – 8.00pm – QR 400/-
Seniors – Open all 7 days
4 Sessions one on one – QR 400/
8 Sessions one on one – QR 700/
4. Museum of Illusions
Enter the fascinating world of illusions which will trick you, but amaze you at the same time. It is sure to be an amazing and unimaginable experience because whatever you see in the Museum of Illusions, is not what it appears to be.
Contact Details:
Location: 1st Floor, The Gate Mall, Omar Al Mukhtar St. Doha, Qatar
Telephone Number: +974 40206273
Email: info@museumofillusions.qa
Opening Hours:
Sunday to Wednesday (9 am – 10 pm)
Thursday And Saturday (9 am – 10 pm)
Friday (1 pm – 10 pm)
Ticket Rates:
Adult (16+ years): 80 QAR
Child (3-15 years): 60 QAR
Child (3-below): Free
Family (2 adults & 2 kids under 15 years): 220 QAR
Special Needs: 40 QAR
Ticket Bookings: www.q-tickets.com
5. Sunshine Day Pass
Discover Santorini vibes in the heart of Qatar at the latest leisure destination hotspot, Hilton Salwa Beach Resort & Villas! Enjoy a fun getaway with the resort day pass which provides you with exclusive access to some of the most exciting attractions and dining outlets the resort has to offer! Splash, ride and slide into the Sea Caves Water Park and get competitive with your friends in a game of Laser Tag at the Desert Falls Water and Adventure Park! You also get exclusive access to the South Bay Pool and the resorts 3.5km of pristine beach front. Top up the day with a QAR100 F&B credit for adults and QAR50 for juniors with a tasty meal at Dante Cucina Italiana, Nesma Lobby Lounge or South Bay Pool Restaurant.
This is a perfect daycation experience you do not want to miss!
Inclusions:
• Access to Sea Caves Water Park
• One game of Laser Tag
• Pool & Beach Access
• QAR 100 F&B credit for adults and QAR50 for juniors at Dante / Nesma Lounge / South Bay Pool Restaurant
Dates: November 8, 2021 to February 28, 2022
Timings: 8AM onwards
Location: Hilton Salwa Beach Resort and Villas
Ticket Bookings: Book now at www.q-tickets.com
March 12, 2022 - Saturday
1. The Batman Movie
In his second year of fighting crime, Batman uncovers corruption in Gotham City that connects to his own family while facing a serial killer known as the Riddler.
Watch this action, crime, and drama film now showing at Qatar Cinemas near you!
Book your tickets now at www.q-tickets.com.
2. Resort Pool and Beach Access
Qatar's latest leisure destination provides an unforgettable and relaxing adventure like nowhere else as you take a break from all the stress and noise of city life.
You can relax in a private cabana at the pool, or let the kids enjoy the splash pad while you unwind. You don't have to worry because lifeguards are on duty from 8 am to sunset and towels are provided.
The private beach sprawls 3.5kms and is an unspoiled paradise of crystal clear waters. Imagine lounging on the beach, soaking in the early morning sun, and listening to the calming waves.
Date: Ongoing until March 31, 2022
Tiiming:  3:30PM Onwards
Location: Hilton Salwa Beach Resort and Villas
Ticket Booking: Book now at www.q-tickets.com. 
Terms & Conditions
• Children below the age of 3 years are free.
• 3 years and above are chargeable at the advertised rates.
• Changing rooms are available and towels will be provided.
• Gym and Kids Club access is not included, however access to the Kids Club is available at the rate of QAR 75 per child, per hour.
• Waterpark Access is not included
• Bringing in Food and beverage from outside is not permitted.
• Guests are required to present a green ehteraz only for entry. Children below the ages of 12 can access the pool and beach as long as accompanying adults present a green ehteraz.
3. Sheikh Faisal Bin Qassim Al Thani Museum
Experience a comprehensive visit at the Sheikh Faisal Museum. Over 30,000 objects and artifacts on display call to mind world's topographies, their natural, and cultural features.
Date: Ongoing until October 7, 2022
Timings:
• Sunday (Closed)
• Monday to Thursday (9am – 4:30pm)
• Friday (2pm – 7pm)
• Saturday (10am – 6pm)
Ticket Booking: Book now at www.q-tickets.com
Website: www.fbqmuseum.org
Contact Number: +974 44861444
Email: info@fbqmuseum.org
The Sheikh Faisal Bin Qassim Al Thani's complex of Museums (FBQ Museums) is the brainchild of a man's long-lasting passion for collecting the world's items of peculiar and historical relevance to create and share a new cultural heritage for Qatar and beyond. It showcases items from the private collection of the Sheikh after whom it is named.
However, FBQ Museums is much more than a series of gallery spaces. Since the inception of the main Museum in Al Shahaniya in 1998, through the establishment of the Carpet Museum in the heart of Doha in 2014, and with the forthcoming Car Museum, FBQ Museums have been engaging and connecting communities with Qatari heritage by celebrating diversity and hospitality.
A new museum extension is also in progress to expand the offer to keep inspiring people to learn through our collections, exhibitions, education, and public programs. In 2010, the museum was selected by the Ministry of Arts, Culture, and Heritage as one of Qatar's cultural landmarks as part of the 'Qatar Capital of Culture' activities.
Please note that children under 12 years, ICOM member visitors with disabilities and caretaker, press and tour guides are free for regular tickets.
Special Remarks
• Tour guide to be booked in advanced
• No professional photo or video shooting is allowed, unless approved by the museum management and marketing department
• No food or drink is allowed during the tour
• Touching objects and artifacts are not allowed
• Identification card / QID is required to avail to above mentioned discounted rate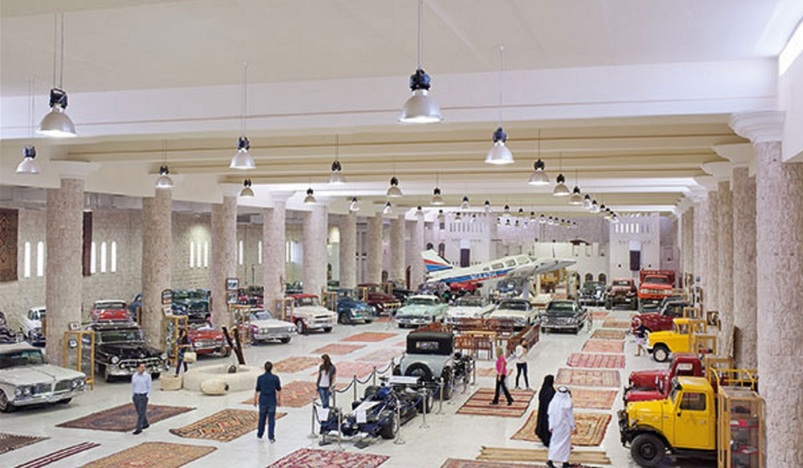 4. Sea Caves Water & Adventure Park - Desert Falls
The admission ticket gives access on a specified date to Sea Caves Water Park, which is part of Desert Falls Water and Adventure Park - one of the largest theme parks in the Middle East. Located within Hilton Salwa Beach Resort & Villas, Sea Caves Water Park features 28 slides and rides, including the water park's signature ride "The King Cobra" and many other attractions including the Kids Ship Pool, the Whizzard Mat Racer, inner tube slides, Surfing Dunes, Family Abyss, Falls Pool and the Wave Pool.
Access to the separate adventure attractions at Desert Falls (canyoning, diving, go karting, laser tag) are not included in the general admission ticket which can be purchased separately on site.
Date: Ongoing until February 28, 2022
Tiiming: 10:00AM Onwards
Location: Desert Falls Water and Adventure Park
Ticket Booking: Book now at www.q-tickets.com.
5. 360 Play Mini Golf
Looking for a place to have fun with your family and friends this weekend? 360 Play Mini Golf is the place to be. Here you can enjoy playing golf indoors and your kids can spend exciting time in a giant Pirate Ship loaded with action-packed activities and obstacle courses. 
Follow all COVID-19 protocols while in the play area to ensure everyone's safety. Cost varies for children, adults, and daily comers. 
360 Play Mini Golf is open daily during mall hours. For bookings, visit www.q-tickets.com.