Things to do this weekend: January 6 - 8, 2022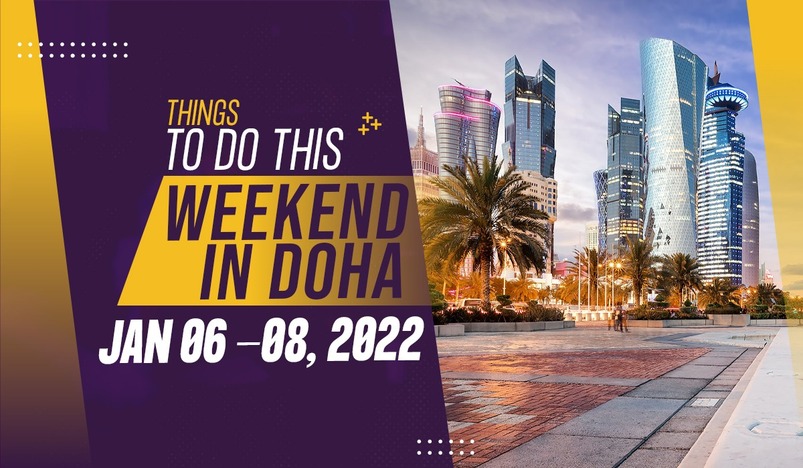 Where to go and what to do this weekend in Qatar
Check out our top picks for Things to Do in Qatar from January 6 - 8, 2022 below.
Note: Events are subject to change as per the organizers. Follow the COVID-19 measures in place to ensure yours and others' safety.
Jan 6, 2022 - Thursday
1. The King Of The Court
Witness an International Beach volleyball tournament with players from all over the world. A team consists of 2 players and a game will be played with 5 teams on the court; some players play while other players are waiting for their turn on the court. It's a knockout race that makes every rally count. There are 9 sessions, where the final session duration would be a full day. There would also be two sand pitches, one for the competition and one for the practicing; a big fan zone outside the entrance to the main court with different entrainment as well as food and beverage stalls. Expect daily entertainment shows between the games.
Date: Jan 5 - 8, 2022
Time: 2:00PM Onwards
Venue: Aspire Park
Tickets: The seating area contains the north area for accredited people, then 6 zones; 4 regular tickets zone, 1 zone for premium tickets and 1 zone for day tickets
Prices are QR 5, QR 10 and QR 15 respectively. There would be no day tickets for the final day as it consists of just one ticket.
Ticket Booking: www.q-tickets.com
2. Museum of Illusions
Enter the fascinating world of illusions which will trick you, but amaze you at the same time. It is sure to be an amazing and unimaginable experience because whatever you see in the Museum of Illusions, is not what it appears to be.
Contact Details:
Location: 1st Floor, The Gate Mall, Omar Al Mukhtar St. Doha, Qatar
Telephone Number: +974 40206273
Email: info@museumofillusions.qa
 
Opening Hours:
Sunday to Wednesday (9 am – 10 pm)
Thursday And Saturday (9 am – 10 pm)
Friday (1 pm – 10 pm)
 
Ticket Rates:
Adult (16+ years): 80 QAR
Child (3-15 years): 60 QAR
Child (3-below): Free
Family (2 adults & 2 kids under 15 years): 220 QAR
Special Needs: 40 QAR
Ticket Bookings: www.q-tickets.com
3. Microsoft: Imagine Cup 2022 Qatar Competition
Location: People based out of Qatar can participate
Date: 26 December 2021 - 6 January 2022
Time: 12:00 am - 11:59 pm
Ticket Purchase: Online
Price: Register and participate now! - It's free.
Jan 7, 2022 - Friday
1. Jeff Koons: Lost in America
Curated by Massimiliano Gioni, the exhibition provides a unique view into the exceptional career of one of the world's best-known contemporary artists, whose work bridges Pop, Minimalism and the readymade. This is Koons' first exhibition in the Gulf region.
Location: Al Riwaq Gallery, MIA
Date: 21 November 2021 - 31 March 2022
Time: 09:00 am - 07:00 pm
Ticket Purchase: Online
Price: Adult - 75QR
2. On Silence by Kader Attia at Qatar Museums
Modern and contemporary history holds some of the noisiest tragedies that humanity has lived through, and our present moment is affected by the traumatic memories of these events. Colonialism, political oppression and environmental devastation have led to massive migrations across continents, transforming social ecologies in every centre of the world. Yet the ideologies and systems of governance today continue to create zones of silence that bury many of these histories.
Location: Mathaf: Arab Museum of Modern Art, Doha Qatar
Date: 8 November 2021 - 31 March 2022
Time: 09:00 am - 05:00 pm
Ticket Purchase: Online
Price:
Child 0–16 Resident of Qatar - It's free!
Child 0–16 Non-resident Qatar - It's free!
Student Resident of Qatar - It's free!
Student Non-resident of Qatar - 15QR
Adult Resident of Qatar - 15QR
Adult Non-resident of Qatar - 30QR
3. Al Thuraya Planetarium shows in Katara
Occupying 2,240sqm area, the planetarium is expected to become one of the main attractions at Katara. It offers a rare experience to visitors, blending education and entertainment, especially students, families and astronomy enthusiasts.
The main component of the planetarium is a full-dome digital system with a seating capacity of 200 people, 4 seats for the disabled and another 4 for the elderly. It features a 22-meter screen, equipped with state-of-the-art digital projectors showing 2D and 3D tutorial shows.
Location: Al Thuraya Planetarium
Dates: December 22, 2021 - January 28, 2022
Timings: 05:00 pm - 07:00 pm
Tickets: Book online.
Price: Free but registration is required here: http://althuraya.katara.net/
Phone: 44082067
Email: Althuraya@katara.net
4. Winter Fest at Doha Quest
Experience Qatar's first immersive indoor theme park, Doha Quest, where a world of snowy wonders awaits you this weekend.
Discover a sleigh-full of holiday entertainment, the winterful ambience, holiday activities, seasonal sweet treats whimsical décor, seasonal food and drinks and much more!
Location: Doha Quest
Date: December 21, 2021 - January 8, 2022
Time: 02:00 pm - 11:00 pm
Tickets: Book online at http://www.dohaquest.com/
Prices:
Juniors (4-12) - 150QR
Adults (13 and above) - 225QR
Children under (4) - Free
5. Short Film Competition by Qatar Museums
Event Details:
Location: This is an online event
Date: 2 December 2021 - 1 March 2022
Time: All Day
Price: Register online - It's free!
Email: film@qm.org.qa
Jan 8, 2022 - Saturday
1. Torba Market at Msheireb
Event Details:
Location: Msheireb, Sikkat Wadi
Date: 30 October 2021 - 31 March 2022
Time: 09:00 am - 07:00 pm
Price:
Come and visit - It's free!

2. Ladies Night at Oxygen Park
Event Details:
Location: Oxygen Park
Date: 6 September 2021 - 31 January 2022
Time: 06:00 pm - 10:00 pm
Ticket Purchase: No tickets needed
Price: No tickets needed - It's free!
3. Ektashif - Turkey 2021 at Fire Station
Ektashif - Turkey 2021 is an Art Exhibition by a group of Qatari Artists: Ali Al Kuwari, Muna Al Bader, Naeema Al Hail, Mashael Al Hejazi, Zainab Al Shibani, and Ahmed Al Ali, inspired by their trip to Turkey discovering important historical landmarks of Istanbul and traditional Islamic art techniques.
Location: Fire Station Building
Date: Ongoing until January 13, 2022
Time: 09:00 am - 07:00 pm
Ticket Purchase: No tickets needed
Price: General entry - Free
4. Christian Dior: Designer of Dreams Qatar Exhibition at M7
House of Dior's first retrospective in the Middle East will feature a selection of pieces that have never been shown before, including ensembles from the private collection of Her Highness Sheikha Moza bint Nasser.
Curated by Olivier Gabet and designed by Nathalie Crinière especially for Qatar, Christian Dior Designer of Dreams celebrates nearly 75 years of creative passion, punctuated by captivating haute couture dresses and works from the collection of the Musée des Arts Décoratifs in Paris.
Christian Dior Designer of Dreams is sponsored by Qatar Airways and Place Vendôme. The exhibition is part of the ongoing cultural legacy established as part of the Qatar-France 2020 Year of Culture, an initiative celebrating the longstanding ties between both nations.
Location: M7 at Msheireb Downtown Doha
Date: Ongoing until March 31, 2022
Time: 09:00 am - 07:00 pm
Ticket Purchase: Online
Price: Adult - 100QR
Child (0-16) - Free
Student - Free
VCU Staff & Student - Free
Senior Citizen 60+ - Free
Ticket booking: Click here
5. Virgil Abloh: Figures of Speech
Qatar's preeminent institution for art and culture—will present a mid-career retrospective of the acclaimed American artist and designer, Virgil Abloh, at the Garage Gallery at the Fire Station. The first museum exhibition of his work to be presented in the Middle East, Virgil Abloh: Figures of Speech will be on view until 31 March 2022. With more than 55 works, the exhibition will offer an in-depth look at Abloh's diverse pioneering media practice that ranges from visual arts to music, fashion, architecture, and design.
Through Abloh's own work and many collaborations, Virgil Abloh: Figures of Speech shows the complex universe of fashion, music, art and design he moves in, demonstrating his ability to fluently speak the language of each discipline. The exhibition is designed to provide an overview of the disciplines, pivotal moments, and statements of one of the most important contemporary cultural phenomenon.
The Doha edition of Virgil Abloh: Figures of Speech contains the Inflatable Bouncy Castle as well as the never before exhibited Customized Mercedes G-Wagon. The exhibition design also repurposes a number of elements from Qatar Museums' previous exhibitions, such as the LED ticker signs and steel grates minimizing waste.
The exhibition is presented as part of the Qatar-United States 2021 Year of Culture, sponsored by ExxonMobil, which was formalized in September 2020 with a cooperative agreement between the State of Qatar and the United States of America during the 2020 Qatar-United States Strategic Dialogue in Washington, D.C.
Figures of Speech will open during Qatar Creates 2021, a biannual cultural initiative that celebrates the best of arts and culture, fashion and design through a dynamic and diverse programme of exhibition opening and events.
Location: Garage Gallery at the Fire Station
Date: Ongoing until March 31, 2022
Time: 09:00 am - 07:00 pm
Ticket Purchase: Online
Price: Adult - 50QR
Ticket Booking: Click here