Things to do this weekend: January 27 - 29, 2022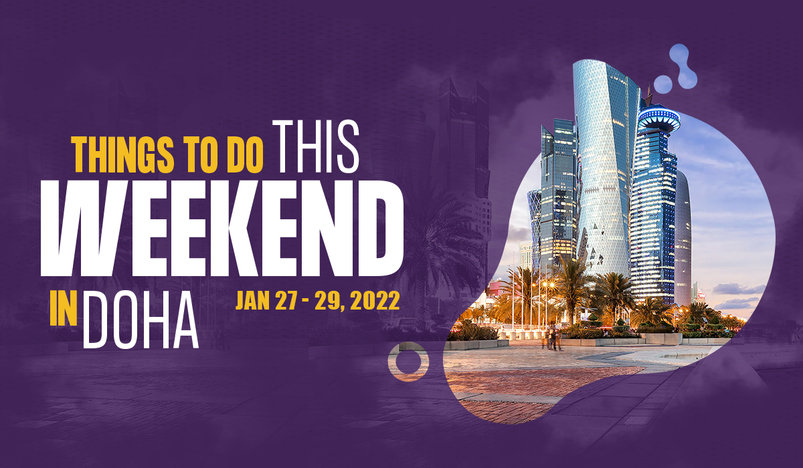 Where to go and what to do this weekend in Qatar
Check out our top picks for Things to Do in Qatar from January 27 - 29, 2022 below.
Note: Events are subject to change as per the organizers. Follow the COVID-19 measures in place to ensure yours and others' safety.
Jan 27, 2022 - Thursday
1. Cricket for Everyone
Bravo Cricket Academy is in inviting you to the "Cricket for Everyone" sports event.
The said event is affliated & recognized by  theDeaf International Cricket Council & Qatar Cricket Association.
Event Details:
Date: January 1, 2022 to December 31, 2022
Timing: 4:00 PM Onwards
Location: Ezdan Oasis B Block, Al Wukair, Doha - Qatar
Ticket Bookings: Book now at www.q-tickets.com
One time Registration – QR 200 (Uniforms will be provided)
Kids Sessions – Every week Thursday / Friday / Saturday
Timing – Kids Session:
Batch 1 – 4.00pm – 6.00pm – QR 400/-
Batch 2 – 6.00pm – 8.00pm – QR 400/-
Seniors – Open all 7 days
4 Sessions one on one – QR 400/
8 Sessions one on one – QR 700/
2. Finding Your Way Series at Drive-In Cinema
Great movies await you this weekend as the Doha Film Institute (DFI) released the below line-up for the drive-in cinema set in Lusail:
FINDING NEMO (PG): January 27, Thursday at 7 pm
FINDING DORY (PG): January 28, Friday - 7 pm
WONDER (PG): January 29, Saturday - 7 pm
Location: Drive-in Cinema, Lusail
Date: January 27 to 29, 2022
Time: 07:00 pm - 09:00 pm
Ticket Purchase: Online
Price: Per car - 150QR


3. Dinner Cruise at National Cruise
Be it a romantic date, a special celebration, or a quality time with family and friends, this Dinner Cruise takes you to an unforgettable journey on board the National Cruise. Enjoy a 3-hours trip with the only fully air-conditioned wooden boat in Doha. Take advantage of this package with a boat set up and separate table for each family. Also grab some refreshments and food from a delicious buffet. Your dream dinner cruise awaits you here!
Dates: Every Thursday or per booking
Timings: 6 to 9 PM
Contact Numbers: 77999666 - 66000926
Price: 300 QAR per person
Website: www.nationalcruise.com
Jan 28, 2022 - Friday
1. Sunshine Day Pass
Discover Santorini vibes in the heart of Qatar at the latest leisure destination hotspot, Hilton Salwa Beach Resort & Villas! Enjoy a fun getaway with the resort day pass which provides you with exclusive access to some of the most exciting attractions and dining outlets the resort has to offer! Splash, ride and slide into the Sea Caves Water Park and get competitive with your friends in a game of Laser Tag at the Desert Falls Water and Adventure Park! You also get exclusive access to the South Bay Pool and the resorts 3.5km of pristine beach front. Top up the day with a QAR100 F&B credit for adults and QAR50 for juniors with a tasty meal at Dante Cucina Italiana, Nesma Lobby Lounge or South Bay Pool Restaurant.
This is a perfect daycation experience you do not want to miss!
Inclusions:
• Access to Sea Caves Water Park
• One game of Laser Tag
• Pool & Beach Access
• QAR 100 F&B credit for adults and QAR50 for juniors at Dante / Nesma Lounge / South Bay Pool Restaurant
Dates: November 8, 2021 to February 28, 2022
Timings: 8AM onwards
Location: Hilton Salwa Beach Resort and Villas
Ticket Bookings: Book now at www.q-tickets.com
2. 2022 Qatar Sport Events
Location: Different locations across Qatar
Date: January 4, 2022 - December 31, 2022
Time: 12:00 am - 11:59 pm
Price: (To be set)
The Qatar Olympic Committee (QOC) announced its 2022 sports events calendar with 62 sport events happening this year, including 36 international sport events, the biggest of them is FIFA World Cup Qatar 2022 to be held from November 21 to December 18, 2022.
Here are the sports events happening this weekend:
International Sports Event:
• 1st Qatar Men's ITF World Tennis Tour from January 16 to 23
Local Events:
• Ultimate Race (Triathlon) from Jan 21-22
• WAGR - Qatar Open Amateur Golf Championship - 36th Edition by the Qatar Golf Association in Doha Gulf Club from Jan 20-22
• Bilateral Series Afghanistan vs Netherlands Cricket by the Qatar Cricket Committee in Industrial Zone Cricket Stadium from Jan 21-25
3. FIFA World Cup Qatar 2022™ Ticket Sales
Location: Qatar Stadiums
Date: January 19, 2022 - February 8, 2022
Time: 01:00 pm
Ticket Purchase: Online
Price:
Category 4 (Qatar Resident) - QR40QR
More details to be annouced
FIFA has announced that the first ticket sales of the Qatar World Cup Qatar 2022 start with a random selection draw sales period on 19 January 2022 at 11H CET / 13H Doha time.
Fans of the FIFA World Cup Qatar 2022 can start registering to buy tickets with prices for Qatar residents starting at QR40.The sale will begin at 1pm.
Customers will be admitted on a first-come, first-served basis.
The most prestigious football tournament in the world is scheduled to be held from November 21 to December 18 (Qatar National Day) later this year.
FIFA World Cup Qatar 2022 offers the cheapest tickets since the 1990 FIFA World Cup in Italy.
For more details, read also: Qatar Residents can book FIFA World Cup Qatar 2022 Tickets for QR40
4. Museum of Illusions
Enter the fascinating world of illusions which will trick you, but amaze you at the same time. It is sure to be an amazing and unimaginable experience because whatever you see in the Museum of Illusions, is not what it appears to be.
Contact Details:
Location: 1st Floor, The Gate Mall, Omar Al Mukhtar St. Doha, Qatar
Telephone Number: +974 40206273
Email: info@museumofillusions.qa
 
Opening Hours:
Sunday to Wednesday (9 am – 10 pm)
Thursday And Saturday (9 am – 10 pm)
Friday (1 pm – 10 pm)
 
Ticket Rates:
Adult (16+ years): 80 QAR
Child (3-15 years): 60 QAR
Child (3-below): Free
Family (2 adults & 2 kids under 15 years): 220 QAR
Special Needs: 40 QAR
Ticket Bookings: www.q-tickets.com
5. Al Thuraya Planetarium shows in Katara
Occupying 2,240sqm area, the planetarium is expected to become one of the main attractions at Katara. It offers a rare experience to visitors, blending education and entertainment, especially students, families and astronomy enthusiasts.
The main component of the planetarium is a full-dome digital system with a seating capacity of 200 people, 4 seats for the disabled and another 4 for the elderly. It features a 22-meter screen, equipped with state-of-the-art digital projectors showing 2D and 3D tutorial shows.
Location: Al Thuraya Planetarium
Dates: December 22, 2021 - January 28, 2022
Timings: 05:00 pm - 07:00 pm
Tickets: Book online.
Price: Free but registration is required here: http://althuraya.katara.net/
Phone: 44082067
Email: Althuraya@katara.net
Jan 29, 2022 - Saturday
1. The Commando Movie
The action and thriller movie, "The Commando," revolves around a PTSD-riven agent for the Drug Enforcement Administration who returns home after a failed mission. The movie was directed by Asif Akbar and stars Michael Jai White, Mickey Rourke, Barry Henley, and Brendan Fehr.
A DEA agent with PTSD returns home after a botched mission and must now protect his family from a home invasion after a recently freed convict and his henchmen come after their stash of millions inside of the agent's home.
Watch this blockbuster film in Qatar Cinemas near you. For movie timings, cinemas, and ticket bookings, visit www.q-tickets.com.
2. Torba Market at Msheireb
Event Details:
Location: Msheireb, Sikkat Wadi
Date: 30 October 2021 - 31 March 2022
Time: 09:00 am - 07:00 pm
Price:
Come and visit - It's free!

3. Christian Dior: Designer of Dreams Qatar Exhibition at M7
House of Dior's first retrospective in the Middle East will feature a selection of pieces that have never been shown before, including ensembles from the private collection of Her Highness Sheikha Moza bint Nasser.
Curated by Olivier Gabet and designed by Nathalie Crinière especially for Qatar, Christian Dior Designer of Dreams celebrates nearly 75 years of creative passion, punctuated by captivating haute couture dresses and works from the collection of the Musée des Arts Décoratifs in Paris.
Christian Dior Designer of Dreams is sponsored by Qatar Airways and Place Vendôme. The exhibition is part of the ongoing cultural legacy established as part of the Qatar-France 2020 Year of Culture, an initiative celebrating the longstanding ties between both nations.
Location: M7 at Msheireb Downtown Doha
Date: Ongoing until March 31, 2022
Time: 09:00 am - 07:00 pm
Ticket Purchase: Online
Price: Adult - 100QR
Child (0-16) - Free
Student - Free
VCU Staff & Student - Free
Senior Citizen 60+ - Free
Ticket booking: Click here
4. Jeff Koons: Lost in America
Curated by Massimiliano Gioni, the exhibition provides a unique view into the exceptional career of one of the world's best-known contemporary artists, whose work bridges Pop, Minimalism and the readymade. This is Koons' first exhibition in the Gulf region.
Location: Al Riwaq Gallery, MIA
Date: 21 November 2021 - 31 March 2022
Time: 09:00 am - 07:00 pm
Ticket Purchase: Online
Price: Adult - 75QR
5. Healthy Exercise at the Beach
You deserve a full healthy day. That is why National Cruise Company wants to take care of your health and renew your activity after a long exhaustion. Breathe in some fresh air and enjoy a trip with the National Cruise and with the help of a professional nutritionist Ms. Salwa.
Trip includes:
- 3 hours trip start cruising with national cruise boat from Cornish, MIA park
- Special exercise with Coach Ms. Salwa
- Lose weight exercise
- Beach activities
- Light snacks
Dates: Regular offer or per booking
Contact Numbers: 77999666 - 66000926
Price: Contact the above numbers for the rates.
Website: www.nationalcruise.com