Things to do this weekend: December 9-11, 2021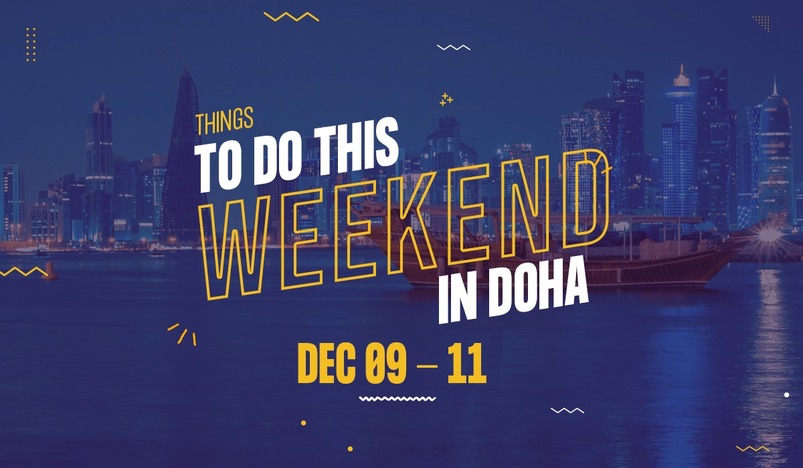 Where to go and what to do this weekend in Qatar
Feeling the vibes of the festive and football season in Doha? Celebrate Qatar's perfect record in FIFA Arab Cup 2021 with some exciting activities and events in Doha from today 'til Saturday.
Great news for all of those who happen to be off this weekend, temperatures are set to stay low for the coming days in Qatar with more fun-filled activities in store.
Take note however, though the country has achieved phase 4 of gradual lifting of COVID-19 restrictions, it is still important to adhere to the preventive and precautionary measures in place to ensure yours and others' safety.
Check out our top picks for Things to Do in Qatar from December 9-11, 2021 below:
1. Prepare for Nights of Phenomenal Arab Music
All roads lead to Katara this December as some of the biggest names in the Arab world will rock your nights with iconic musical performances in Doha.
A different level of entertainment awaits you at the gem of the Cultural Village, Katara Amphitheatre. So, yalla, grab your Arab music lover friends, and ensure you do not miss these much-anticipated live music events happening in Katara this December.
SIGNATURE EXCITING PERFORMANCES – by Wael Jassar, Dalia Mubarak, Omar Kamal & Hassan Shakosh, feat. DJ Edy Le Grand
Delight in an evening of an intimate yet fantastic musical experience with the Lebanese singer Wael Jassar who began his career in 1986. He had first appeared on TV when he was only 8 years old. He captured everyone's attention with his soft and soothing voice. He is yet another super successful Arab singer in the region.
Dalia Mubarak is a famous Saudi singer who is known for her Gulf-oriented approach to soul and R&B music. Her public singing debut was during a musical evening at the French Embassy in Riyadh. She was also a contestant on Arabs Got Talent. She is a famous Khaleeji folk singing and her hits such as 'Areen Al Ashq', 'Ya Monyati' and 'Maa Khaled Al Shwaq' .
Hassan Shakosh is a Shaabi singer. Shaabi is a type of Egyptian street music. Before taking up singing, he was a football player for the Egyptian club, Ismaily SC. In October 2020, Shakosh collaborated with Egyptian rapper Wegz to advertise the Egyptian ride-hailing app Halan.
In 2020, Shakosh was the third most-streamed Arab singer on Anghami, and he was among the top 50 most-streamed artists in MENA on Deezer. His song "Bent Elgeran" was the most-streamed Arabic song on Anghami. His Official Instagram account has 2.7 million followers.
Omar Kamal rose to fame after releasing "Bent El Geran" with Shaabi singer Hassan Shakosh in 2019. He has since appeared in various ads for local Egyptian brands and telecom company Etisalat Misr.
In 2020, Kamal was among the top 50 most-streamed artists in MENA on Deezer and among the 50 most-streamed Arab singers on Anghami. "Bent El Geran" was the most-streamed Arabic song on Anghami in 2020 and the second most-streamed song in MENA on Deezer. Kamal has nearly 1.8 million subscribers on YouTube, with his videos viewed more than 402 million times as of March 19, 2021. He had 9.3 million followers across Facebook and Instagram as of the end of 2020.
DJ Edy Le Grand is a Lebanese DJ and MC; started in the Music Industry in 1994. He produced various genres of music and has performed, and MC'd in clubs, events and concerts throughout the Middle East, Africa, Americas, Latin Americas, Asia and Europe. Edy has been involved and appeared in over 10 music clips where he collaborated with Middle Eastern and International artists.
Date: December 12, 2021
Time: 8:00 PM onwards
Venue: Katara Amphitheater
Tickets: Book your tickets here.
ONE MAGICAL NIGHT "MOMKEN" – by Saif Nabeel & Balqees
Saif Nabeel, a renowned Iraqi singer, started his musical career in 2010 and had a tremendous amount of success with more than 2 billion views on YouTube. He won the BAMA Music Awards for the Best Upcoming Middle Eastern Artist in 2018. He also received the title of 'The Well-Renowned Song'. His summer hit song invaded the ARAB world and EUROPE, and led to a series of concerts all over the World.
Balqees is a well-known Yemeni-Emirati singer, one of the famous and trending celebrities popular for being a World Music Singer. She came from an artistic family as her father, Ahmed Fathi was a well-known Yemeni musician. She began early in music, learning to play instruments and singing. She first rose to fame for her single "Ya Hawa" in 2012. A year later she released her debut album titled Majnoun Balqees has a position among the list of most popular World Music Singer
Date: December 14, 2021
Time: 8:00 PM onwards
Venue: Katara Amphitheater
Tickets: Book your tickets here.
You can enjoy their world-class performances at Katara Amphitheatre, which features a crafted balance between the classical Greek theatre concept and the everlasting Islamic features. It stands firm in the heart of Katara, under the clear blue sky, overlooking the picturesque blue sea.
Tickets are selling fast, and seats are allocated on a first come, first-served basis only. So, hurry, book your tickets now at www.q-tickets.com to avoid any inconvenience.
IMPORTANT NOTICE
• Only vaccinated with Green Ehteraz are allowed
• Age restrictions: 12 years old and above
• Food is not allowed
• Doors will open at 6:30 PM
• Please collect your "mandatory entry pass wristband" from the venue in advance to avoid the queue.
2. Enjoy Watching Best Indian Movies in Qatar Cinemas
The hottest blockbuster Bollywood films are now showing on Qatar's big screens.   
From the new Malayalam comedy movie BHEEMANTE VAZHI to a romantic Punjabi film TEEJA PUNJAB, tick off your weekend bucket list with the best Indian movies now showing in Qatar cinemas near you. 
Here are the top Bollywood movies you can book online via www.q-tickets.com:
•

BHEEMANTE VAZHI ( MALAYALAM)
Comedy
Book your tickets here.
• JANEMAN ( MALAYALAM)
Comedy
Joy Mon plans his own birthday party to overcome sadness and loneliness, but things take an unpleasant turn when the man next to his friend's house become deceased. Can Joy Mon have a pleasant and cheerful birthday celebration?
Book your tickets here.
• TEEJA PUNJAB (PUNJABI)
Drama and Romance
The story revolves around Bhagat's struggle to get his land back from the Sarpanch of the village, who wrongfully acquired their land. Bhagat is an alcoholic, votes only for money, and often fights with his wife.
Book your tickets here.
• JAIL ( TAMIL)
Drama
Book your tickets here.
• LAKSHYA ( TELUGU)
Sports
Book your tickets here.
3. Take a selfie at the Flower Festival
The 4th edition of the Flower Festival at Souq Waqif is now open to the public. It showcases many local nurseries and provides an opportunity for gardening enthusiasts to buy saplings of various flowers.
Many farms and nurseries specialized in the production of flowers, fruit and vegetable seedlings, plants and ornamental trees participating in the event.
The festival is held in compliance with the precautionary measures against COVID-19. It aims to introduce the public to the companies working in the field of flowers.
When: Today until December 11 (from 9am to 9pm on weekdays and from 9 am to 10 pm on Thursdays and 3 pm to 10 pm on Fridays)
Where: Western Square of Souq Waqif 
The event is being held in the and organized by Souq Waqif management in cooperation with the Ministry of Municipality.
4. Experience a Hot Air Balloon Flight
Whether you're looking to give someone an unforgettable gift, or you want to see the Qatar from a breathtaking new perspective, a hot air balloon flight is a bucket list dream. Take to the skies and enjoy picturesque views with a 360-degree panorama offering you the full flight experience. 
When: Today until March 20, 2022 (Duration: 45 Minutes)
Where: Book your tickets at www.q-tickets.com
Minimum Age Requirement: 8 years old and above. A child under the age of 16 years will only be flown if accompanied by an adult, and the child is over 4'6 ft tall.
Sunrise Hot Air Balloon Rides
Instead of sleeping the morning away, why not watch the sunrise as you drift peacefully across the sky with one of our balloon rides? 
Private Hot Air Balloon Rides
Whether you're looking for an engagement, wedding or anniversary present for your favourite couple, the private hot air balloon flights are guaranteed to delight. Feel like a VIP as you take in some of the finest views Qatar has to offer – all within your very own private basket. An utterly sublime gift idea to mark any special occasion!
The 2nd edition of Qatar Balloon Festival is also happening starting today to 18th December at Aspire Park with 35 participating hot air balloons from around the world.
Gather your friends, family, and loved ones to join you in the unforgettable spectacle of Hot Air Balloons of a variety of shapes and sizes. Enjoy the music and entertainment, food, novelties and so much more!
Read also: Why Visit Qatar Balloon Festival 2021
5. Take your family and friends to 360 Play Mini Golf
Looking for a place to have fun with your family and friends this weekend? 360 Play Mini Golf is the place to be. Here you can enjoy playing golf indoors and your kids can spend exciting time in a giant Pirate Ship loaded with action-packed activities and obstacle courses.
Follow all COVID-19 protocols while in the play area to ensure everyone's safety. Cost varies for children, adults, and daily comers. 
360 Play Mini Golf is open daily during mall hours. For bookings, visit www.q-tickets.com.