Things to do this weekend: December 30, 2021 - January 1, 2022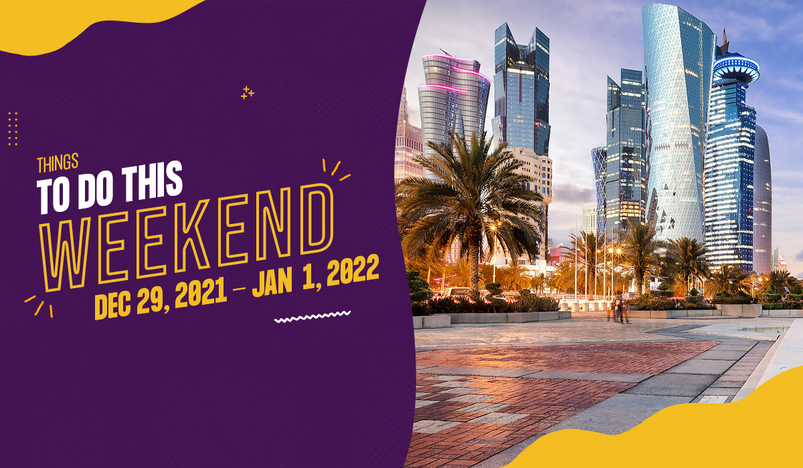 Where to go and what to do this weekend in Qatar
Check out our top picks for Things to Do in Qatar from December 30,2021-January 01,2022 below: Note: Events are subject to change as per the organizers. Follow the COVID-19 measures in place to ensure yours and others' safety.
December 30, 2021 - Thursday
Curated by Massimiliano Gioni, the exhibition provides a unique view into the exceptional career of one of the world's best-known contemporary artists, whose work bridges Pop, Minimalism and the readymade. This is Koons' first exhibition in the Gulf region.
1. Jeff Koons: Lost in America
Location: Al Riwaq Gallery, MIA
Date: 21 November 2021 - 31 March 2022
Time: 09:00 am - 07:00 pm
Ticket Purchase: Online
Price: Adult - 75QR
2. On Silence by Kader Attia at Qatar Museums
Modern and contemporary history holds some of the noisiest tragedies that humanity has lived through, and our present moment is affected by the traumatic memories of these events. Colonialism, political oppression and environmental devastation have led to massive migrations across continents, transforming social ecologies in every centre of the world. Yet the ideologies and systems of governance today continue to create zones of silence that bury many of these histories.
Location: Mathaf: Arab Museum of Modern Art, Doha Qatar
Date: 8 November 2021 - 31 March 2022
Time: 09:00 am - 05:00 pm
Ticket Purchase: Online
Price:
Child 0–16 Resident of Qatar - It's free!
Child 0–16 Non-resident Qatar - It's free!
Student Resident of Qatar - It's free!
Student Non-resident of Qatar - 15QR
Adult Resident of Qatar - 15QR
Adult Non-resident of Qatar - 30QR
3. Microsoft: Imagine Cup 2022 Qatar Competition
Location: People based out of Qatar can participate
Date: 26 December 2021 - 6 January 2022
Time: 12:00 am - 11:59 pm
Ticket Purchase: Online
Price: Register and participate now! - It's free.
December 31, 2021 - Friday
1. New Year's Eve Dinner at the Beach by National Cruise Company 
Date: Dec 31, 2021
Timings: 7:30 PM- 1:30 AM
Event Details:
- 6 hours trip
- Open Buffet international food
- Free flow hot and cold drinks
- Live DJ 
- New Years counting
Rate: 350 QR per person
Instagram: @nationalcruise_qatar
How to book tickets: Visit www.nationalcruise.com or WhatsApp +974 77999666 - 66000926
Limited seats only. All terms and conditions applied. Book your tickets now!
2. NYE DJ Shows
Qatar is buzzing with NYE events to usher in 2022. Haven't got your plans sorted out for the New Year yet? Here are a few of our picks for ways to celebrate NYE with some great tunes and company!
Date: Dec 31, 2021
Timings: Different timings
Ticket Booking: Book your tickets on www.q-tickets.com.
3. Doha Winter Trade Fair 2021 in DECC
The exhibition will showcase Winter Fashions Collections from the traders coming from different parts of the world. This is one of its kind event where you can find Women Fashion Wear, Designer Collections, Designer Accessories, Yemeni Spices & Honey, Kashmiri Fashions specially for Winters for Men & Women. Mix products for all the members of family.
Wide range of clothes, Abayas, accessories, perfumes, cosmetics, furniture, carpets and foodstuff to shop from.
Location: Doha Exhibition and Convention Center
Dates: December 23, 2021 - January 1, 2022
Timings: 10 am to 10 pm (Saturday to Thursday) and 2 pm to 11 pm (Friday)
Tickets: No tickets needed
Price: Free
Official Hashtag: #WINTERTRADEFAIR
Organized by: Organizers of Exhibition
4. Al Thuraya Planetarium shows in Katara
Occupying 2,240sqm area, the planetarium is expected to become one of the main attractions at Katara. It offers a rare experience to visitors, blending education and entertainment, especially students, families and astronomy enthusiasts.
The main component of the planetarium is a full-dome digital system with a seating capacity of 200 people, 4 seats for the disabled and another 4 for the elderly. It features a 22-meter screen, equipped with state-of-the-art digital projectors showing 2D and 3D tutorial shows.
Location: Al Thuraya Planetarium
Dates: December 22, 2021 - January 28, 2022
Timings: 05:00 pm - 07:00 pm
Tickets: Book online.
Price: Free but registration is required here: http://althuraya.katara.net/
Phone: 44082067
Email: Althuraya@katara.net
5. JEDARIART Open Call by Qatar Museums
JEDARIART brings artists together to add vibrancy and meaning to the walls across Doha through murals and street art. The aim of the programme is to activate urban areas and promote artistic intervention in designated districts creating new reference points for people to go and visit across the city. It is also part of Qatar Museums' ongoing commitment to supporting local talent and promoting public art.
Following the success of the first-ever JEDARIART, we are delighted to announce we now receiving applications for the next round of entries. So if you are interested in creating mural art in Doha, submit your portfolio and/or proposal to be part of our JEDARIART database for allocating murals.
Location: Application is online
Date: December 1, 2021 - December 31, 2021
Time: All Day
Tickets: Book online
Price: Free - Apply now!
Exhibition
Criteria: Must be a resident in Qatar.
Date: This is an ongoing open call.
Location: Working with partners, walls are available throughout the year in various parts of the city
Jedariart database: When wall opportunities become available, you may be contacted for a proposal.
Your Proposal
- Biography about yourself
- Portfolio of your work
- Concept and sketch of a proposal (optional)
January 1, 2021 - Saturday
1. 5th Mahaseel Festival at Katara
Katara has announced once again it will organise Mahaseel Festival this year to offer consumers local produce freshly picked from Qatari farms.
Mahaseel Festival will open on December 23 and run until January 2 from 9am to 9pm at Katara's Southern Area, after which the Mahaseel souq will continue to be open on Thursdays, Fridays and Saturdays until March 31.
Location: Katara's Southern Area
Date: 23 December 2020 - 2 January 2021
Time: 09:00 am - 09:00 pm
Tickets: No tickets needed
Contact: 182
2. Winter Fest at Doha Quest
Experience Qatar's first immersive indoor theme park, Doha Quest, where a world of snowy wonders awaits you this weekend.
Discover a sleigh-full of holiday entertainment, the winterful ambience, holiday activities, seasonal sweet treats whimsical décor, seasonal food and drinks and much more!
Location: Doha Quest
Date: December 21, 2021 - January 8, 2022
Time: 02:00 pm - 11:00 pm
Tickets: Book online at http://www.dohaquest.com/
Prices:
Juniors (4-12) - 150QR
Adults (13 and above) - 225QR
Children under (4) - Free
3. Short Film Competition by Qatar Museums
Event Details:
Location: This is an online event
Date: 2 December 2021 - 1 March 2022
Time: All Day
Price: Register online - It's free!
Email: film@qm.org.qa
4. Torba Market at Msheireb
Event Details:
Location: Msheireb, Sikkat Wadi
Date: 30 October 2021 - 31 March 2022
Time: 09:00 am - 07:00 pm
Price:
Come and visit - It's free!

5. Ladies Night at Oxygen Park
Event Details:
Location: Oxygen Park
Date: 6 September 2021 - 31 January 2022
Time: 06:00 pm - 10:00 pm
Ticket Purchase:
No tickets needed
Price:
No tickets needed - It's free!