Things to do in Qatar this weekend: September 8 to 10, 2022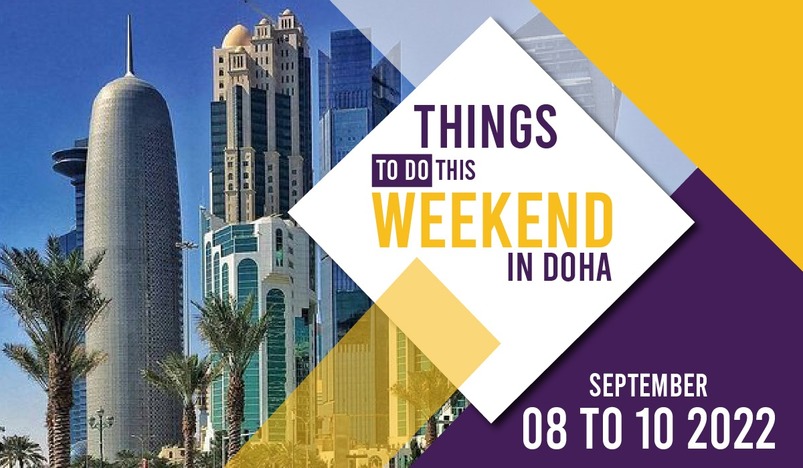 Where to go and what to do this weekend in Qatar
Check out our top picks for Things to Do in Qatar from September 8 to 10, 2022 below.
Note: Events are subject to change as per the organizers. Follow the COVID-19 measures in place to ensure your safety and that of others.
September 8, 2022 - Thursday
1- Katara International Hunting and Falcons Exhibition (S'hail)
Established in 2017, S'hail is a globally-recognised platform dedicated to preserving and promoting the art of hunting and falconry in Qatar.
The mobile application of this year's edition of S'hail is not available and provides companies with the ability to create an online pavilion to display thier various products. the app is available via the Apple Store (for iPhone users) amd Google App Stor (for Android users).
Dates: Ongoing until 10 September, 2022 
Time: 10:00AM - 10:00PM
Location: Katara Cultural Village
Price: Free 
2- Dadu's Light Atelier
Dadu's Light Atelier utilises different installations, allowing children to take the lead and freely discover concepts about light and shadow, colour mixing, reflections and more. The educational space will allow you and your child to play, explore and experiment. The installation will be hosted as a temporary exhibition at Mathaf: Arab Museum of Modern Art.
Date:  Ongoing until 11 September 2022
Time: 9:00 AM to 7:00 PM
Location: Arab Museum of Modern Art
Price: Free
September 9, 2022 - Friday
1-  Lusail Super Cup™ 
Qatar's biggest stadium and the stage for this year's FIFA World Cup™ final will host on 9 September 2022 the Lusail Super Cup between Al Hilal SFC - the Winner of the Saudi Professional League and Zamalek SC - the Winner of the Egyptian Premier League.
Date: September 9, 2022
Time: 4:30PM (Gates Open), 9:00PM (Kick-Off)
Location: Lusail Stadium
Prices: Category 1 (QR200), Category 2 (QR150), Category 3 (QR80), Category 4 (QR40)
2- From Earth Exhibition
The exhibition, organised by Cultural Village Foundation - Katara, features original pottery by artists Ahmed Al Haddad, Talal Al Qaimi, Hameed Al Qahtani, Ruqaya Al Mohannadi, Rua'a Onsa, Lina Lotfi and Asya Al Qahtani.
Date: September 7, 2022 - September 20, 2022 
Time: 11:00AM - 03:00PM
Location: Katara Building 19
Price: Free
September 10, 2022 - Saturday
1- A SNEAK PEEK AT QATAR AUTO MUSEUM PROJECT
An exhibition in honour of the museum to come, A Sneak Peek at Qatar Auto Museum celebrates the mission to drive culture forward and to inspire the next generation of innovators, designers, engineers, collectors and policymakers through a shared passion for cars.
Date: Ongoing until January 20, 2022
Tiiming:  12:00PM - 10:00PM
Location: National Museum of Qatar
Prices: Free
2- Peru Through Photography Exhibition
The exhibition, which features beautiful images of Peru, including the majestic Machu Pichu ruins, is in cooperation with the Embassy of Peru in Qatar.
Date: Ongoing until September 14, 2022
Timing:  10:00AM to 10:00PM
Location: Katara, Building 47
Prices: Free