Things to do in Qatar this weekend: September 28 to September 30, 2023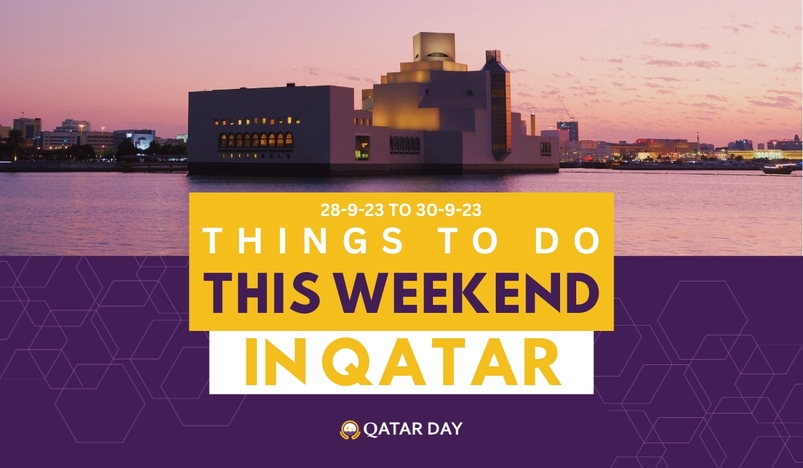 Things to do in Qatar this weekend
Check out our top picks for Things to Do in Qatar from September 28 to September 30, 2023, below.
Note: Events are subject to change as per the organizers. 
September 28 - Thursday
1. AL MARAYA TRADE FAIR
Join to have a look at exclusive and comprehensive products for all your needs and tastes with the participation of 250+ companies from inside and outside Qatar in the largest Malika Shopping Tent in Qatar.
Date: Sept 21 - Oct 7
Location: Katara
2. NMOQ GUIDED TOUR
Senior and junior participants will embark on a special journey to learn from each other by reflecting on the memories and stories being told in the museum. This knowledge-sharing between generations will bridge the gap between them and create meaningful connections
Date: Sept 28
Location: NMOQ

September 29 - Friday

1. KIDS SHOW
Head to Tawar Mall this weekend for endless activities and adventures for the whole family.
Date: Sept 29
Location: Tawar Mall
2. KIDS WORKSHOP
Enroll your little ones in our ?? Workshop and let them make their way to deliciousness!
Pre-registration and confirmation message required. Limited spots, don't miss out!
Date: Sept 29
Location: Doha Oasis
3. FOAM BEACH PARTY
A foam party is an event where foam inflates and fills the air, covering the ground and giving guests the opportunity to dance and play in the suds. Compared to bouncy castles and pools, foam parties involve a continuous wave of bubbles that create an interesting atmosphere and a nightclub-like feel with a DJ.
Date: Sept 29
Location: Sealine Beach Resort
Tickets: Q-Tickets
4. MEET & GREET
Meet & Greet the celebrity fashion designer Mikael D from the renown fashion house MIKAEL D at Printemps Doha from 27th Sept to 29th Sept. By appointments only.
Date: Sept 27, 28, 29
Location: Doha Oasis
September 30 - Saturday
1. LADIES SEMINAR
Empower Girl Seminar 29 & 30 September 2023
Date: Sept 29, 30
Location: Sheraton Grand Resort
2. ICE CREAM EDITION

Indulge in a delightful array of ice cream flavours, from your classic favourites to trendy creations while exploring fun & interactive activities
Date: Sept 28 - Sept 30
Location: Msheireb Galleria
3. ART WORKSHOP
Workshop "Artistic formation of Arabic letters" will held at #Katara Art Studios, Building 19, by artist Bashar Ali.
Time: 5:00 PM to 7:00 PM
Location: Katara Art Studios Building 9
 
4. ADVENTURE LAND- EZDAN MALL- GHARAFFA
Looking for a fun indoor activity for your kids in Doha? Look no further! Adventure Land is your answer. Book now to avail a Buy 1 Get 1 FREE offer of all tickets! Qatar's newest family entertainment center, located in Ezdan Mall, Gharaffa and operated by 360 PLAY, offers over 200 thrilling activities like trampolines, Soft play and so much more. The play zone is suitable for all ages, and hosts customized events and celebrations.
With fully equipped and well-trained staff, Adventure Land ensures a safe experience for children with special needs. So gear up for the fun and keep your worries away; with Adventure Land from 360 PLAY!
Time: 7:30 AM Onwards
Location: EZDAN MALL, AL GHARAFFA
Tickets: Q-Tickets
5. Ladies Days at 974 Beach
Enjoy Ladies Days at 974 Beach every Tuesday and Saturday.
No boys and men allowed.
Date: Every Saturday and Tuesday
Time: 07:00 AM - 08:00 PM
Location: 974 Beach