Things to do in Qatar this weekend: September 22 to 24, 2022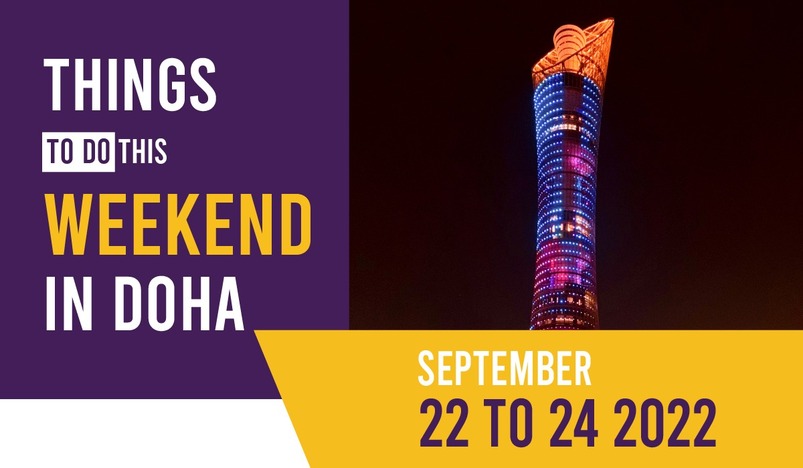 Where to go and what to do this weekend in Qatar
Check out our top picks for Things to Do in Qatar from September 22 to 24, 2022 below.
Note: Events are subject to change as per the organizers. Follow the COVID-19 measures in place to ensure your safety and that of others.
September 22, 2022 - Thursday
1- Jason Derulo Live Concert Qatar
Jason Derulo is a multi-platinum powerhouse whose current hit 'Swalla' has over 300 million views on YouTube. With 102 million-plus single equivalent sales worldwide both his introductory breakout 'Whatcha Say' and 'Talk Dirty' [feat. 2 Chainz] reached quadruple-platinum status, while 'Want To Want Me' and 'Ridin' Solo' went triple-platinum, and 'Trumpets,' 'Wiggle' [feat. Snoop Dogg], and 'In My Head' earned double-platinum certifications. Platinum singles include 'Marry Me,' 'The Other Side,' and 'It Girl,' while 'Get Ugly' and 'Don't Wanna Go Home' went gold. Cumulative streams continue to soar, exceeding 6.3 billion and YouTube views surpass 4 billion. At radio, his music impacted a total audience of 20 billion-plus listeners with a staggering 3.5 million spins. Jason will also be a featured performer for the Monday Night Football theme, his clothing line LVL XIII will be in Bloomingdales in the Fall, he has both a label and publishing deal with Warner Brothers Records, he is currently an investor in both Catch L.A. and Rumble Boxing with Sylvester Stallone and Ashton Kutcher.
**Please note, this event is for Age 21+
Dates: 22 September, 2022
Time: 10:00PM Onwards
Location:  Ritz Carlton Sharq Village
Price: Standing (QAR250), VIP (QAR450)
2- Thaikkudam Bridge & Dance Eve
After the grand success of our iconic show 'ZITHAR' the Musical extravaganza by the famous playback singers of south India, Sithara Krishna kumar and Harish, Sky Media proudly going to present another mesmerizing show 'THAIKKUDAM BRIDGE ' with great grandeur and zeal. We have planned a visual treat for the Qatar Malayalis in fact we can proudly say this would be the best of all the programs held so far and definitely secure a place in the history of Qatar.
On September 22nd at Al Arabi Indoor Stadium where we proudly present Music Night by the famous Thaikudam Bridge, the pioneers in South India, followed by Dance performances by famous Cine Artists Ms. Lakshmi Gopalaswamy, Ms. Shamna Kasim, Paris Lakshmi, Bigboss fame Ramzan Mohammed and Bonny.
Date: 22 September 2022
Time: 7:00PM Onwards
Location: Al Arab sports indoor hall
Price: VVIP Premium (QAR1000), VVIP (QAR500), VIP - Single (QAR150), VIP Family - 4 admits (QAR500), Gold (QAR100), Silver (QAR50)
September 23, 2022 - Friday
1-  Salwa Beach Fest
Salwa Beach Fest is Back!
Escape the city and join the fun at the third edition of Salwa Beach Fest. Enjoy a selection of food, drinks, carnival games, kites, clown shows, face painting, art and crafts, character shows, and much more.
Food stalls to start at 12 pm
QAR 199 fully redeemable on Food and Beverage and Includes Pool and Beach Access
Kids aged 0-3 enter free
Date: September 23, 2022 and September 24, 2022
Time: 10:00AM Onwards
Location: Hilton Salwa Beach Resort and Villas
Prices: QAR199
2- Mozart's Piano Concerto No. 20
Mozart's Piano Concerto in D Minor is one of his few works written in a minor key and represents his stormiest concerto. The piece was the first of six stunning pieces composed for piano and orchestra between 1785 and 1786. It was regarded by 19th century critics as Beethoven-like, the highest level of praise during the period- and a moody epoch to the Romantic Era. The piece is perfectly paired with Tchaikovsky's Symphony No. 5, a work that demonstrates why Tchaikovsky was one of the Romantic Era's finest composers. First Steinway artist in the Middle East Sonja Park joins Andreas Weiser and the Philharmonic for this spectacular concert.
Date: September 23, 2022 
Time: 6:00PM Onwards
Location: Hamilton International School
Price:Front Orchestra ( QAR250), Centre Orchestra (QAR150), Middle Orchestra (QAR200), Upper Orchestra (QAR150), Side Orchestra (QAR125), 1st Floor (QAR100)
September 24, 2022 - Saturday
1- KidZania Doha Football Cup 2022
KidZania Football Cup brings together kids from various age groups to compete in an exciting football tournament.
There will also be other attractions such as giant foosball, bubble football, football juggling, and many more.
Date: Ongoing until September 29, 2022 
Timing: 6:00AM to 11:00PM
Location:  KidZania Doha, Aspire Park
Prices: Registration - 250QAR
2- "One Tiger or Another" Exhibition
Featuring a cannon, a contemporary video installation, eighteenth-century paintings, and contemporary comic books, this exhibition explores history as the product of both fact and fiction.
Curated by Tom Eccles and Mark Rappolt, One Tiger or Another places a CGI animation by Singaporean artist Ho Tzu Nyen (b. 1976) alongside artifacts relating to the legend of Tipu Sultan, the eighteenth-century ruler also known as "the Tiger of Mysore," one of the most famous and polarizing figures in South Asian history.
Expanding on themes introduced by Ho's two-channel video, One or Several Tigers, 2018, and anchored by the story of Tipu Sultan, the exhibition explores the creative potential of art and media as a means of storytelling and the shaping and reshaping of identity. It also questions the boundaries between fact and fiction and between colonizer and colonized, and it looks at how the same story can be told and retold. In doing so, it challenges the idea that both history and art are about fixed and stable perspectives and conventional notions of centres and peripheries of power.
Date: Ongoing until January 21, 2023
Timing:  
Saturday to Thursday: 9:00AM - 7:00PM
Fridays: 1:30AM - 7:00Pm
Location: Mathaf: Arab Museum of Modern Art, Doha
Prices: Free