Things to do in Qatar this weekend: September 21 to September 23, 2023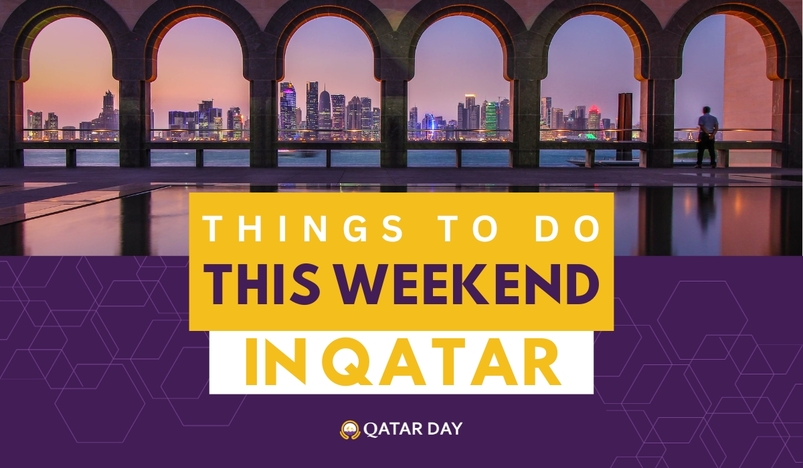 Things to do in Qatar this weekend
Check out our top picks for Things to Do in Qatar from September 21 to September 23, 2023, below.
Note: Events are subject to change as per the organizers. 
September 21 - Thursday
1. TARTEEB CONCERT
In a wonderful atmosphere with the brightest artists on the Gulf and the Arab World level, enjoy a special concert with legendary performances!
Date: Sept 21
Location: Al Mayasa Theatre
2. CYBER SECURITY FORUM
Join Qatar's first panel discussion on Cyber Security, presented by the Qatar Society of Engineers.
Date: Sept 21
Location: Katara Building 15

September 22 - Friday

1. GULF CRICKET CHAMPIONSHIP T20I QATAR
Are you ready for an electrifying clash of cricket titans? The stage is set, the excitement is brewing, and history is about to be made as Qatar proudly hosts the very first GCC Cricket Championship! Witness Cricket's Grand Union: Get ready to witness an unparalleled showdown as cricketing champs from across the region battle it out in Qatar. This is not just a tournament; it's a celebration of cricket and culture!
Date: Sept 15 - Sept 23
Location: West End Park Cricket Stadium
2. BEACH CLEANUP Pt. 2
World cleanup day is a celebration that takes place in over 150 countries around the world. Join DEAP Qatar as they celebrate PART 2 of this event at Zubarah Beach with a voluteer driven cleanup. People can arrive earlier if they want to explore the Zubara fort.
Date: Sept 22
Location: Al Zubarah
3. SALWA BEACH FEST
It's the season where you escape the city and join the fun with another exciting edition Salwa Beach Fest and an array of fun activities! 
Food stalls to start at 12 pm 
QR200 is fully redeemable on food & beverage at the food stalls.
Date: Sept 22
Location: Salwa Beach Resort
Tickets: Q-Tickets
4. SUMMER FEST TAWAR MALL
Head to Tawar Mall this weekend for endless activities and adventures for the whole family with Magic Shows, Comedy Clown Shows, Masha & The Bear, Creative Workshop for kids, and many more fun activities for families.
Date: Sept 22
Time: 7:00 PM to 9:00 PM
Location: Tawar Mall
September 23 - Saturday
1. BRAAI DAY 2023
Join South Africans celebrate their Heritage Day celebrations. Bring your friends from other nationalities, and enjoy Live music and Kids activities, Cultural clothing and more.
Date: Sept 23
Location: Doha Sports Park
2. HAYAAKUM
Enjoy Hayaakum at Al Shaqab with your kids and families!
Date: Sept 23
Time: 4:00 PM to 8:30 PM
Location: Longines Indoor Arena
3. TARTEEB CONCERT
In an artistic and international night and evening honored by the international musician Omar Khairat in Qatar at the Qatar National Conference Center.
Date: Sept 23
Location: Qatar National Convention Center
4. ART WORKSHOP
Workshop "Artistic formation of Arabic letters" will held at #Katara Art Studios, Building 19, by artist Bashar Ali.
Time: 5:00 PM to 7:00 PM
Location: Katara Art Studios Building 9
 
5. ADVENTURE LAND- EZDAN MALL- GHARAFFA
Looking for a fun indoor activity for your kids in Doha? Look no further! Adventure Land is your answer. Book now to avail a Buy 1 Get 1 FREE offer of all tickets! Qatar's newest family entertainment center, located in Ezdan Mall, Gharaffa and operated by 360 PLAY, offers over 200 thrilling activities like trampolines, Soft play and so much more. The play zone is suitable for all ages, and hosts customized events and celebrations.
With fully equipped and well-trained staff, Adventure Land ensures a safe experience for children with special needs. So gear up for the fun and keep your worries away; with Adventure Land from 360 PLAY!
Time: 7:30 AM Onwards
Location: EZDAN MALL, AL GHARAFFA
Tickets: Q-Tickets
6. Ladies Days at 974 Beach
Enjoy Ladies Days at 974 Beach every Tuesday and Saturday.
No boys and men allowed.
Date: Every Saturday and Tuesday
Time: 07:00 AM - 08:00 PM
Location: 974 Beach