Things to do in Qatar this weekend: July 21 to 23, 2022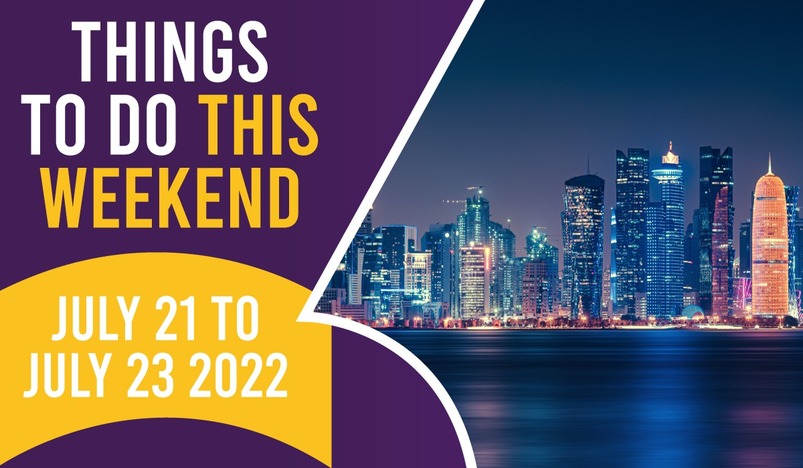 Where to go and what to do this weekend in Qatar
Check out our top picks for Things to Do in Qatar from July 21 to 23, 2022 below.
Note: Events are subject to change as per the organizers. Follow the COVID-19 measures in place to ensure yours and others' safety.
July 21, 2022 - Thursday
1- Aladdin and the Magic Lamp 
From the collection 'A Thousand and One Nights' will appear for the audience as a grandiose circus and musical performance, performed by a crew of around 40 people consisted of approximately 30-35 performers and artists.The story of brave and kind Aladdin and his character is loved in all parts of the world. The first theatrical performance based on the fairy tale was created in Paris 100 years ago with the participation of the eminent artist and stage designer Lev Bakst.
The premiere production of 'The Magic Lamp', filled with mystery, fantasy and magic, will win the heart of every viewer.
Dates: 21st till 23rd July, 2022.
Timings: 
July 21 - 5PM 
July 22 - 3PM & 7PM 
July 23 - 1PM & 5PM 
Location: Lusail Multipurpose Hall
Prices: Silver 1&4 (145QR), Silver 2&3 (195QR), Gold 1&4 (245QR), Gold 2&3 (295QR), Platinum 1 (345QR), and Royal 1 (545QR)
For ticket bookings and important reminders, visit www.q-tickets.com
2- ROBOCOM
In a world where our only source of entertainment has become to sit statically in front of a screen and be fed linear content, RobocomVR was not going to sit by and watch the world of gaming come to a cease.
It was then that the Virtual Era of the robot community was created allowing our users the ability to portal into new dimensions of gaming, fully immersed and in control of their destiny. Welcome to THE GENERATION OF ENTERTAINMENT, where you create your own destiny.
Date: Ongoing until April 30, 2023. 
Time: 10 AM onwards
Prices: 45QR 
Location: Mall of Qatar
3- National Cruise
Hit The Beach
Face the hot weather with a cool day on Safliya Island beach. National Cruise brings you all the fun, adventurous,delicious food and water activities you could wish for in the middle of the bay. Hurry up to reserve your ticket NOW! 
Seats are limeted. All terms and conditins applied.
Dates: Ongoing until August 31, 2022
Ticket Bookings: Book now at www.q-tickets.com
Escape the hustle and bustle of the city life and soak up the sights aboard a dhow. What a better way to spend your weekend. Leave your worries behind and create a moment to remember on-board National Cruise.
• 6-hours Island beach break program.
• Special Island beach setup.
• Coffee, Tea, Juice and Bottled Drinking Water.
• Beach Activities such a Football, Volleyball, Frisbee, etc.
• Water activities such as Swimming, UNLIMITED Banana Boat and Air stream (doughnut)
Rates:
• Option 1 QR 375 per person Along with an Open International buffet Minimum of 20 Pax.
• Option 2 QR 250 per person Along with package meal for each minimum of 20 Pax.
• The above is valid for private booking in any date and time the client can chose.
• Current promotion for option 2 is QR 195 per person till mid of February every Friday from 1 PM to 7 PM without any minimum number of people.
Dinner Cruise
Step aboard the Cruise for an unforgettable evening. Departing from the Box Park, you'll enjoy a leisurely three-hour cruise along the Pearl and unobstructed views of west-bay Building, skyline, Islamic museum and more.
• 3-hours program.
• Open international buffet.
• Special Boat set up.
• Coffee, Tea, Juice and Bottled Drinking Water.
• Price: QR 300 per person Minimum of 20 Pax.
• This above is valid for private booking in any date and time the client can chose it.
• Current promotion QR 300 per person Thursday from 6 PM to 9 PM without any minimum number of people.
• Live entertainment available upon request and availability
• Tanoura at QR 2,000 for 30 minutes
• Live violin at QR 3,200 for 1 hour
• Live Saxophone at QR 1,500 for 1.5 hours
• Kids entertainment face painting and balloon twisting at QR 2,500 for 2 hours
• Pianist at QR 4,500 for 1 hours
• City Tour By Sea
• A touch of heritage meets modern architecture during this 2-hour mid-day cruise from M.I.A., pass by Katara the cultural Village and The Pearl-Qatar and vice versa through the waters of Arabian Gulf. Hop on and hop off and travel by cruise to discover the major tourist destinations in Qatar.
• Schedules available between 3:00 PM to 10:00 PM every two hours one trip in the weekend and a daily trip from 5 to 7 Pm in the week days minimum of 3 Pax.
• QR 150 for Round trip per person
• QR 90 for one-way trip per person
*Including free flowing hot and cold beverages
*Food is available upon pre-booking at additional charges
Kids Policy for all services:
• Below 4 years old is free –of-charge
• 5 to 10 years old will have 50 % discount on the regular ticket prices
• Above 10 years old will be charged with regular ticket prices
• National Cruise Dhow capacity and rental per hour with minimum of 4 hours:
• 40 Capacity Dhow QR 1,500 per hour
• 60 Capacity Dhow QR 1,800 per hour
• 80 Capacity (Open Dhow) QR 2,000 per hour
• 80 Capacity (Closed Full AC Dhow) QR 2,000 per hour
• Current Package 2300 QAR for 12 persons and two hours cruising with free flow refreshment (water, tea, coffee and juices) Additional extension per hour 450 QAR.
• The National Cruise staff will notify you of the pickup location after your ticket has been confirmed.
July 22, 2022 - Friday
1- Corrective Measures 
Set in the world's most dangerous maximum-security penitentiary, home to the most treacherous crime. 
Watch this Sci-fi, action and adventure film now showing at Qatar Cinemas near you.
Book your tickets now at www.q-tickets.com.
2- Sunshine Day Pass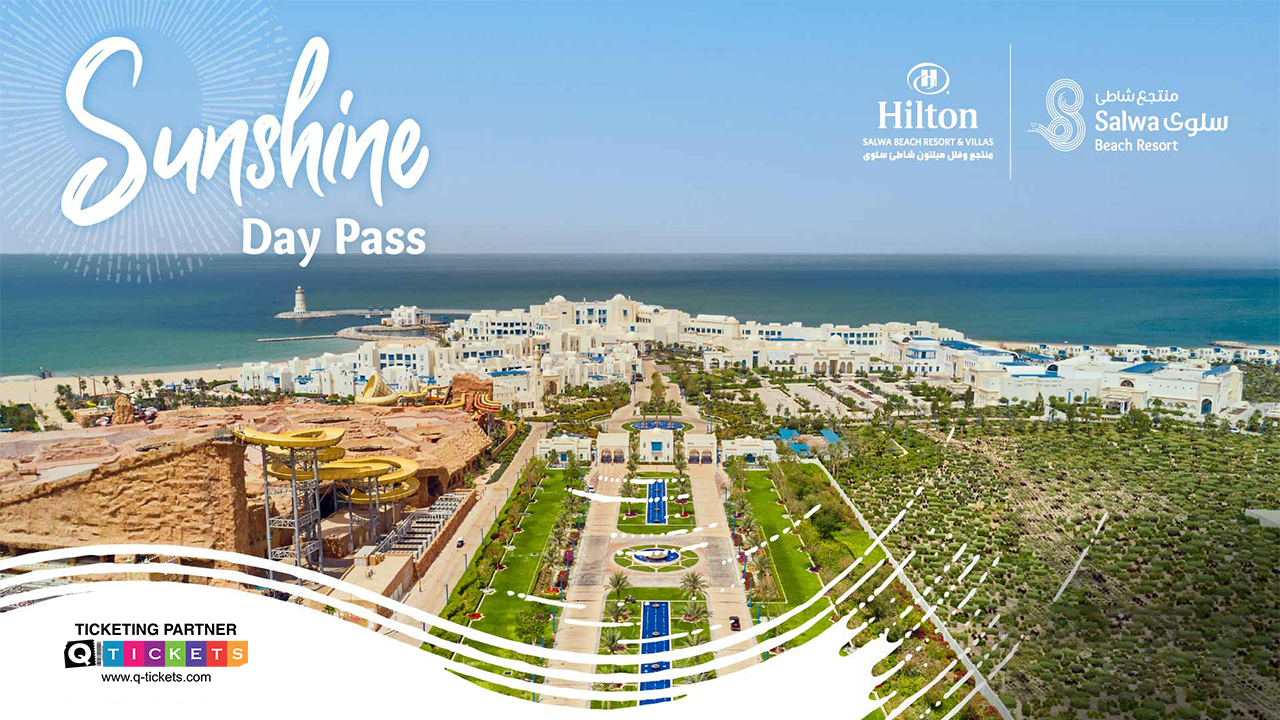 Discover Santorini vibes in the heart of Qatar at the latest leisure destination hotspot, Hilton Salwa Beach Resort & Villas! Enjoy a fun getaway with the resort day pass which provides you with exclusive access to some of the most exciting attractions and dining outlets the resort has to offer! Splash, ride and slide into the Sea Caves Water Park and get competitive with your friends in a game of Laser Tag at the Desert Falls Water and Adventure Park! You also get exclusive access to the South Bay Pool and the resorts 3.5km of pristine beach front.
This is a perfect daycation experience you do not want to miss. 
Dates: Ongoing until September 29, 2022. 
Prices: Adults (350QR) & Junior (150QR) 
Ticket Booking: www.q-tickets.com
Features:
• Access to Sea Caves Water Park
• One game of Laser Tag
• Pool & Beach Access
• QAR 100 F&B credit for adults and QAR50 for juniors at Dante / Nesma Lounge / South Bay Pool Restaurant
3- Sunset Mangrove Kayaking
Kayaking in Al Thakira , north of the seaside city Al Khor in  Qatar, is full of excitement and thrilling experience for those who love nature, water and water sports.
Dates: Ongoing until October 11, 2022. 
Prices: Adult (200QR) and Kids (75QR) 
Ticket Booking: www.q-tickets.com
Features:
• Tour Guide (multilingual tour guides are available)
• Equipment (kayak, paddle, dry bag, lights if needed)
• Safety (life jacket)
• Refreshments (tea, cold refreshments, water)
• Traditional sitting area
• Changing rooms
• Bathrooms
• Photo-stop: Purple Island beach
*Note: Entrance is free for children under 5 years of age. 
For more details: 77706906
4- PSG Summer Program
Best summer programs for indoor and outdoor football training for all ages between 5 and 17.
Date: Ongoing until August 18, 2022
Location: Across various location
Registration: Register at PSG Academy Qatar
5- Taste of Qatar Food Tour 
Despite its relatively small size, Qatar is home to fantastic multicultural establishments serving a whole host of Middle Eastern and other delicious international cuisine. During this fun tour with one of our licensed tour guide as we will combine a comprehensive tour of Doha for you with a mystery tour of some of the local food places and restaurants. Please inform us of any food intolerances when you book and let us organise the rest.
Dates: Ongoing until October 31, 2022
Prices:
Ticket Booking: 
Features: 
• Food 
• Transport 
• Guide 
July 23, 2022 - Saturday
1- Prizefighter (English) 
At the turn of the 19th century, Pugilism was the sport of kings and a gifted young boxer fought his. 
Watch this thrilling action film now showing at Qatar Cinemas near you.
Book your tickets now at www.q-tickets.com.
2- Aqua Sports Qatar
This is not just a watersports experience it is also a tour that will offer you unique insights into the architecture, history and exhibits of The Museum of Islamic Art. This also incliudes fascinating details about the "7" constructed by the Richard Serra inside MIA Park. 
Dates: Ongoing till December 31, 2022. 
Timings: Fri - Sat 11:00AM To 05:00PM
Prices: Adult (140QR), Teenager (90QR) and Child (60QR)
Ticket Booking: www.q-tickets.com
Features:
• Kayaking Fundamentals& Safety instructions , 90 minutes tour
• Equipment (Paddle, Life-jacket, Kayak)
• Beverages (Cold water, bottled juice)
• English / Arabic speaking Tour guides
• Swimming Break & Snorkeling on Purple Island 
• Lifeguard Rescue 
• Mangroves Ecosystem Brief
• Badiouan Camp with Arabian Tent, Carpeted area with floor seating, Arabic cushions, Shower, changing room
Guidlines:  
• Children should be accompanied with parents & remain under their supervision (Minimum age for kids : 7 yrs.)
• Maximum weight per person : 120 Kg 
• Lifejackets is a must 
• Guests are requested to show up minimum 15 minutes earlier to the departure time We will NOT wait for any latecomers
• We're Eco friendly company , please if you spotted any plastic trash during your mangrove tour, kindly collect it and just keep it in your kayak- our staff will take care about it 
• Plants, wildlife must not be touched and/or removed
3- Resort Pool and Beach Access
Qatar's latest leisure destination provides an unforgettable and relaxing adventure like nowhere else as you take a break from all the stress and noise of city life.
You can relax in a private cabana at the pool, or let the kids enjoy the splash pad while you unwind. You don't have to worry because lifeguards are on duty from 8 am to sunset and towels are provided.
The private beach sprawls 3.5kms and is an unspoiled paradise of crystal clear waters. Imagine lounging on the beach, soaking in the early morning sun, and listening to the calming waves.
Date: Ongoing until March 31, 2022
Tiiming:  3:30PM Onwards
Location: Hilton Salwa Beach Resort and Villas
Ticket Booking: Book now at www.q-tickets.com. 
Terms & Conditions
• Children below the age of 3 years are free.
• 3 years and above are chargeable at the advertised rates.
• Changing rooms are available and towels will be provided.
• Gym and Kids Club access is not included, however access to the Kids Club is available at the rate of QAR 75 per child, per hour.
• Waterpark Access is not included
• Bringing in Food and beverage from outside is not permitted.
• Guests are required to present a green ehteraz only for entry. Children below the ages of 12 can access the pool and beach as long as accompanying adults present a green ehteraz.
4- Museum of Illusions
Enter the fascinating world of illusions that will trick you, but amaze you at the same time. It is sure to be an amazing and unimaginable experience because whatever you see in the Museum of Illusions, is not what it appears to be.
Contact Details:
Location: 1st Floor, The Gate Mall, Omar Al-Mukhtar St. Doha, Qatar
Telephone Number: +974 40206273
Email: info@museumofillusions.qa
Opening Hours:
Sunday to Wednesday (9 am – 10 pm)
Thursday And Saturday (9 am – 10 pm)
Friday (1 pm – 10 pm)
Ticket Rates:
Adult (16+ years): 80 QAR
Child (3-15 years): 60 QAR
Child (3-below): Free
Family (2 adults & 2 kids under 15 years): 220 QAR
Special Needs: 40 QAR
Ticket Bookings: www.q-tickets.com
5- Beanstalk
Kids can't get enough of the Beanstalk adventure play area!
360 Play brings you this exciting entertainment hub designed to entertain and engage the whole family in some action-packed adventures!
Visit the Beanstalk today at the Mall of Qatar, located in front of the Food Court. Book now at www.q-tickets.com or contact 7064 4011 for more details.
Date: February 10, 2022 - February 23, 2023
Timing:  
Saturday to Wednesday: 10.00 AM to 10.00 PM
Thursday: 10 AM to 11:30 PM
Friday: 1 PM to 11.30 PM
Location: Mall of Qatar
Ticket Rates: General Pass (20 Mins) QAR 30, Premium Pass (40 Mins) QAR 50, Super Pass (1 Hour) QAR 60, and Family Pass - 1 Adult + 3 Kids (1 Hour) QAR 200
Ticket Purchase: Book now at www.q-tickets.com