Things to do in Qatar this weekend: August 3 to August 5, 2023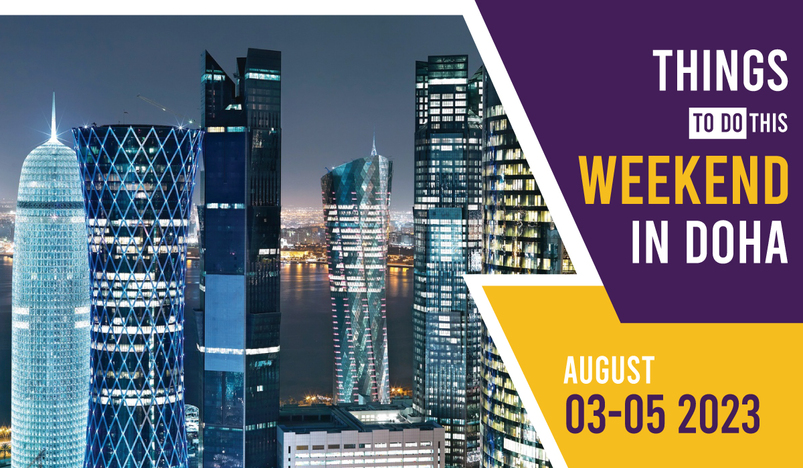 Things to do in Qatar this weekend
Check out our top picks for Things to Do in Qatar from August 3 to August 5, 2023, below.
Note: Events are subject to change as per the organizers. 
August 3 - Thursday
1. Souq Waqif 8th Local Dates Festival

Visit Souq Waqif 8th Local Dates Festival from July 27 to August 5, and try the finest local dates.
Date: 27 July 2023 - 5 August 2023
Time: 03:30 pm - 09:30 pm
Location: Ahmad Square, Standing Market
2. QATAR TOY FESTIVAL

Qatar Toy Festival where full joy is waiting for the whole family! At Doha Exhibition & Convention Center, come live the Tales and enjoy the Games. Get ready for an unforgettable experience at the Qatar Toy Festival, where the world's biggest international toy brands will come together to create a magical wonderland For All Ages. As it's the first time that branded entertainment, international toys, and festive roaming acts will all be in one place in Qatar, making it a truly unique celebration.
With over 25 thrilling attractions and engaging concepts, Such as Barbie, Disney Princess, Blippi, CoComelon, Hot Wheels, Nerf, Transformers, Monopoly and more of brands that can't be missed! There's something for every family member to enjoy. From exciting stage shows to interactive areas, the festival promises to be the ultimate family destination in Qatar this summer. Get ready for even more surprises as the festival hosts popular social media influencers from around the GCC! Plus, there is a space also for the future youth in Qatar! Prepare yourself for Rasha Rizk Concerts that are sure to inspire and entertain!
Date: 13 July 2023 - 8 August 2023
Time: 02:00 PM Onwards
Location: DOHA EXHIBITION AND CONVENTION CENTER (DECC)
Tickets: Q-Tickets
3. Ability Friendly Summer Camp 2023
Ability Friendly will run 2 camps this summer which are open to disabled participants aged 5 to 20. Each group will run for 2 weeks and can accommodate 15 participants.
Date: 9 July 2023 - 3 August 2023
Time: 10:00 am - 03:00 pm
Phone: 3068 9576
Email: abilityfriendly@qf.org.qa
Location: Multaqa, Education City Qatar
August 4 - Friday
1. CULINARY CLASSES

Join unique culinary classes across four themes, hosted by Heenat Salma Farm's artisanal Chefs and learn about different cooking techniques, how to make dairy products, the optimal pairing of spices and herbs and improve your culinary skills. 
Date: 19 June 2023 To 31 August 2023
Time: 11:00 AM Onwards
Location: HEENAT SALMA FARM
Tickets: Q-Tickets
2. Aromatherapy & Kohl Making Workshop
Learn about Traditional and Arabic Islamic Medicine products such as pure Kohl eyeliner (100% antimony) and plants from the farm. Get awareness of the different properties and usage of the natural resources in Qatar. In this workshop participants will make a fumigation herbal bundle, infused herbal body oil and make kohl eye liner powder to take home. Through the workshop awareness on the different benefits and properties of each plant will be shared as well as the usage of the product.
Date: 19 June 2023 To 31 August 2023
Time: 11:00 AM Onwards
Location: HEENAT SALMA FARM
Tickets: Q-Tickets
3. Aspire Summer Camp 2023
Join the fun with other kids and enjoy a summer camp like no other at Aspire Summer Camp! The camp includes basketball, volleyball, futsal, recreational games, fitness, and Zumba.
Date: 30 July 2019 – 10 August 2023
Time: 8 am to 1 pm
Location:  Aspire Zone venue (Ladies Sports Hall)
Contact: Events@aspirelogistics.qa
4. Mexican Culture Week 2023
Ami a Mexico - The Mexican Folkloric Dance Company is here with a splendid performance for Mexican Culture Week.
Theatre Presentation
Thursday, August 3, 2023, at 7 pm
Katara Drama Theatre
Free to attend. Registration is required.
Folk Dance Performance
Friday, August 4, 2023, at 7 pm
1st Floor, Place Vendôme
Free to attend.
Noche Mexicana
Friday, August 4, 2023, at 8:30 pm
The Oat House, Abesq Hotel
Reservations, call: +974 4492 3111
Set menu QR 120
Poetry Session & Mexican Food Lessons
Sunday, August 6, 2023, at 4 pm
Bayt Al Hikma, Ministry of Culture
RSVP required at: culturalqat@sre.gob.mx
Free to attend.
Date: 3 August 2023 - 6 August 2023
Time: 04:00 pm - 09:00 pm
Location: Multiple Locations
August 5 - Saturday
1. FAMILY BONDING WORKSHOP OR EVENT

Journey into the World of Togetherness 
Escape the chaos of daily life and immerse yourselves in our magical workshop! Here's a sneak peek into some of the activities that await you:
Reflect and Connect: Embark on a guided family reflection activity.
Tale of Togetherness: Gather around in a heartwarming family storytelling circle.
Adventures in Imagination: Unleash your creativity with a role-play scenario that involves kids and moms, sparking imagination and encouraging collaborative play like never before.
Love in a Jar: Engage in a gentle and tranquil collaborative craft activity that symbolizes the love and harmony within your family.
Creative Family Brainstorming: Together, unleash your imagination in a session filled with exciting brainstorming activities, leading to shared dreams and aspirations.
Cooking Harmony: Strengthen the bond between moms and kids through a delightful cooking session.
The magic of our Family Bonding Workshop goes far beyond the event itself.
Take the first step towards nurturing a stronger family bond.
Date: 5 August 2023
Time: 02:00 PM ONWARDS
Location: MAKTABA CHILDREN'S LIBRARY , DOHA
Tickets: Q-tickets
2. ADVENTURE LAND- EZDAN MALL- GHARAFFA

Looking for a fun indoor activity for your kids in Doha? Look no further! Adventure Land is your answer. Book now to avail a Buy 1 Get 1 FREE offer of all tickets! Qatar's newest family entertainment center, located in Ezdan Mall, Gharaffa and operated by 360 PLAY, offers over 200 thrilling activities like trampolines, Soft play and so much more. The play zone is suitable for all ages, and hosts customized events and celebrations.
With fully equipped and well-trained staff, Adventure Land ensures a safe experience for children with special needs. So gear up for the fun and keep your worries away; with Adventure Land from 360 PLAY!
Time: 7:30 AM Onwards
Location: EZDAN MALL, AL GHARAFFA
Tickets: Q-Tickets
3. LADIES CLUB

A private place where ladies they can socialise, learn by participating in different workshops delivered by Agri-education, wellness and creative residency and experience farm to table lunch. A unique experience made in Heenat Salma Farm. 
Date: 19 June 2023 To 31 August 2023
Time: 11:00 AM Onwards
Location:  HEENAT SALMA FARM
Tickets: Q-Tickets
4. Ladies Days at 974 Beach
Enjoy Ladies Days at 974 Beach every Tuesday and Saturday.
No boys and men allowed.
Date: Every Saturday and Tuesday
Time: 07:00 AM - 08:00 PM
Location: 974 Beach
5. Mangrove Kayaking Eco.Adventure & Discover Wildlife - Purple Island
Explore the incredible nature of the Al Thakira mangroves with one of our groups or as a private tour for your family or school.  Paddle with the local wildlife in the ancient mangrove forest and enjoy traditional Qatari hospitality in our luxurious beachside camp
Date: 12 May 2023 - 31 August 2023
Time: 04:00 pm - 08:00 pm
Location: Purple Island Beach, Al Khor, Qatar
Ticket Purchase: Online
Price: 
Adult - 240QR
kids under 12 - 120QR
kids under 7 - 60QR