Things to do in Qatar this weekend: August 24 to August 26, 2023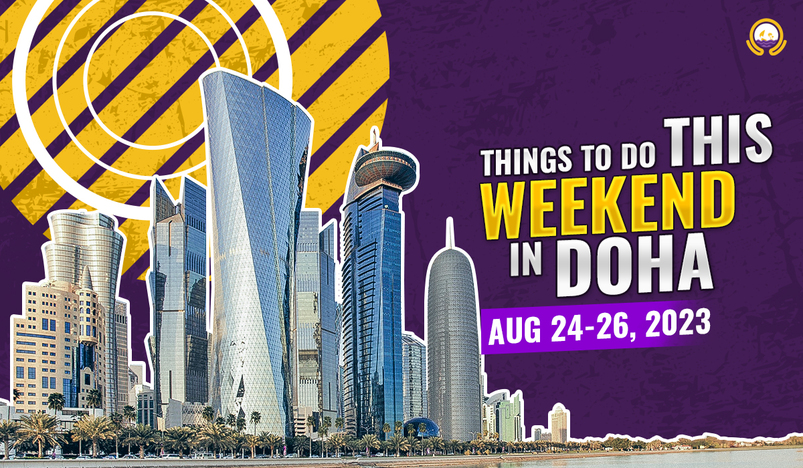 Things to do in Qatar this weekend
Check out our top picks for Things to Do in Qatar from August 24 to August 26, 2023, below.
Note: Events are subject to change as per the organizers. 
August 24 - Thursday
1. Art time for kids
Do you want your youngster to develop a passion for the arts? Let them participate in these workshops at Mathaf: Arab Museum of Modern Art to develop their artistic skills and learn various art methods using various mediums.
Workshop Schedule
Every Monday for ages 6-8
Every Tuesday for ages 9-11
Every Wednesday for ages 12-14
Date: Until 31 August 2023
Time: 4 pm - 6 pm
Location: Mathaf: Arab Museum of Modern Art
Price: It's free!
2. Mangrove Kayaking Eco.Adventure & Discover Wildlife - Purple Island
Explore the incredible nature of the Al Thakira mangroves with one of our groups or as a private tour for your family or school.  Paddle with the local wildlife in the ancient mangrove forest and enjoy traditional Qatari hospitality in our luxurious beachside camp
Date: 12 May 2023 - 31 August 2023
Time: 04:00 pm - 08:00 pm
Location: Purple Island Beach, Al Khor, Qatar
Ticket Purchase: Online
Price: 
Adult - 240QR
kids under 12 - 120QR
kids under 7 - 60QR 

 August 25 - Friday

1. CULINARY CLASSES
Join unique culinary classes across four themes, hosted by Heenat Salma Farm's artisanal Chefs and learn about different cooking techniques, how to make dairy products, the optimal pairing of spices and herbs and improve your culinary skills. 
Date: 19 June 2023 To 31 August 2023
Time: 11:00 AM Onwards
Location: HEENAT SALMA FARM
Tickets: Q-Tickets
2. Aromatherapy & Kohl Making Workshop
Learn about Traditional and Arabic Islamic Medicine products such as pure Kohl eyeliner (100% antimony) and plants from the farm. Get awareness of the different properties and usage of the natural resources in Qatar. In this workshop participants will make a fumigation herbal bundle, infused herbal body oil and make kohl eye liner powder to take home. Through the workshop awareness on the different benefits and properties of each plant will be shared as well as the usage of the product.

Date: 19 June 2023 To 31 August 2023
Time: 11:00 AM Onwards
Location: HEENAT SALMA FARM
Tickets: Q-Tickets
3. Olafur Eliasson: The Curious Desert Exhibition
This show is a must-see and is taking place both inside and outside. It has geometric models, light installations, optical devices, and more. The Olafur Eliasson: The Curious Desert exhibition will surely leave you speechless!

Location:
Indoor: National Museum of Qatar
Outdoor: Near the Al Thakhira Mangrove Nature Preserve
Date: 19 March 2023 - 15 August 2023
Time: 
Indoor:
Saturday-Thursday: 9 am - 7 pm
Friday: 1.30 pm - 7 pm
Outdoor: Visiting the exhibition before sunset is advisable to enjoy the light play and reflections
Price:
Adult Resident of Qatar or GCC Country: Free
Adult: QR 100
Child (Age 16 and under): Free
One Pass Holder: Free
August 26 - Saturday
1. ADVENTURE LAND- EZDAN MALL- GHARAFFA
Looking for a fun indoor activity for your kids in Doha? Look no further! Adventure Land is your answer. Book now to avail a Buy 1 Get 1 FREE offer of all tickets! Qatar's newest family entertainment center, located in Ezdan Mall, Gharaffa and operated by 360 PLAY, offers over 200 thrilling activities like trampolines, Soft play and so much more. The play zone is suitable for all ages, and hosts customized events and celebrations.
With fully equipped and well-trained staff, Adventure Land ensures a safe experience for children with special needs. So gear up for the fun and keep your worries away; with Adventure Land from 360 PLAY!
Time: 7:30 AM Onwards
Location: EZDAN MALL, AL GHARAFFA
Tickets: Q-Tickets
2. Ladies Days at 974 Beach
Enjoy Ladies Days at 974 Beach every Tuesday and Saturday.
No boys and men allowed.
Date: Every Saturday and Tuesday
Time: 07:00 AM - 08:00 PM
Location: 974 Beach