Things to do in Qatar this weekend: April 27 to April 29, 2023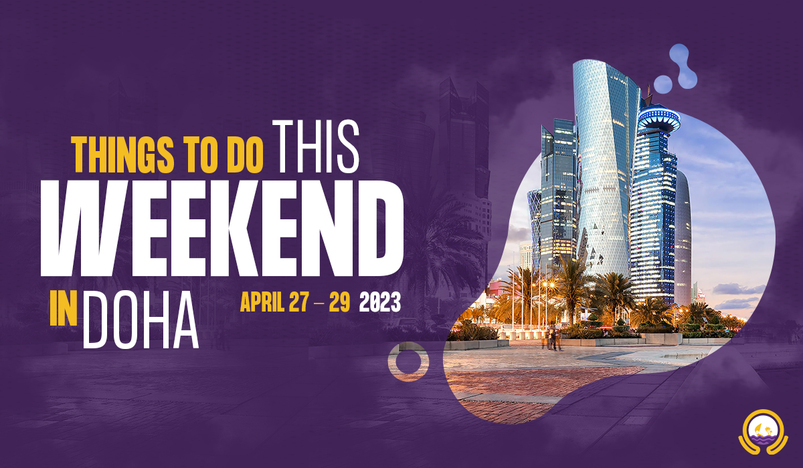 Things to do in Qatar this weekend: April 27 to April 29, 2023
Check out our top picks for Things to Do in Qatar from April 27 to April 29, 2023, below.
Note: Events are subject to change as per the organizers. 
April 27 - Thursday
1. HRIDYAM WITH VINEETH SREENIVASAN & FRIENDS
Vineeth Sreenivasan is an Indian playback singer, actor, film director, screenwriter, producer, predominantly working in the Malayalam film industry. Hridyam with Vineeth Sreenivasan live is featuring with other prominent singers Hesham and Gayathri. (Kids under 4 years are free)
Date: 27 April 2023
Time: 8:00 PM ONWARDS
Location:  AL ARABI SPORTS CLUB INDOOR STADIUM
Tickets: Q-Tickets
2. Khadidja Mouath live at Lusail Boulevard

Enjoy a splendid performance by the talented Khadidja Mouath at Lusail Boulevard in a musical celebration for Eid.
Date: 27 April 2023
Time: 08:30 PM - 10:30 PM
Location: Lusail Plaza Boulevard
April 28 - Friday
1. Cinema by the Sea at West Bay Beach
Head to the beautiful West Bay Beach for a fun, family-friendly outdoor cinema experience. Set along the shores of Doha's stunning skyline—DFI is proud to present 'Cinema by the Sea', an outdoor screening series of films for the whole community to enjoy.
Date: 28 April, 5 May & 12 May
Time: 7 pm (on all days)
Location: West Bay Beach
Price: QR 30/adult (Free for kids under 12)
Screenings: Website
2. Mega Park Carnival Al Bidda Park

For the first time in Qatar, the 22,000 square meter Mega Park Carnival will be held at Al-Bidaa Park from April 16 to April 30, 2023. Visitors can expect to find a wide variety of thrilling rides, such as roller coasters, bumper cars, and ferris wheels. For those who prefer something a bit more relaxed, there are also gentle rides like carousels and tea cups. The park is set to feature enormous balloons, gaming areas, eateries, a social media area, and a designated space for the Mega Park Theatre, which will host a variety of performances and exhibitions.
Date: 16 April 2023 - 30 April 2023
Time: 07:00 PM - 12:00 AM
Location: Al Bidda Park, Corniche
Price: Free!
3. Eid Al Fitr 2023 celebrations at Msheireb Downtown Doha
From 21 to 28 April 2023, starting at 5 PM, the Barahat Msheireb will create unforgettable memories in an immersive experience featuring captivating musical performances and enchanting storytelling sessions. Guests can also preserve their special Eid moments at the immersive 360-photobooth, where they can capture unique and memorable photos. The food and beverages station offers a delectable array of culinary delights, candies and desserts.
The Barahat will also feature a range of activities designed to ignite the imagination and creativity of children, ensuring they have a blast during the celebration.
Date: 21 April 2023 - 28 April 2023
Time: 05:00 PM - 11:59 PM
Location: Msheireb Downtown Doha
April 29 - Saturday
1. MOSCOW BALLET LA CLASSIQUE – SLEEPING BEAUTY
Following sell-out performances of Swan Lake and The Nutcracker Moscow ballet La Classique returns to Almyassa theatre presenting ballet's most loved fairytale Sleeping beauty. Take the whole family to an evening of spectacular ballet bringing to life Tchaikovsky's fantastically popular score. In this 2-act fairytale performance La Classique will capture the imagination, the passion and the magic of sleeping beauty.
Date: 28 April - 29 April 
Time: 8:00 PM Onwards
Location: Al Mayassa Theatre - QNCC
2. TASWEER PHOTO FESTIVAL
Established by Qatar Museums under the leadership of its Chairperson, Her Excellency Sheikha Al Mayassa bint Hamad bin Khalifa Al Thani, and supported by the Social & Sport Contribution Fund (Daam), Tasweer Photo Festival Qatar is being developed as a focal point for the personal and professional creative growth of photographers and image-makers in the region. Tasweer is building on Qatar Museum's commitment to nurture artistic talent, and to develop Qatar's arts economy and support creative industry.
The Tasweer 2023 biennial exhibitions are:
I AM THE TRAVELER AND ALSO THE ROAD: Mathaf
A CHANCE TO BREATHE: M7
DOHA FASHION FRIDAYS: M7
HADEER OMAR: AND THEREAFTER: Al Koot Fort
MASHAEL AL HEJAZI: MY MOTHER LULWA'S HOUSE: Majlis Barahat Al Jufairi
Date: 15 March - 20 May 
Webpage: TASWEER
3. Eid Market at The Pearl Island
Celebrate Eid with a memorable shopping experience, Eid festivities and more with breathtaking views of The Pearl Island.
Date: 21 April - 29 April
Time: 05:00 PM to midnight
Location: 2-7 La Croisette, Porto Arabia, The Pearl Island
4. The Pearl Eid Tunes