Things to do in Qatar this weekend: March 16 to March 18, 2023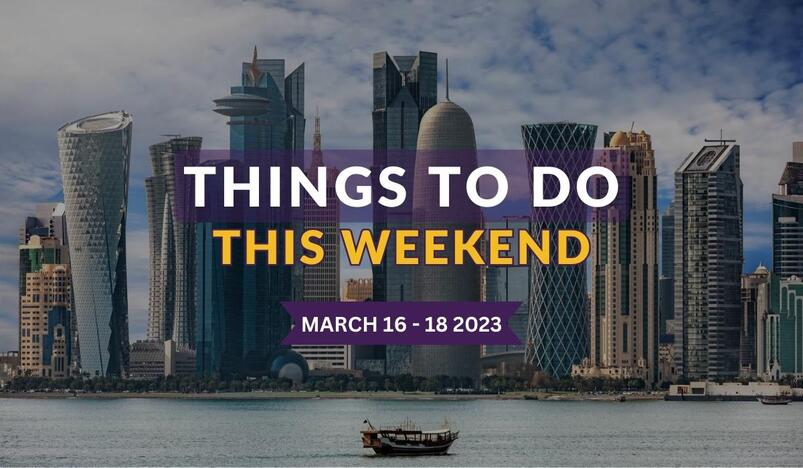 Where to go and what to do this week in Qatar
Check out our top picks for Things to Do in Qatar from March 9 to March 11, 2023, below.
Note: Events are subject to change as per the organizers. 
March 16 - Thursday
1. Qatar Kite Festival 2023
Get ready for the new and exciting Qatar Kite Festival which will be held at the MIA park hills adjacent to the '7' sculpture by Richard Serra. 
Dates: March 16 - March 18
Time: March 16 - 3pm to 9pm; March 17 - 2pm to 9pm; March 18 - 11am to 9pm
Location: MIA Park Hills
2. Paw Petrol Festival
Unleash your inner hero and step into Adventure Bay with this all-new PAW Patrol Festival! For the first time ever, this PUP-TACULAR event combines all the best that PAW Patrol has to offer, all under one roof! Enjoy stage shows, kids' and family activities, meet and greet the PUPS, loads of photo opportunities and so much more!
Only from 2 to 18 March.
SESSION 1
Doors Open - 3:15 PM
SESSION 2
Doors Open - 4:45 PM
SESSION 3
Doors Open - 6:15 PM
EXTRA WEEKEND SESSION (FRIDAY - SATURDAY)
Doors Open - 1:15 PM
Location: Place Vendôme
Tickets: Q-Tickets
March 17 - Friday
1. SALWA BEACH FEST

Escape the city and join the fun while we open the season with our long-awaited Salwa Beach Fest on March 17. Enjoy a selection of food, drinks, games, face painting, art and crafts, character shows, and much more. 
QAR 200 is fully redeemable on Food and Beverage and Includes Pool and Beach Access 
Juniors aged 0-3 can enter free
Date: March 17
Time: 10 am to sunset
Location: Salwa Beach Resort 
Tickets: Q-Tickets
2. Legengs League Cricket Masters
Legends League Cricket or LLCT20 is a T-20 cricket league featuring players including recently retired international players. The first edition of Legends League Cricket was held at the Oman Cricket Academy Ground, Muscat in January 2022, featuring three teams - India Maharajas, Asia Lions and World Giants. 
Qatar Cricket Association (QCA) will host the latest upcoming season of the legends League masters, the international edition of Legends League, in Doha from March 10 - March 20. Top legend cricketers across the globe will be featuring in this mega event.
Time: 5:30 PM Onwards
Location: Asian Town Cricket Stadium, Asian Town
Tickets: Q-Tickets
3. Q TEAM FIESTA 2023
The event titled QTEAM FIESTA 2023 will be held on 17th March 2023 at a spacious and reputed venue, Al Arabi Sports Indoor Arena.  We have already lined up a number of well-known artists and performers from Kerala. The leading music band Soulofolk, the highly talented mimicry artist Mahesh, cine artist Sarayu Mohan, Singer and Violinist Lakshmi Jayan, etc. have already confirmed their performance.  
Kids Below 5 years old are Free.
Be there to celebrate music with abhijeet srivastav chasni fame singer,5 back to back dj,delicious food,lot of games and activity with sponser ,dhol and kids acitivty be there to witness the biggest event.Kids below 7 free entry
Time: 6:30 PM Onwards
Location: AL ARABI INDOOR SPORTS HALL
Tickets: Q-Tickets
4. HAYYA RUN
The inaugural HAYYA RUN will take place at Aspire Park on Friday 17 March 2023 and comprise of distances ranging from 800M to 10K. All events will be run on accurately measured short courses with multiple laps and will be restricted to a maximum of 350 participants.
Time: 6:30 AM
Location: Aspire Park
Tickets: Q-Tickets
March 18 - Saturday
1. Shop Qatar 2023
Qatar's biggest shopping festival, Shop Qatar, returned this February. Ten of the country's most popular shopping malls, including Doha Festival City, Place Vendôme, and Lagoona Mall, will participate in this month-long celebration of Qatar's retail and leisure industry. Sephora will host "Sephora Saturdays" with masterclasses at Place Vendôme that are open to all and "Sephora Ladies Night" on Wednesdays, which will see private masterclasses, complete with luscious giveaways.
Shoppers can also participate in various competitions and promotions, such as the 'Shop and Sweep' event at Virgin Megastore branches across the country.
For every QR 200 spent, shoppers are eligible to enter a draw for mega prizes worth over 2 M QAR. This year's grand prize is the chance to win a brand-new studio apartment in The Pearl Qatar!
Dates: Until 18 March
Location: Across Qatar
2. Qatar International Food Festival 2023
From haute cuisine amuses to spicey street food bites, the Qatar International Food Festival (QIFF) is a celebration of the world's best cuisines. Picturesque outdoor venues set the scene for a Qatari signature and mouth-watering experience.
Time: 4:00 PM Onwards
Location: LUSAIL BOULEVARD