Things To Do in Qatar For Families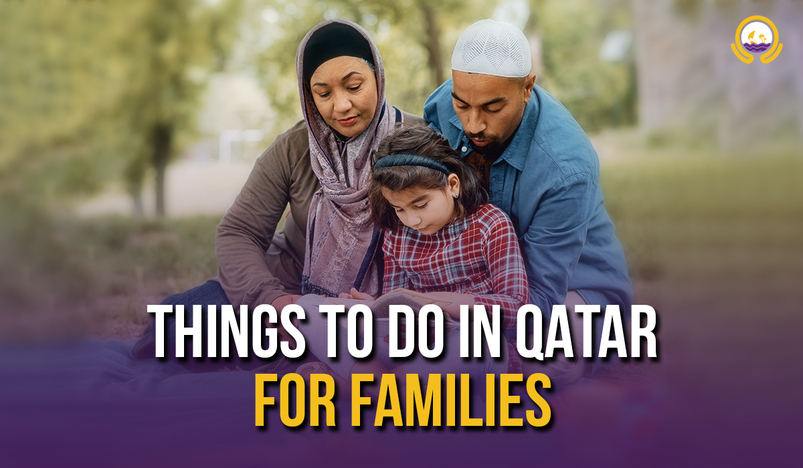 Things To Do in Qatar For Families
Qatar offers a whole lot of family-friendly activities and attractions that cater to a wide range of interests. Whether you're interested in culture, nature, adventure, or simply spending quality time together, the choices are truly endless.
FOR ALL
Amazing World of Angry Birds
The one of a kind Angry Birds World Entertainment Park is sure to captivate young visitors. It features over 20 indoor and outdoor attractions, a GO-karting circuit featuring the Angry Birds, as well as a large number of stores and dining options.
Website: https://www.angrybirdsworld.qa/ 
Location: Doha Festival City, Al Shamal Rd, Doha
Desert Falls Water and Adventure Park
The Salwa beach resort, which is located in the southern part of Qatar is one you must not miss while on your vacation in Qatar,  it is a children's paradise and has more than 56 slides and rides, and 18 attractions, like the Whizzard Mat Racer, King Cobra, and Ship Kids Pool, to name just a few.
Website: https://salwabeachresort.qa/en/desert-falls-water-adventure-park/ 
Location: Hilton Salwa Beach Resort & Villas
Torba Market
The Torba market is a celebration of sustainably produced goods and is situated inside the lovely Ceremonial Court in Education City. Kids can enjoy incredibly healthy and delicious delights because many delicacies are vegetarian or vegan. In addition, there is a lovely park where kids can play and run around.
Instagram: @farmersmarketqa
Location: Education City - Gate 7, Ar Rayyan, New location: Next to Oxygen Park & Multaqa
Megapolis
A cutting-edge indoor entertainment complex in Qatar's Medina Centrale neighborhood of The Pearl. For visitors of all ages, it provides an extensive selection of games, attractions, and activities under one roof, including virtual reality, bowling, darts, billiards, karaoke rooms, CXC racing simulators, and food and beverage outlets. The most complete entertainment complex in Doha is Megapolis.
Website: https://megapolisqatar.com/index.html
Location: The Pearl
WITH YOUNG KIDS
KidZania
A place where your kids are free to explore a 5500 square meter city made for kids, where they can play at becoming firefighters, doctors, chefs, or artists and doing real-life jobs. Children unconsciously pick up a variety of skills, including self-awareness and confidence.
Website: https://doha.kidzania.com/en-qa
Location: Aspire Park
Al Khor Park
Kids will love playing with and interacting with the animals at Al Khor Park. It has open spaces, a waterfall, and a zoo with exotic birds, zebras, and other animals. In addition, it offers a miniature golf course, a skating rink, a basketball court, and a ton of dining options.
TotalEnergies Playground
The Qatar TotalEnergies Playground is a really family-friendly attraction that offers a fun day out while immersing visitors in a variety of energy resources. The Qatar TotalEnergies Playground, divided into 15 unique "pods," teaches kids about energy from the development of natural resources through oil and gas exploration and up to energy production and consumption.
Location: Within the Park at NMoQ
Baladna Park
Children can enjoy Baladna Park's playgrounds, sports areas, bumper boats, and zoo with lovely animals. Prepare for a day of creation and fun by donning comfortable clothing.
WITH OLDER KIDS
BOUNCE Trampoline Park
BOUNCE is a Freestyle Playground that brings together parts of the most thrilling freestyle sports in one location. BOUNCE, which is made up of wall-to-wall trampolines, serves as a skills-development center for wild children of all ages as well as a training ground for some of the top freestyle athletes in the world.
Website: https://bounce.qa/ 
Location: Tawar Mall Doha
Desert Safari
A desert safari is one of the most adrenaline-inducing and enjoyable activities in Qatar, perfect for creating lifelong family memories. Get your kids' excitement going by taking them to the dunes and letting them ride camels. Then, later, enjoy a barbecue meal in a spectacular desert setting.
Overnight camping
The various beaches in Qatar provide fun camping opportunities and distinctive experiences for friends and family. Enjoy yourself while eating some delicious BBQ! For example,Zekreet is a popular secure, shallow water camping area. The safety you need is likewise provided by Wakrah and Umm Bab.
Location: Unnamed Road, Zekreet
Museum of Illusions
Let children explore an illusion-filled environment and learn fascinating facts about the human brain, perception, science, vision, and how they are all related. Along with interactive activities, the museum offers games that are informative. Important information: For the complete experience, youngsters should touch the installations!