The Role of CID in Qatar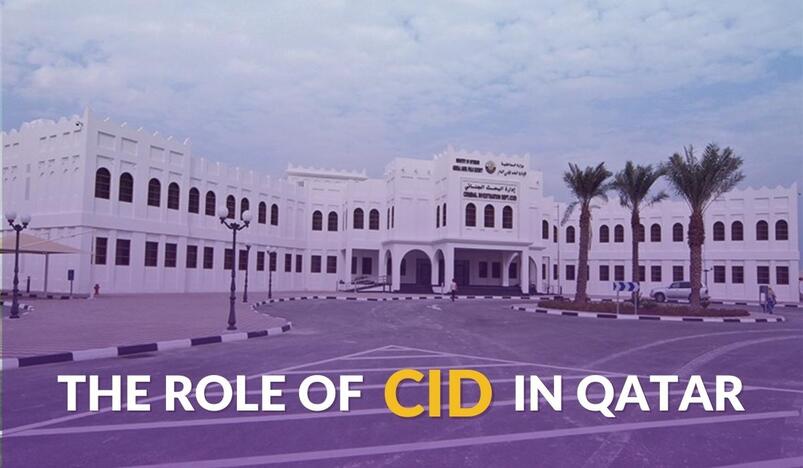 CID
The Criminal Investigation Department (CID) authorities are a category of law enforcers in Qatar. They ensure the safety and security of all the citizens and residents who are working, living, or visiting the country. 
Contrary to popular belief, the CID is not solely in charge of investigations of crimes, in fact, it is also the main issuing body of various legal permits. Read on to know more about the CID – its functions and services for the community.
What is the CID of Qatar?
The General Department of Criminal Investigation was established by Minister of Interior Decree No. (79) for the year 2014 AD, and it includes three departments:
1. The Criminal Investigation Department
2. The Criminal Laboratory Department
3. The Criminal Evidence and Information Department.
The Criminal Investigations Department of Qatar is a subdivision under the Ministry of Interior (MoI) in Qatar.
According to the Ministry's official website, the above department specializes in combating all types of criminal crimes that occur in the country, and for criminal investigation. 
To this end, it conducts the:
necessary research and investigations to detect crimes

tracking of perpetrators

collection of all related information and evidence

gathering all data and information that help in detecting crimes and tracking their perpetrators

information dissemination to the competent departments
Functions and Services of the CID
With the administration of the General Directorate of Criminal Investigation, the CID specializes in the following:
proposing the annual plan of the public administration

preventing and investigating all forms of crime

investigating crimes to reach the perpetrators in preparation for bringing them to trial

receiving reports, complaints, and evidence

prevents all instances of begging that occur in public

investigating all cases of money counterfeiting and laundering, as well as any illegal financial transactions.

carrying out investigation work that is entrusted to it in accordance with the law, and working to uncover its ambiguity in coordination with other relevant departments

analyzing materials and physical effects of a chemical and biological nature

examining cases of forgery, firearms, ammunition, traces of fire, and explosives

searching, investigating and collecting evidence in all cases and complaints registered against an unknown person or cases held due to insufficient evidence under the guidance of the competent prosecution

moving in all criminal incidents and accompanying the investigation team to inspect the crime scene.
Issuing permits for the following:
to sell gold to the public or for the gold shops

to open lockers in all sections under the department

to sell scrap in the Industrial Area CID section