The Most Expensive Things Owned by Qatar Around the World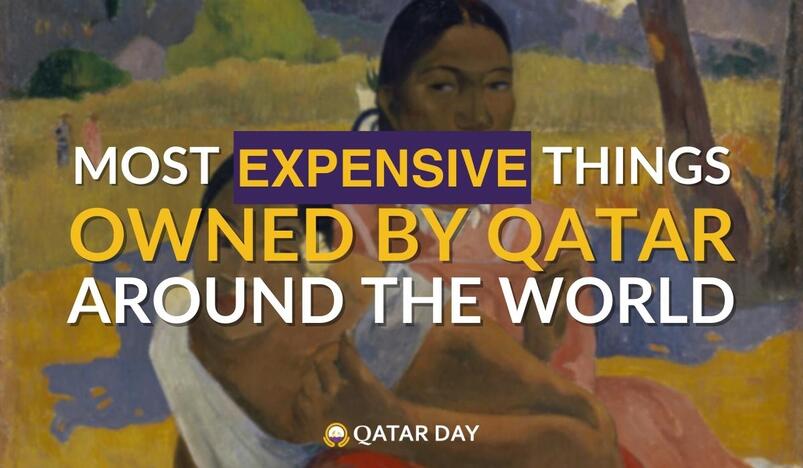 The Most Expensive Things Owned by Qatar Around the World
Qatar, a small but incredibly wealthy country located on the northeastern coast of the Arabian Peninsula, has made a significant mark on the global stage with its vast riches. The Qatari government has wisely invested in various assets and ventures across the world, and many of these acquisitions have captured headlines due to their sheer extravagance. With a high GDP per capita and oil and gas revenue accounting for a substantial part of its income, Qatar boasts an impressive portfolio of assets. Let's take a closer look at some of the most expensive things owned by Qatar around the world.
Volkswagen - £5.9 billion:
In 2008, Qatar Holding, the sovereign wealth fund of the State of Qatar, made a strong move by acquiring 10% of Porsche shares and 17% of Volkswagen shares. This deal, estimated to be worth around £5.9 billion (approximately US$8.85 billion), played a pivotal role in keeping Volkswagen afloat during the financial crisis.
The Two Most Expensive Paintings - £200 million:
In 2011, the Qatar Royal Family set a record by paying over US$260 million for "The Card Players" by French painter Paul Cézanne, being the most expensive art purchace up until then. In 2015, they broke their own record by purchasing Paul Gauguin's "When Will You Marry?" for around US$300 million. These acquisitions underscore Qatar's commitment to art and culture.
Barclays - £3.8 billion:
During the 2008 financial crisis, Qatar Holding stepped in to become a major shareholder of Barclays, investing a whopping £3.8 billion (approximately US$5.7 billion). Over the years, Qatar sold stakes, but it remained one of the bank's top shareholders.
Harrods - £1.5 billion:
The high-end department store chain Harrods, with its 330 stores and affiliated brands, was purchased by Qatar Holding in 2010 for £1.5 billion (approximately US$2.3 billion). This acquisition further expanded Qatar's presence in the luxury retail industry.
Valentino Fashion Group - £576.6 million:
Mayhoola Investments, owned by the Qatari Royal Family, acquired the luxury Italian fashion company Valentino Fashion Group for £576.6 million (approximately US$865 million) in 2012. This investment expanded Qatar's footprint in the fashion industry.
Empire State Building - £478.5 million:
The Qatar Investment Authority (QIA) purchased a 9.9 percent stake in Empire State Realty Trust, the company that owns the iconic Empire State Building, one of the most recognizable skyscrapers in the world.
Sainsbury's - Over £2.1 billion:
Qatar Investment Authority (QIA) became the largest shareholder of UK's second-largest supermarket chain, Sainsbury's, in 2007 by acquiring a 26% stake for over £2.1 billion (around US$4.2 billion). This move solidified Qatar's presence in the UK's supermarket sector.
London Olympic Village - £557 million:
In partnership with British property development Delancey, Qatari Diar purchased the Olympic Village for £557 million (about US$906 million). This former Olympic site in London now serves as a thriving residential district.
Paris Saint-Germain Football Club - £85 million:
The Qatar Sports Investment took over the Paris Football Club, first purchasing 70% in 2011 and later taking full ownership for approximately £85 million (around US$130 million). This investment marked Qatar's entrance into the world of international football.
Balmain - £372 million:
Mayhoola Investments, owned by the Qatari Royal Family, added yet another prestigious fashion brand to their portfolio by acquiring the French fashion brand Balmain in 2016.
French financial daily Les Echos in reporting on the acquisition said the Qataris offered 485 million euros ($546 million) for Balmain, which was 70 percent held by the heirs of the former CEO Alain Hivelin who died in December 2014, with the remaining 30 percent held by management.
Canary Wharf Group - £2.6 billion:
In 2015, Qatar Investment Authority (QIA), a Qatar state-owned holding company, entered a joint venture with Brookfield Property Partners to acquire Canary Wharf Group for £2.6 billion (about US$3.9 billion). This iconic London real estate business now belongs to Qatar and its partners.
International Airlines Group (IAG) - Speculated to be around £1.15 billion:
Qatar Airways, owned by the Qatari government, increased its stake in the British Airways owner, International Airlines Group (IAG), to 20%. The exact purchase price was not disclosed, but estimates put it at around £1.15 billion (about US$1.4 billion). IAG also includes holdings in Aer Lingus, Iberia, and Vueling.
Claridge's, The Berkeley, and The Connaught - Speculated to be over £1.6 billion:
Qatar Investment Authority's Constellation Hotels acquired a 64% stake in Coroin, the holding company for three of London's most renowned luxury hotels: Claridge's, The Berkeley, and The Connaught. While the exact figure remains speculative, this investment underscores Qatar's interest in the luxury hospitality sector.
Qatar also owns the Savoy and Grosvenor House hotels.
Chelsea Barracks - £959 million:
Qatari Diar, a real estate company established by Qatar Investment Authority (QIA), acquired Chelsea Barracks for £959 million (about US$1.19 billion). This prestigious residential area in London further expanded Qatar's real estate portfolio.
The Shard - £150 million:
Qatari Diar acquired an 80% stake in The Shard, the UK's tallest skyscraper, while it was still under development. The price paid was £150 million (approximately US$225 million). Qatari Diar's ownership subsequently increased to 95%, with the remaining 5% belonging to Sellar Property, a British property group.
City Center D.C - £466 million:
Qatari Diar invested around £466 million (about US$700 million) in City Center D.C, a prominent development located in downtown Washington, D.C. This investment showcases Qatar's international real estate holdings.
The London Park Lane Hotel - £301.5 million + £100 million:
Qatar Constellation Hotels secured a major deal when they purchased InterContinental's London Park Lane hotel for £301.5 million (around US$452 million). Additionally, they spent an extra £100 million (about US$150 million) to acquire the freehold from the Crown Estate.
Le Grand Hotel - £280 million:
Qatar Constellation Hotels added the iconic Le Grand Hotel in Paris to their portfolio in 2014 by purchasing it from the Intercontinental Hotels Group (IHG) for £280 million (about US$420 million). IHG continues to manage the hotel, solidifying the Qatari presence in the hospitality industry.
InterContinental New York Barclay Hotel - £160 million:
In another deal with Qatar Constellation Hotels, the Intercontinental Hotels Group sold an 80% stake in the prestigious InterContinental New York Barclay Hotel for around £160 million (US$240 million). IHG retains ownership of the remaining 20% and manages the hotel.
Qatar's extensive investments around the world, especially in the UK, reflect its strategic approach to wealth management and its commitment to diversifying its assets. These acquisitions have not only increased Qatar's global influence but also underscore the country's impressive financial strength.
Whether it's luxury hotels, iconic buildings, prominent real estate developments, or valuable paintings, Qatar has truly left an indelible mark on the world's economic and cultural landscape.