The 9 Most Important Things to Know About Qatar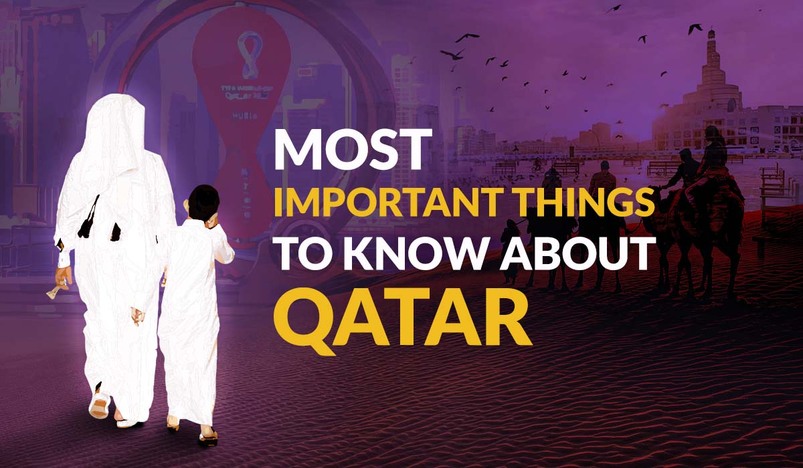 The 9 Most Important Things to Know About Qatar
As the World Cup draws near, fans from all over the world are booking their tickets to this tiny desert peninsula. Gearing up to welcome and host over 1.2 million people, Qatar has gone through some revolutionary changes in the last few years, both in terms of infrastructure and regulations. Once unknown to the majority of the world, the country is now an international financial hub, and one of the most popular shopping destinations in the world. If you plan on traveling here anytime soon, you will undoubtedly have an incredible experience with the innumerable exciting things happening around the country. However, here are a few pointers that could help you make the most of your trip.
CULTURE AND TRADITION
Qatar is a culturally rich nation with a conservative Islamic society and the locals hold high regard for tradition and generational practices.
The country, once under the British Empire for a short while, has since been ruled by the House of Thani as a hereditary monarchy and the Emir of Qatar is Sheikh Tamim bin Hamad Al Thani.
Qatar's culture is heavily impacted by its traditional Bedouin culture, with influences from India, East Africa, and other Persian Gulf countries. 
DRESSING
While Qataris are tolerant of foreign customs, the country forbids the wearing of indecent or revealing clothes in public. Modest clothing, respectful of the country's conservative society is appreciated. Beaches and pools allow swimming-appropriate attire of course, but it is a norm to cover your shoulders and knees at all other public places. 
Qatar is home to a great many magnificent mosques, and while visitors are welcome to stop by, be sure to dress modestly with your head covered if possible, and leave your shoes outside of the mosque.
LAW
Qatar follows the Sharia Law according to its Constitution, and in practice, the legal system is a combination of civil law and Sharia law.
The country has strict laws against obscenity and public displays of affection. Same-sex relationships and LGBTQ advocacy is prohibited as well.
ALCOHOL AND DRUGS
While alcohol consumption is partially legal in the country, it is only allowed inside homes and licensed premises. Most five-star restaurants have fantastic bars and are allowed to sell alcohol to their non-muslim customers. The single liquor store in the nation, authorized to sell alcohol and pork to those holding liquor licenses, is run by the Qatar Distribution Company.
For the 2022 FIFA World Cup, Qatari officials have allowed the setting up of "Fan Zones" in various parts of Doha, where alcohol could be purchased.
Qatar does not allow the import of alcohol into the country and the usage or selling of drugs that can cause addiction, esp those without a medical prescription is punishable by law.
LANGUAGE
The official language of the State of Qatar is Arabic, with Qatari Arabic being the local dialect. English is the most commonly spoken second language and most locals and residents converse in English. 
Other languages used include Malayalam, Hindi, Tagalog, Urdu, Pashto, Indonesian, Nepali, Persian, Bengali, Sinhalese, Tamil, and Baluchi, reflecting the multi-cultural population of the country.
FOOD
As Qatar follows Sharia Law, pork and pork products are banned in the country. Qatari Cuisine mainly consists of traditional Arab and Levantine food. Indian, Iranian, and Turkish cuisines are also popular in the nation. Staples include seafood and dates, popular among the locals. Be sure to check out our list of Eight Authentic Qatari Dishes you must try on your visit here!
CLIMATE 
Qatar is a desert nation with an arid climate. The best time to visit the country is between November and April when the temperatures are not too high. The winter months are perfect for outdoor leisure activities and the temperature is mild with clear skies.
TRAVEL AND TRANSPORT
In terms of visa ease, Qatar is the most open country in the Middle East and is ranked eighth in the world, allowing citizens of more than 80 nations to enter visa-free.
Transport within the country is extremely convenient and hassle-free as well. Qatar's state-of-the-art underground rail network connects all the main hubs in and around the capital city of Doha including Hamad International Airport. 
Karwa taxis- discernable in their turquoise green color- are safe, government-owned cabs that are widely available and can be booked via the app or over call. Uber and Careem are other popular options in the country.
PEOPLE AND GREETINGS
The people of Qatar are known for their traditional Arabian hospitality. Over 88% of the population here is made up of expats that do not have Qatari citizenship, and come from all walks of life. Qatar is a rapidly developing country that offers a wonderful opportunity to meet and learn a variety of languages and practices, being the culturally diverse nation it is, made up of locals, expats, and migrant workers.
While Qataris are warm and accommodating, it is important to be a little mindful of how you choose to greet them, especially women with headscarves. Islamic culture frowns upon physical contact between people of the opposite gender and it would be wise to wait for the other person to reach out first when in doubt.