Startup Grind Pitch Battle in Doha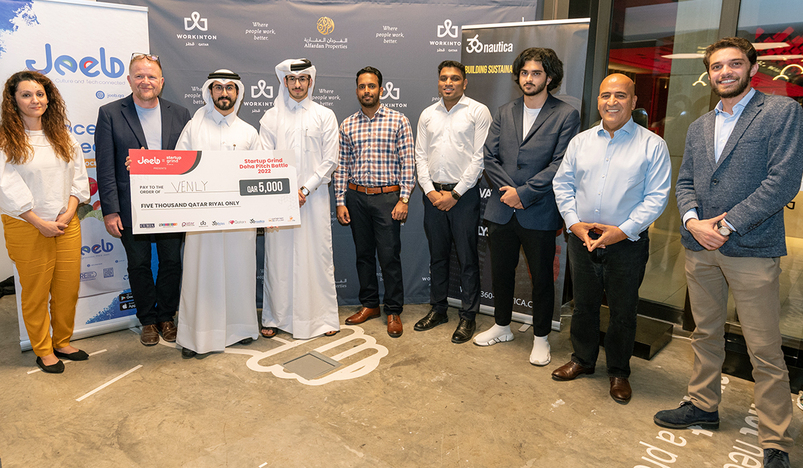 Startup Grind Pitch Battle in Doha
Startup Grind Doha and Jeeb organized a pitch battle, the first event of its kind for the start-up community in Qatar. At this event, contestants ranging from those who have not yet set up their start-ups and are aspiring entrepreneurs to young start-ups who are less than two years old, shared their ideas with the judges and the audience present, and competed to see who can make the best pitch and bag the prize. Local innovators competed in a pitching competition to win prizes and gain visibility to attract investors & partners.
The pitch battle saw a large gathering from top venture capitalists to angel investors from the Qatari start-up ecosystem. With a mission to create a networking platform for start-ups in Qatar, that is on par with the best in the world, Startup Grind plans on continuing the pitch battle every quarter.
The event saw over 15 early-stage start-up applications, out of which 6 were selected as the finalists to present their pitches to a panel of judges on September 22.
The competition's winner was the Venly app, and the runner-up was Thesk – The Storekeeper. The winners received QAR 5000 cash and free business consultation from the CURIA business group. The participants will also receive in-kind support of USD 100,000 from Startup Grind, providing perks to all its community members. 
The Panel of judges at the event were industry experts from various sectors.
Heba Al Masri- Head of Programs, Digital Incubation Centre, Ministry of Communication and Information technology, which offers various initiatives for startups under its umbrella, the most significant being Digital Incubation Center which has been responsible for organizing the annual Ideacamp, Codecamp, and Make the Deal programs. They have also recently launched the TASMU accelerator, a ground-breaking acceleration program aimed at nurturing the innovation ecosystem in Qatar. It is an initiative of Smart Qatar (TASMU), launched in support of attaining the Qatar National Vision (QNV) of 2030. 
Marcel Dridge- President Emeritus at Sophia Business Angels and Board Member at the European Business Angel Network, the pan-European representative for the early-stage investor community, gathering over 100 member organizations in more than 50 countries today. It represents a sector estimated to invest 11.4 billion Euros a year and plays a vital role in Europe's future, notably in the funding of SMEs. The Sophia Business Angels (SBA) are dedicated to fostering and investing in innovative startups on the French Riviera. Sophia Antipolis represents one of the leading technology parks in France and Europe.
Steve Mackie- Founder of Business Start Up Qatar, a central point of contact for creative individuals, entrepreneurial ventures, innovative start-ups and established businesses with aims and intentions or objects and plans in and around the State of Qatar.
Kerem Mergen- Country Manager for Workinton Qatar, which is an innovation- driven coworking hub with near 20,000sqm of space worldwide, from Turkey to San Diego to Berlin and with more than 3,200sqm in Qatar; from Alfardan Centre, West Bay, Lusail and Msheireb. Complete with colorful and modern office spaces designed for startups, investors, SME's, freelancers and corporates.
Bashar Jaber- Founder of Jeeb, which was created to bridge the gap between daily grocery shoppers and online grocery buying through specialization, improved user experience, and intelligent logistics. Nearly 9,000 active listings are available on Jeeb, providing customers with various products to choose from (admittedly, quite a feat coming from a new app). As a result of Jeeb, customers would now be able to use their phones to explore a 'megamarket' at their fingertips. In addition to offering a vast selection of goods that many clients can buy, Jeeb also enables bulk orders, which is another first-of-its-kind offering.
This event was sponsored by Jeeb, and powered by 360 Nautica, which plays the all-important role of a start-up ecosystem enabler. For the past 15 years, this organization has been instrumental in the launch and growth of numerous tech start-ups that are prominent brands in India and the middle east today.
Startup Grind emphasizes the importance and potential of networking with entrepreneurs and start-ups. Creating an environment for start-ups to launch and thrive is their aim. These events bring together all the elements required for founders, entrepreneurs, and start-ups to succeed. The next pitch battle is set to be held in January 2023.